A joint survey by ACCA Hong Kong and KPMG China highlights the need for companies to keep up with the trend for robotics process automation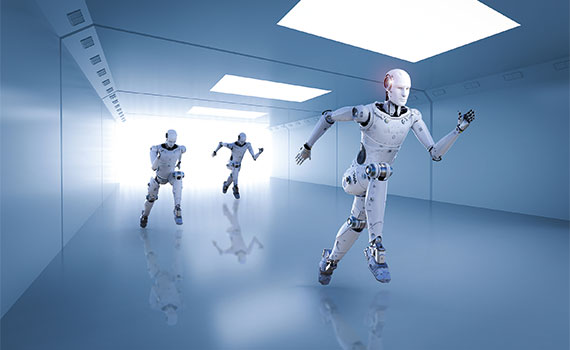 This article was first published in the May 2018 China edition of Accounting and Business magazine.
Robotics process automation (RPA) is still in its infancy in Hong Kong but, according to a joint survey by ACCA Hong Kong and KPMG China, ignoring the trend or not keeping up could put the special administrative region (SAR) at risk of losing its competitive edge.
The survey, Hong Kong's Automated Future, aims to understand the state of automation technologies, particularly RPA implementation within finance functions of various organisations in Hong Kong. It draws opinions from 388 respondents working in finance and banking, professional services, manufacturing, real estate, retail, information technology and telecommunications, insurance, and government and public administration.
'Automation is an opportunity for Hong Kong companies that cannot be missed. Our survey finds that senior executives are demanding greater and faster insights as well as value from finance functions,' says Isabel Zisselsberger, KPMG China's head of financial management.
RPA has been gaining momentum in transforming business processes. It can help free up resources from repetitive, structured transactional processes, address the need to rapidly enable automation of human tasks without costly system integration, and interact with multiple applications in a 'non-invasive' manner. RPA is considered an ideal digital gateway to help organisations make their way to becoming highly-automated or even artificial intelligence-enabled enterprises in the future.

Industries such as IT and telecommunications as well as banking and finance are more likely to consider automation, as their business processes are repetitive, transactional and high volume in nature. These organisations need to embrace digitalisation and this capability is flowing through to their back-office functions. While there are clear commercial benefits from successful RPA implementation, it is important to also recognise the positive impact it can have on teams and employees, survey respondents said.
According to the survey, the three primary triggers for investing in automation technologies in Hong Kong are to improve efficiency and prioritise more value-adding tasks (29%), minimise errors associated with manual processes (25%) and make cost savings (20%).
Slow to adapt
However, only 4% of respondents said that their finance departments were highly automated, with around 80% either unaware of automation technologies or having no current plans to adopt them. Additionally, only 7% confirmed that their organisations have an annual budget for robotics and automation.
Not knowing whether the perceived benefits brought by RPA would outweigh the costs and what type of technology would be most suitable are two of the top reasons stopping companies in Hong Kong from exploring more of the technologies. Companies are usually not well-versed when it comes to a young technology like automation and, as a result, they do not know what is possible. More specifically, 43% of the survey respondents said that they were not aware of technologies that could automate finance or other operations. And that lack of awareness often leads to fear.
'A lack of knowledge and awareness of new technologies slows adoption of RPA,' says Eunice Chu, head of policy at ACCA Hong Kong. 'Many companies, particularly SMEs, do not know where and how to start and, consequently, fear the impact such technologies could have on their businesses.'
Despite the lack of knowledge on automation, companies do recognise the importance of tapping into the area. Many admitted that they could be left behind if they fail to adopt the technology soon. Some believed their processes would be either suboptimal or inefficient without automation, their operations would be prone to errors or they would lose their competitive edge. A mere 6% believed their organisations would not be affected if they do not invest in some form of automation. But this does not mean that companies in Hong Kong are ready to put money into RPA implementation. Among those who were aware of automation technologies, just 20% were planning to invest in the near future and 37% had no plans to incorporate them into their operations.
There is definitely room for automation tools to be deployed in the finance functions of companies in Hong Kong. 'Training is a particularly important area companies should invest in,' Chu says. 'As new technologies, including robotics automation, continue to grow in Hong Kong, there will be a greater need for staff with knowledge and experience in handling such tools.'
Innovative ambitions
The survey highlights that technology, telecommunications, banking and finance sectors are the leaders of RPA adoption in Hong Kong. On top of efforts by individual organisations, the government is also strengthening its push for corporate sector innovation as it seeks to cement its position as a regional innovation and technology (I&T) hub.
Hong Kong has the right characteristics to be a leader in the adoption of new technologies. As an international financial, trade and logistics, and professional services hub, Hong Kong is home to many businesses that are running complex operations. The emphasis on innovation was reiterated when Hong Kong's Finance Secretary Paul Chan announced various measures to boost innovation in the SAR during his 2018-19 Budget speech, including setting aside HK$50bn for supporting I&T development. 'I&T is undoubtedly an economic driver in the new era,' Chan said at the time, noting that, in order to stay competitive, Hong Kong must optimise its resources by focusing on developing its areas of strength, such as biotechnology, artificial intelligence, smart city and fintech.
Some initiatives introduced in the Budget will also prepare Hong Kong for the challenges brought by automation. 'In order to stay ahead of the competition, companies will need to establish a long-term plan that revolves around training, retraining and redeployment of staff,' Chu says. 'New Budget measures, such as relaxation of the eligibility criteria for the Technology Voucher Programme and increased subsidies for the Continuing Education Fund, could help both companies and individuals to prepare for the challenges and opportunities that arise from automation.'
Looking to the future, 13% of the survey respondents believed that they need to start investing more in automation solutions now in order to gain first-mover advantage, while 33% said they would do so in another two to three years once automation technologies are more mature. Most respondents, on the other hand, expected automation to roll out over a longer time frame, with the majority believing that their companies will be running some form of automation application within five years.
A proper implementation plan must be ready to ensure a smooth transition and minimise the risks associated with technology enablement. With a clear action plan, companies can typically be ready to scale up to production within three to four months.
'To survive and thrive as the digital environment evolves in Hong Kong, businesses will need to develop new skillsets,' Zisselsberger says. 'We advise CFOs and finance teams to start embracing robotics processing and artificial intelligence, using data and analytics and deploying emerging technologies that can transform the function.'
Cornelia Zou, journalist
"Many companies do not know where and how to start and, consequently, fear the impact such technologies could have on their businesses"