Helen Brand, ACCA chief executive and Ada Leung, ACCA director, China, describe ACCA's role in transforming the accountancy profession in mainland China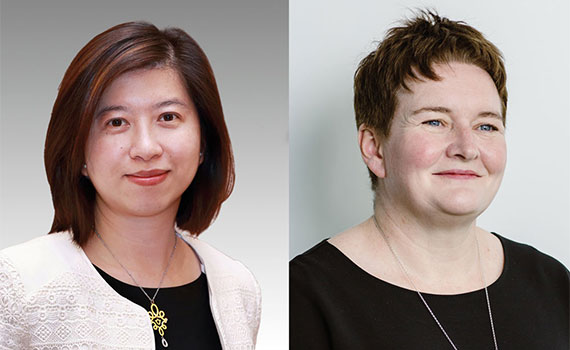 This article was first published in the June 2018 China edition of Accounting and Business magazine.
An ACCA delegation met with Chinese Institute of Certified Public Accountants (CICPA) officials in 1988. How crucial was that first meeting to the development of the profession in mainland China?
Helen Brand: The meeting laid very firm foundations for what came next. That the meeting took place at all required vision from all concerned – not least from the then ACCA chief executive, Anthea Rose, and the president of CICPA, Madam Feng Shuping.
Ada Leung: The first meeting between ACCA and CICPA shaped the long-term friendship between both organisations. This tradition has been carried on; leaders of both bodies meet annually to recognise the achievement of the partnership in the past year and share ideas on new collaboration to promote the development of the profession.
Why do you think the strong partnership with CICPA and other bodies in China has endured for 30 years?
HB: We have worked very hard to understand the needs of our partners and then deliver in order to contribute to their success. We take a long-term view of relationships and the development of the profession, which aligns very well with the approach of our Chinese partners. We have also invested in China – people, infrastructure and professional insights – so that the outcome is a global offering that is nationally relevant.
AL: Bearing public value in mind, ACCA has always been a valuable partner by sharing our global experience and networks with our partners to help realise their ambitions. We understand the importance of listening to what our Chinese partners need and believe that the delivery of sustainable value to our partners is the only way to build a strong partnership. We are proud of our close working relationships with Chinese partners including the ministry of finance, CICPA, the three national accounting institutes, universities and employers.
How has the accounting profession evolved in China over the last three decades and what contribution has ACCA made to its progress?
HB: The accountancy profession in China has now aligned very much with international standards. ACCA's most significant contribution has been through the provision of the talent to work to those standards and provide the best possible financial leadership.
AL: The importance of the profession has been widely recognised as it contributes greatly to the sustainable growth of the Chinese economy and therefore to society. ACCA has actively been contributing in many national initiatives while bringing an unparalleled international perspective. We are also proud of our members, who enable thousands of organisations, in the private and public sector, to function sustainably every day, with their expertise, professionalism and commitment to public value.
With ACCA Qualification – the future, ACCA has set the standard for the development of high-quality professional accountants. How will the innovations introduced to the qualification support China's talent pipeline?
HB: By their very nature, the innovations to the ACCA Qualification are leading-edge. Because ACCA works so closely with China's top universities, many of the developments will become embedded in the Chinese university system, ensuring that emerging talent is work-ready and capable of performing to the highest standards on the global stage. That is where Chinese business is now operating and where future development lies.
AL: Our research with Chinese CFOs has told us that the top three key skills accountants should have in order to grow their businesses are ethics, professionalism and management competencies, which are fully reflected in ACCA Qualification – the future.
Partnerships are vital to capacity-building in China. How has ACCA sought to nurture these?
AL: Our partners are absolutely critical to the creation and delivery of value to the profession. We have been working hard with our partners in achieving shared success. In partnership with universities and learning providers, we have always stood side by side with them to innovate our support to enhance student progression and employability. We're constantly talking to leading employers to understand their expectations from the profession and how ACCA can support their business growth by building a sustainable talent pipeline.
The Belt and Road initiative (BRI) has garnered a great deal of attention throughout the region and will impact professional accountants in China and beyond. How has ACCA sought to inform and support members in responding to the business needs of the initiative?
HB: ACCA was again a first-mover in understanding the importance of BRI to China, the global economy and the profession. We have been working on research and insights to inform the successful implementation of BRI, and promoted this across our work. Very importantly, we are mobilising our global network of members and partners in order to support the initiative and ensure that everyone benefits from the opportunities that BRI undoubtedly creates.
AL: As a truly global organisation, ACCA has a presence in 25 countries along the Belt and Road route. This gives us strength to make important connections amongst our global networks of members and partners, sharing business insights and best practices. We aim to develop future-proof 'BRI-ready' capabilities to support members and partners through the ACCA Qualification, relevant CPD and focused research and insights, unlocking their potential to reap rewards from BRI.
What have been the stand-out developments made by ACCA in mainland China?
HB: First and foremost it has to be the creation of so many world-class Chinese members! I don't think anyone would have predicted 30 years ago that the ACCA president would be from China – now Jenny Gu from Shanghai is the vice-president and due to assume the presidency in two years' time. I am also hugely proud of the ACCA China team who work tirelessly in supporting all our stakeholders and upholding ACCA's global standards and brand.
AL: It is definitely our members! They have contributed so much to ACCA's reputation and influence in China. ACCA members live and breathe the core values of ACCA. We have tremendous pride in what our members have achieved in their roles and for the country. Being Chinese, I am also proud to be part of an ACCA team that has the vision and commitment to contribute in developing the accounting profession that China needs.
What can members and students in China look forward to from ACCA?
HB: We recognise the unique market environment and requirements of China. ACCA is investing heavily in the right operating model for China that will ensure that members and students receive better personalised and efficient services. This model will also support improved thought leadership, employment opportunities and brand recognition.
AL: We put our members and students at the heart of our activities in China. We promise that ACCA will always be at the forefront in shaping the future of the profession. By doing so, our members and students can receive the best opportunity and services to support their ambitions.
What will be the highlight for you of this year's China 30 celebrations?
HB: I am sure that it will be the pride and excitement shown by our members in China, which will inspire all of us to even greater achievements in the decades ahead.
AL: I am proud to see the creation of the new China market during this landmark year for ACCA China. Bringing together our teams in mainland China and Hong Kong, we will provide more opportunities for our members, students and partners. The strength of this network means we will align even more closely with employers, and this new structure will ensure we work as one team on key national developments such as our Belt and Road and Greater Bay Area initiatives.
"We have worked very hard to understand the needs of our partners and then deliver in order to contribute to their success"
"ACCA's members in China are among our best and brightest ambassadors; we have tremendous pride in what they have achieved"