A recent networking event hosted by ACCA Malaysia and the FPLC noted that progress in recruiting women to corporate boards is still too slow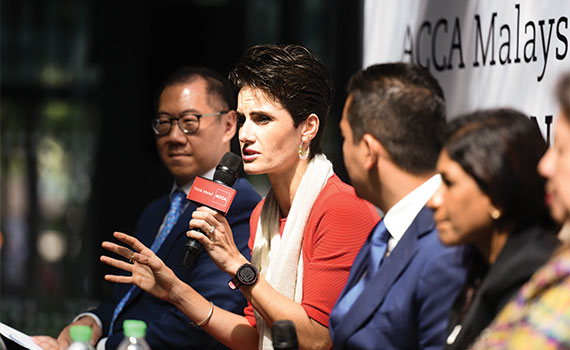 This article was first published in the October 2018 Malaysia edition of Accounting and Business magazine.
The ACCA Malaysia Women's Network and the Federation of Public Listed Companies (FPLC) recently hosted a networking dinner for senior female ACCA members and representatives of public listed companies.
The aim of the event was to enable more women to be appointed to boards through networking opportunities; the Malaysian Code on Corporate Governance 2017 requires that women must make up at least 30% of the boards of large companies.
Speaking at the dinner, FPLC president Tan Sri Dato' Seri Hj Megat Najmuddin stressed the need for corporate Malaysia to introduce balance in the boardroom and build a recruitment pipeline with diverse candidates.
He noted that while women are taking their rightful positions in boardrooms, progress is slow. In January, the Securities Commission announced that there are only seven large companies of the top 100 listed companies on Bursa Malaysia with all-male boards; an improvement on the previous year.
Much of the progress in Western Europe has been government-led. Since 2008, listed companies in Norway must award at least 40% of board positions to women or risk dissolution. More than a dozen countries quickly followed suit, setting quotas of between 30% and 40%. In Belgium, France and Italy, non-compliant firms can be fined, dissolved or banned from paying existing directors.
Datuk Alexandra Chin, past ACCA president and chair of the ACCA Malaysia Women's Network, chaired a panel session comprising En Izlan bin Izhab, FPLC committee member and chairman of Kenanga Investment Bank; Dato' Zaiton Mohd Hassan, ACCA council member and board member of Sime Darby and Bank Islam; and Michele Kythe Lim, president and CEO, Institute of Corporate Directors Malaysia. The session focused on individual journeys to the boardroom, the business case for a more diverse board and the government's agenda to achieve 30% women on boards.
In conclusion, the key message was that gender-diverse boards are integral to better financial performance and improved governance, aligning with Malaysia's economic imperatives and satisfying community and shareholder expectations.