Renewal and restructure have been the hallmarks of the career of Stephen O'Flaherty, BDO Ireland's director for corporate finance and recovery, and chair of ACCA Ireland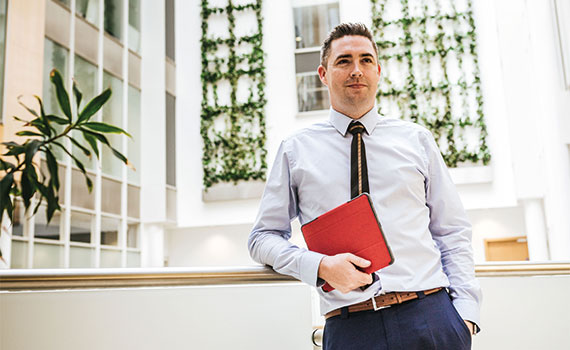 This article was first published in the October 2018 Ireland edition of Accounting and Business magazine.
It's been a busy year for ACCA Ireland chair Stephen O'Flaherty FCCA, the Galway native who, in 2017, assumed the role of director for corporate finance and recovery with BDO Ireland, following a five-year period as manager of new business lending with AIB in Limerick. While many ACCA members have built their careers working on both sides of the fence between practice and corporate, O'Flaherty has done so with particular gusto. Prior to his banking role at AIB, he served as senior manager in corporate finance and rescue with Horwath Bastow Charleton in Limerick.
While his current role at BDO might seem like a return to the familiar, O'Flaherty points out that the economic context today is very different to that which prevailed when he moved from practice work to AIB in 2012. 'Corporate recovery work has undoubtedly reduced in the past few years,' he says. 'We are obviously still seeing examinerships and receiverships, but they now tend to be related to specific issues such as a business losing a key customer or historic debt that was never right-sized.'
What compensates for this, he adds, is the growth in debt advisory and corporate advisory work. 'The skills that you hone in corporate recovery – scenario analysis, risk management and stress testing – are directly transferrable to areas such as raising finance or M&A. Our argument is that we know our clients and we know our sectors, so we know exactly what a bank wants to see in any given application.'
With that deep experience on both sides of the financial decision-making table, how does he respond to the concern that finance continues to be difficult to access for many small businesses? 'The reality is that bank financing is flowing a lot better in every sector right now,' he says. 'However, the key to accessing it remains presenting an application to a bank in the right format and with the right information. Bottlenecks happen when that quality of information isn't there.'
It's an insight that has deep roots not just in O'Flaherty's time in banking but also in corporate recovery. He says: 'One key observation I would have – and it was confirmed by experience time and again – is that what separates companies that survive from those that don't is the availability of quality financial information. When I look back on examinerships and receiverships I was involved in during the recession, there were certainly companies that suffered due to circumstances outside their control, but a critical issue was always the presence or lack of timely and precise financial information. That remains absolutely true today in terms of financing. Governance, information and data are what underpin financial decisions.'
Life lessons
O'Flaherty's journey to becoming one of the Mid-West region's most respected figures in the area of corporate recovery began, appropriately enough, with direct experience of a liquidation while studying for the ACCA Qualification. 'Just before I completed my finals, the company I was working for found itself in examinership and ultimately went into liquidation. It was my first introduction to the world of insolvency and it gave me a huge appreciation of the personal dimension to it. That's important because, when you are in the receiver or examiner role, there are obviously funding and strategy elements, but you are also bringing people along a difficult journey with you. The modern accountant, to my mind, has to have an ability to communicate as part of their skillset.'
That direct experience proved timely when he joined Horwath Bastow Charleton as a corporate finance executive in 2008. 'At that stage, there was no corporate recovery department,' he says. 'Working with colleague, former ACCA president Brian McEnery FCCA, I was asked to take on an examinership. One of the reasons I was approached was that direct experience I'd had on the other side of the table.'
While his career has alternated between practice and corporate, a common denominator has been the city he has made his home for two decades now. He is hugely positive about the opportunity for growth and development in the years to come for Limerick and the rest of the Mid-West.
'We have key infrastructure in place now, superb educational facilities, a skilled workforce and a good quality of life,' he says. 'We are also beginning to see office and residential developments coming on stream as part of the Limerick 2030 plan, so when I see some of the challenges in Dublin with housing and traffic, I think the future for Limerick as an alternative investment location is increasingly bright.'
Giving back
Renewal and optimism have also been very much to the fore in O'Flaherty's experience of ACCA over the years. He recalls: 'I first became involved with ACCA not long after qualifying and I can remember my first meeting very clearly. It was great to have the opportunity to sit alongside my peers, to hear some of the challenges they faced and also to be part of discussions about how we could help our fellow members.'
Advancing through the Munster members network, O'Flaherty also got involved in setting up CPD for the region. He says: 'Being part of ACCA has, for me, always been about the people you meet along the way. It's given me a huge amount, and I feel privileged to be in the position to give something back. One of the great honours of being chair is to have the opportunity to put your stamp on the role.'
O'Flaherty believes that leadership is one of the hot issues of our times – one that is reflected in the introduction of the Strategic Business Leader case study on the ACCA syllabus this autumn. One takeaway from the experience has been that leadership isn't just about the individual. O'Flaherty takes particular pride in the contribution many within ACCA Ireland have made in bringing this important new component in the curriculum to fruition.
'The introduction of the Strategic Leader Business case study has been widely recognised as a major development in the qualification,' he says. 'The ACCA Ireland team has been heavily involved from the outset in developing this initiative, and I've been privileged to be one of many committed members who have been part of that.'
O'Flaherty sees the new case study as setting up the qualification for the future and reflecting ACCA's ongoing commitment to its members. 'In education terms, it really is unique, and the feedback we've been getting, from employers in particular, has been very positive. Their message is that it is exactly what they have been looking for. To be chair of ACCA at this pivotal time is really an honour.'
In addition to the Strategic Business Leader case study, O'Flaherty is proud to have worked with former ACCA Ireland chairs John Gaynor FCCA and Etain Doyle FCCA in helping members address the rapid advances in technology that are changing the profession. 'We all need to be conscious that the skillset of modern accounting is continually evolving,' he says. 'Working with Trinity College Dublin, we developed a number of courses that support our members in this. The first, on data analytics and big data, finished earlier this year, and the feedback from those attending has been hugely positive.' He points to ACCA's partnership with Microsoft as another example of the latest thinking in data being made available to members.
The sense of giving back extends beyond ACCA. A chance meeting some years ago with the founders of the Saoirse Addiction Treatment Center saw him get involved with the organisation, which provides drug and alcohol counselling services to the community in Limerick at no cost. O'Flaherty recalls hearing the stories of the people they helped for the first time and feeling he needed to get involved. 'I took a look at the whole governance area and we revamped that. The benefit an organisation like this provides to society is huge and not always recognised. Being involved has been hugely rewarding for me.'
As Ireland leaves the difficult economic circumstances of the past decade behind, a fresh set of challenges will emerge. For O'Flaherty, the future is something to be excited about. 'As the father of two children, I very much see the future through their eyes. Ireland has an educated and intelligent workforce, and, despite Brexit and other headwinds, I see a very bright path ahead for us. We have shown what we can achieve when we are determined, and I think it's a matter of planning our next steps in a way that's flexible and prudent, but also ambitious for what lies ahead.'
Donal Nugent, journalist
"What separates companies that survive from those that don't is the availability of quality financial information"