When it comes to creating an effective website, it's what it says rather than what it looks like that will be the key to generating business, says Tim Butler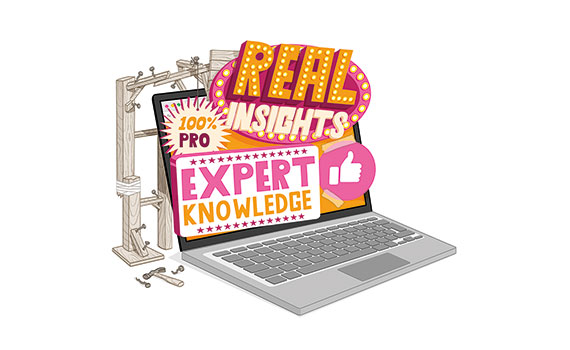 This article was first published in the January 2019 China edition of Accounting and Business magazine.
It is vitally important for businesses to have an online presence. Close to 3.8 billion people – almost half of the world's population – use the internet, with Google alone processing more than 40,000 search queries every second, adding up to more than 3.5 billion searches a day. Failure to appreciate the importance of your website can lead to you quickly falling behind your competitors in the market space, especially if your competition is investing time and money in actively improving their online presence.
The fact is that most businesses appreciate the importance of being online and will more than likely have a website. But is it doing its job? Before answering that question, it's important to define what makes an effective website.
For an accountancy firm, this is one that attracts search traffic for accountancy-related search queries for the services you provide and want to be found for. It must then engage the user and result in them completing a defined goal, which could be filling in a contact form, downloading a guide or calling you directly. The ultimate aim of your website should be to work as an asset for your business, generating and nurturing leads and delivering results in line with your business goals.
To create an effective website takes planning and consideration of your customer journey, but unfortunately this is often overlooked.
What do you want?
Before creating a website, think about your objectives: what do you want your website to achieve? The likelihood is that it needs to generate leads, and this means ensuring that it ranks for search terms related to the accountancy services your firm provides. Search engine optimisation (SEO) should therefore be a pivotal aspect of that development, otherwise you may well end up with a good-looking website that doesn't do anything for improving your search visibility and attracting leads.
Beware of beauty
One of the common problems with websites is that the focus in the development phase comes down to how the website looks. Of course, this is important – you certainly want it to be aesthetically pleasing – but this should not be the sole focus. A landing page full of pretty pictures and buzzwords like 'real insights' and 'expert knowledge' says nothing about the services you provide. Not only that, a pretty website may not actually rank in search results. Even if your developer says that they are aware of SEO, unless you are charged specifically for this then you have to expect that this has not been done.
There are a number of factors that must be considered to make sure your website is optimised to rank in Google and Bing search results. This is where consulting an expert digital marketing agency can be a good idea, but there are still things you can do yourself to improve the effectiveness of your website.
Identify your services
Does your firm specialise in business recovery, corporate tax or R&D tax relief? Your website should have specific landing pages dedicated to particular services, optimised for related search terms.
Understanding what to optimise for comes through keyword research. There are a number of tools available to do this, which an accredited digital marketing agency will have access to. After identifying the terms you would like to rank for, you can then create content to target them.
Ideally, SEO should be considered before you build your website. If not, do not despair because there is still the opportunity to improve it. In fact, you should never consider your website to be 'finished'; it should be constantly evolving.
Content is key
If you want your website to rank for key industry search terms, you need to provide quality content. The better your content, the more likely your website is to rank.
It is important for content to identify your business as accountancy specialists. Think about the accountancy services you provide and create high-quality content targeted at ranking for key search terms around them.
Who is going to create this content? Ideally, industry experts, so make the most of your team. If your firm has a specialist in corporate finance services, then it makes sense for them to write the content for your 'corporate finance services' page, making sure you provide them with the keywords they need to target.
In terms of producing ongoing new content, your employees should be considered an asset. Incentivising and encouraging them to produce content will help the search visibility of your website, especially if you invest time in creating a blog or insights section. A blog can be used to create articles about current industry trends and address frequently asked questions; the likelihood is that people are searching online for answers.
In marketing there is a saying that 'content is king'. When it comes to ranking in Google search results, this saying could not be more true. Without quality, targeted content, you can never expect your website to rank well or convert users. Invest time in creating content targeting key search terms and you will see the benefits.
Tim Butler is founder of Innovation Visual, a digital marketing consultancy.
"A landing page full of pretty pictures and buzzwords like 'real insights' and 'expert knowledge' says nothing about the services you provide"