At the heart of the donor ecosystem that sustains BBC Media Action's broadcasts is Alan de Sousa Caires FCCA, the development charity's global director of finance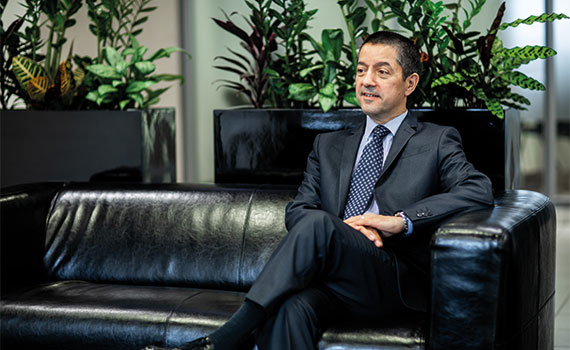 This article was first published in the February/March 2019 China edition of Accounting and Business magazine.
Alan de Sousa Caires FCCA has the kind of job that many accountants would die for. Part of his role as director of finance and business services at BBC Media Action is to help drum up funding for BBC radio and TV programmes that reach 200 million people around the world a year.
BBC Media Action is the international development charity arm of the broadcaster, which works with governments, NGOs, donors and other broadcasters across Asia, Africa and the Middle East. While BBC Media Action is legally, financially and operationally independent of the BBC, it upholds the organisation's values and reputation.
De Sousa Caires has five direct reports and oversees a total team of 20 at the organisation's London headquarters.
'I've been in the not-for-profit sector for 15 years,' he says. 'It is so much more complex working in international development than in the commercial sector. There are so many different risks and moving parts. We have to make sure we are compliant in so many ways. That is why I love my job. We reach 200 million people a year through our programmes.'
VSO prelude
De Sousa Caires joined BBC Media Action in 2014 as deputy director of finance, becoming director of finance and business services in 2017. Before that he had worked for Voluntary Service Overseas (VSO) in Papua New Guinea, in a capacity building role.
'The time I spent in Papua New Guinea was one of the reasons I sought out this job,' he explains. 'I really wanted to work in international development. My wife had been working for Farm Africa, which was supporting farmers in East Africa, and I could see how exciting her work was. Before VSO, we spent a couple of years in South Africa where I was running my father-in-law's publishing business. After returning to the UK, I applied to BBC Media Action'.
As the senior financial executive at the organisation, he is not only responsible for management accounting, financial reporting and budgeting, but also for running the business systems. In addition, he ensures that BBC Media Action complies with the requirements of the Charity Commission, internal BBC corporate regulations, external donor requirements, GDPR, plus local legal, tax and procurement obligations in all the countries in which it operates.
Following the safeguarding issues in the charitable sector last year, de Sousa Caires also has to carefully oversee safeguarding reporting.
'I have had to go back over the past 10 years to see if there are any issues to be dealt with, and I have put a reporting system in place,' he explains.
Competing demands
The role is demanding. Typical activities include reviewing funding project proposals for donor organisations and assessing how they fit within the strategy, coaching staff and working closely with the other members of the executive team. 'We have a very supportive CEO,' he says. He also spends a lot of time with the IT people to make the workplace more efficient – an activity he describes as one of his passions.
However, the biggest issue, he says, is the funding environment and the changing demands of donors.
'Our turnover and budget last year was £34m across all our country offices, and 99% of our funding is restricted,' he explains. 'Though part of the BBC family, we are not funded by the TV licence fee'. BCC Media Action gets a large percentage of its income from big institutions such as the UK and US governments, the European Union and the Gates Foundation, which means it has to spend the money on agreed programmes. 'For example, if Unicef is focusing on giving polio vaccinations in Nigeria, we would bid to be a part of that project. We take the money and create a specific radio programme to address the need – it's about informing people so that they can decide if the vaccination is right for their child.'
They use research to consider what type of programme needs to be made, in what format, and whether it should be on radio or TV. It might be a drama, a magazine show or a public service announcement.
In some countries, these programmes are broadcast via the BBC's World Service; others go out on a local radio station. 'In Nepal our programmes are distributed to remote radio stations by moped,' he says. 'We also broadcast in Nepal via Facebook. We have 1.8 million "likes", which is incredible in a country with a population of just 29 million.'
De Sousa Caires believes his ACCA Qualification has proved crucial to his career progression. 'I left school at 16 not knowing what to do,' he says. 'I did the AAT training and qualification, then it was natural to go on to one of the four main qualifications – I chose ACCA as it provided the broadest range of training. Without that, I wouldn't have achieved the seniority or variety of roles.
'I value the time I still put into ACCA and other networking events, meeting people from other organisations. You can't underestimate the value of sharing information and experience.'
Paul Gosling, journalist
"In Nepal our programmes are distributed to remote radio stations by moped"