Climate-related disclosures require significant ethical judgments – just what professional accountants have been trained for, says ACCA president Robert Stenhouse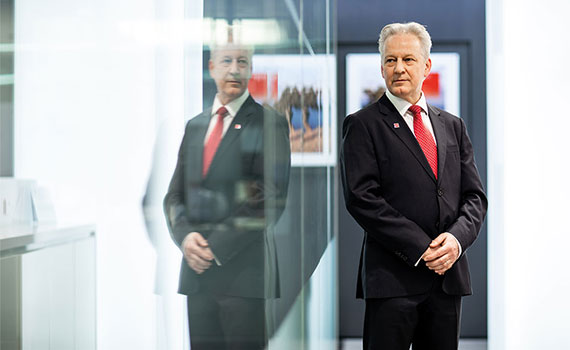 This article was first published in the October 2019 International edition of Accounting and Business magazine.
When individuals, businesses and governments make big decisions, it is important that they have trustworthy information to act on. Can there be any bigger decisions than those made about the future of our planet?
After a series of major weather events and mounting evidence of the impact of global warming, businesses have no option but to understand both their contribution to carbon emissions and whether their business model is sustainable if average global temperatures continue to rise.
As governments make commitments to cut carbon emissions, they are starting to hold enterprises to account for their environmental impact. Investors too are challenging businesses that fail to recognise the impact of climate-related variables in their accounting estimates and valuation models.
The first challenge for enterprises is to identify, measure and monitor relevant activity so that decision-useful climate-related disclosures can be made. This complex, challenging task requires significant professional judgment and is fraught with potential ethical challenges – exactly what professional accountants have been trained for.
For climate-related disclosures to stimulate the desired behaviour, they have to be trusted. The good news is that our worldwide employer survey this year makes it clear that businesses everywhere know that ACCA is committed to embracing and promoting a robust ethical methodology. Our Ethics and Professional Skills module is a major reason why ACCA's reputation and membership continues to grow. Public trust in the wider profession is essential if the importance of the role that finance professionals need to take in tackling climate-related risks is to be fully recognised.
This seems a fitting topic to cover in my final column as ACCA president. It is vital that current and future members recognise they have the skills, competencies and ethical compass to help to lead on this truly global issue.
My final message is a reminder. With this year's AGM and Council elections fast approaching, I encourage all members to engage with the process. We are a professional membership association first and foremost, run by members for members, so please look out for your invitation and voting codes, and cast your vote.
As a member body, ACCA is only successful when its members are successful; so I congratulate you all on your past achievements and wish you all future success as, together, we continue to develop the accountancy profession the world needs.
Robert Stenhouse is ACCA president and a director, national accounting and audit, at Deloitte in the UK.