As the economy imploded during Greece's sovereign debt crisis, group CFO Michael Samonas FCCA stepped up to keep Sidma Steel Products afloat financially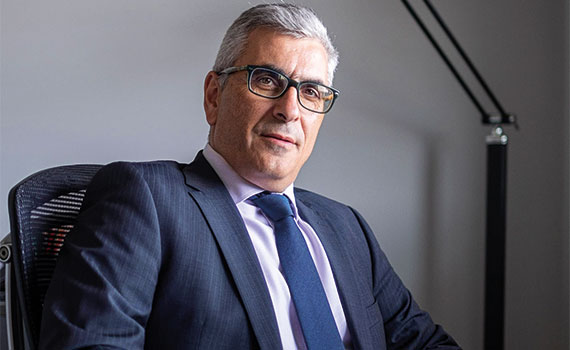 This article was first published in the November/December 2019 International edition of Accounting and Business magazine.
In Greece it is simply known as 'the Crisis' – the sudden and catastrophic fallout from the global financial crisis that began in the US in 2008 and ricocheted around the world. Weakened by years of financial mismanagement, Greece was undoubtedly the biggest sovereign casualty. For Greek companies, the impact was immediate and shocking.
'Everything changed,' says Michael Samonas FCCA, group CFO of Sidma Steel Products, Greece's major steel producer. 'The banks' approach to us altered overnight – the switch for lending was effectively turned off. I'm glad we survived.'
Having joined Sidma a few years previously, in 2004, Samonas found the more challenging finance role he was in search of. He had been CFO at internet portal business Vizzavi, a joint venture between Vodafone and Vivendi Universal that offered both companies' customers news, entertainment and internet services on the go through their TV, mobile phones or online. 'Vizzavi was a service company, and in that respect it was a relatively easy position – there was no production line to manage, no inventory, and it had a very wealthy UK parent,' Samonas says. 'I wanted to be exposed to something more demanding in finance.'
He describes his move to Sidma as 'the right company at the right time'. The first, relatively quiet, four years were spent leading Sidma's issue of public shares for a listing on the Athens stock exchange in 2005, overseeing the issue of syndicated bond loans of more than €120m (US$131.4m), and implementing an integrated business software system.
In 2004 Sidma expanded into Romania and Bulgaria and completed the construction of steel service centres in Bucharest, Sofia and Inofita (around 50km north of Athens) in 2007. The company's purpose-built headquarters in Inofita were completed in 2009.
The crisis, though, changed everything, triggering a full-scale meltdown in Greece after years of heavy national borrowing. In 2010 the country was frozen out of bond markets when it announced government debt amounted to nearly €300bn (US$328.5bn). Three bailout loans were granted by the International Monetary Fund and European Central Bank, totalling €289bn (US$316.4bn), on condition that the country implemented stringent austerity measures. The Greek government accordingly took an axe to public spending, slashed public sector salaries and raised tax rates dramatically.
Collapse in demand
Demand for Sidma's steel fell sharply – to less than half of pre-crisis volumes. 'Everyone was looking to me for a solution,' says Samonas. 'We had to cut product lines, change our credit terms. I had to restructure the company and lay off people. It required patience and persistence. But we're still here, so we did something right.'
In fact, in some ways, Samonas says, the crisis changed Sidma for the better. 'People say you should always learn lessons from negative events. Don't waste a crisis, they say. And in that respect, the crisis was good for me and for the company. No one really thought too much about liquidity before but they really care about it now. The attitude within the company has changed.'
The crisis turned the CFO into the business's helmsman. 'Before the crisis, the development director would set the company's agenda. Now I do it. It's a completely different approach. The starting point is what you can have in terms of resources, given the credit terms.'
During the crisis, he spent a lot of time educating the business in the importance of finance and controls in a recession. 'For example, our sales people found it difficult to get clients to pay quickly or even on time, and that was viewed as just the way it was. But I showed them exactly how our liquidity was affected if customers paid sooner rather than later. I'm the sales team's best friend now – they ask my advice about selling to particular clients.'
At the moment, he adds, the company has around 0.05% of bad debts: 'That's very low,' he says. 'I became wiser as a result of the crisis. I focused on things we didn't have to focus on too much before.'
Cashflow and liquidity are now the mantra. 'I monitor cashflow forecasts and liquidity very closely, every day, and I spend an hour or two every day on credit control issues. The crisis has made us very careful about credit control – amounts over a set limit need my personal authorisation or may be referred to the company's credit committee.'
Another trend he monitors closely is the volume of post-dated cheques collected – a particularly Greek phenomenon. Greeks habitually write cheques dated at some point in the future, sometimes as much as six months ahead. The practice is legal, but many argue that it helped contribute to the sovereign debt crisis that engulfed Greece. The credit bank Tiresias estimated that, in 2009 alone, cheques worth €3bn (US$3.3bn) bounced.
Samonas came to accountancy relatively late in his career. He studied physics at the University of Surrey in the UK, gaining an MSc followed by a PhD in electronic engineering. Those qualifications, though, were difficult to translate into a career in his home country. 'I needed to find a way to commercialise my skills,' he says. 'It's difficult to find a job in physics in Greece.'
He initially favoured marketing, completing a postgraduate diploma. 'Accountancy came later, while I was working for Vodafone,' he says. 'I met an interim head of finance in the group who had a degree in history and an ACCA Qualification. I decided that if I wanted to carry on I needed a serious qualification in finance, so I looked at the ACCA programme and really liked what I saw. My qualification got me the interview at Sidma, without doubt.'
His aptitude for mathematics, along with a long-standing interest in valuation, helped. 'Valuation is my real love. I went into accountancy partly so I would be able to better understand it.' In his early career, pre-qualification, he specialised in models for business planning, valuations, mergers, projects and data analysis – he has a continuing interest in financial forecasting, analysis and business modelling, which stretches to sharing his enthusiasm and knowledge with others.
He taught at the former Athens college of the California-based University of La Verne (where he completed an MBA), and currently teaches financial modelling at the American College of Greece. 'I love teaching,' he says. 'I teach at universities but I also work with companies, particularly SMEs, who want to understand their finances better.'
Back on track
Ten years on from the crisis, Sidma is back on track, although the trading environment remains challenging. The company has achieved cost reductions of more than 30% since the beginning of the crisis, and in 2018 liquidity stood at €9.2m (US$10.1m), an increase from €8.3m in 2017. Turnover reached €136.7m (US$149.7m) in 2018, a rise of 10.7% on the previous year. The company, though, reported pre-tax losses of €3.9m (US$4.3m), mainly due to a 20% fall in the gross profit margin because of rising raw material costs that had to be absorbed by the company. Its annual report acknowledged that there are 'still significant structural problems in the economy'.
The company's finance function is now leaner and more focused. Most processing activities have been outsourced – to KPMG for operations outside Greece and to a specialist outsourcing company at home. 'We have kept only value-adding activity in the finance function,' says Samonas. 'We have a chief accountant, credit controllers, and financial planning and analysis teams.'
Cost control is not the only reason for the outsourcing decision, though. Samonas says the company struggled to find and keep finance talent in its subsidiaries in Bulgaria and Romania, where the unemployment rate is in low single figures. 'Our subsidiaries have taken up a lot of my time, particularly in Eastern Europe where we had a high turnover of staff. There was always a lot of training to do,' he says. 'Now it's KPMG's problem if someone leaves.'
His plans for the future include completing the final stages of due diligence for a planned merger with a Greek competitor, which should conclude this year, and then to take full advantage of technology innovation in finance. 'I love technology and I want us to be at the forefront of change, particularly when it comes to analytics, automation, cybersecurity and data visualisation. I haven't managed to do much so far because I haven't been able to secure the budget, but maybe after the M&A is done we will get there. We want to implement more radical digital systems. That needs dedicated resources but also the right mindset. I try to be a facilitator, but it's not easy.'
Today, Greece's economy is 25% smaller than it was before the crisis but the country is off the critical list. In March 2019 it sold 10-year bonds for the first time since the bailout.
Samonas feels that a corner has, at last, been turned. 'Greece needs investment and a stable tax system, and the newly elected government is focusing on this, which is encouraging. If we can continue to raise GDP and create jobs, the impact on the national psyche will be tremendous. If there are new projects, new money, new jobs, people will spend. People feel hopeful again. It's the first time in 10 years that I've felt optimistic about our future.'
Liz Fisher, journalist
"Everything changed. The banks' approach to us altered overnight – the switch for lending was effectively turned off"