Senior civil servant Sue Gray reflects on her secondment to Northern Ireland's Department of Finance, and how diversity of thought can improve decision-making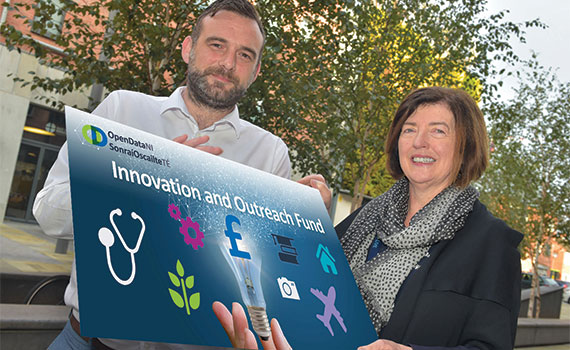 This article was first published in the February/March 2020 Ireland edition of Accounting and Business magazine.
In her Whitehall role as the Cabinet Office's director general of propriety and ethics, Sue Gray was dubbed 'the most powerful woman in Britain' by the ConservativeHome website.
Today, though, she has a very different role, as permanent secretary of Northern Ireland's Department of Finance. The smart modern office in Bangor overlooking Belfast Lough is a far cry from the department's somewhat tired former headquarters in the Stormont Estate, the Belfast site of the Northern Ireland Assembly. The new location and new leadership feel symbolic of a wind of change blowing through the Northern Ireland Civil Service (NICS).
Gray is now one of Britain's most senior civil servants and has become a reforming leader of government administration in Northern Ireland. She is enthused. 'I'm loving it – loving the job, loving the people I'm working with. It's great,' she says but adds: 'I hadn't realised how different it would be from the Civil Service I'd come from.'
Gray remains employed by the Cabinet Office, having been seconded for two years to Northern Ireland. With that period now nearly up, she intends to extend for another year. The arrangement is probably unique: staff transfers between the two services at a senior level are rare.
Few would deny the need for cultural reform of the NICS. The renewable heat incentive provided a sharp example of what can go wrong – the mismanaged project triggered the collapse of the Northern Ireland devolved government three years ago. A public inquiry, chaired by Patrick Coghlin, heard that meetings between senior civil servants and ministers and their special advisers were not minuted and decisions went unrecorded. Senior civil servants did not sufficiently assert themselves when ministers overstepped the mark, the inquiry was told. The mismanagement of the renewable heat incentive is estimated to have cost the public finances at least £240m.
Coghlin's report is due soon. 'We've used this time until the report is published to be looking, listening and getting on with things,' Gray says. 'We could never have had the capability and the skills that GB had available. That is something we can learn from.'
She adds that the failure for some to minute key meetings with ministers 'is an example of how there is a need to professionalise aspects of how the service works. Obviously some things have not quite worked.' That also means a change to the style and content of Northern Ireland's administration.

Fresh perspective
There is a perception that NICS recruits from a narrow pool of like-minded people, but Gray is clear that greater diversity improves outcomes, as does internal challenge. She talks warmly of her relationship with her former boss, the head of the UK Civil Service Jeremy Heywood, who died in 2018.
'He had me at the table,' she explains. 'Why did he have me there? Because I was challenging, and I think differently. I'd had a different background to a lot of people around the table. I'm not an accountant. I'm not an economist. I haven't done a finance job before. I bring a challenge to the way you think and the way things are done. You have to be careful how you use it, but that diversity of thought is hugely important.'
This is significant for the future of personnel policy – a responsibility of the Department of Finance. Gray explains that she wants to see a greater flow of people moving across the various sectors, as has become the case on the UK mainland.
'I'd love to see some NICS civil servants going out on secondment, whether it's to the private sector, the public sector, the charitable sector or another civil service, and then coming back with that experience,' she says.
Speaking before January's announcement of the restoration of the Northern Ireland Executive, Gray highlighted the challenges the public sector administration teams faced during the three years without an elected devolved government. 'It's been very, very difficult,' she says. 'There are a number of issues where you need ministers to make those challenging policy judgments. I think the Civil Service has been doing a great job in keeping the place going. But we do need ministers.'
Public engagement can, to an extent, provide some legitimacy around those decisions that have had to be taken. 'In the absence of democratically elected ministers, we make sure that what we're doing is not just from our own ideas but that we are actually consulting and engaging,' she explains.
One example is the comprehensive programme of engagement by the Department of Finance in its review of business rates, which attracted nearly 250 written responses, and a series of public meetings. 'The plan, when we get ministers back, is to put those responses and the emerging conclusions to ministers,' Gray explains.
The department's Innovation Lab – which engages with the public to consider new ways of providing services – is another example of consultation.
Gray is not afraid of introducing change and talks of developing new procurement arrangements. Her department is also making progress with open data. 'If we can publish more of our data in a form that enables people to use it, and come back to us with ways we might do things better, then that is something we should embrace,' she says.
The department has also had some success on dormant bank accounts. Legislation was passed in 2008 while the Northern Ireland Assembly was functioning, but there was little follow-up in terms of releasing money to charities and community groups. Now, money is being freed up for release through the National Lottery Community Fund.
An absence of professional expertise in some NICS areas is likely to be highlighted by the renewable heat incentive inquiry. This could lead to more opportunities for finance professionals. 'We want to have finance professionals coming in, in the way that we want to have professionals coming in in other areas,' Gray says. 'But we also want to further develop the people that we have.'
Other skills development approaches include more training in digital services, assessment centres for commercial and project management skills, and 'pop-up academies' that run intensive training sessions. Initiatives include greater adoption of agile working practices, external recruitment and better opportunities for internal candidates to progress faster and higher.
Nearly two years into her secondment, Gray remains positive about the future of Northern Ireland. 'There is an energy here and a real keenness,' she says. 'People do want to be the best.'

Paul Gosling, journalist
"I'm loving the job and the people I'm working with. I hadn't realised how different it would be from the Civil Service I've come from"