From his passion for chess as a youth to striving for market leadership for Dangote Cement, Bertrand Mbouck FCCA has always looked for a winning edge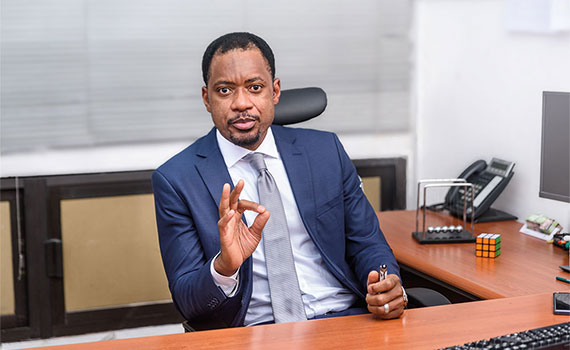 This article was first published in the April 2020 Africa edition of Accounting and Business magazine.
In his modest fifth-floor office at the headquarters of Dangote Cement in Lagos, Nigeria, Bertrand Mbouck FCCA is surrounded by regional maps of Africa. They are a visual representation of his domain, as well as the company's ambition to be 'the partner of choice for those who are building Africa'.
Dangote Cement is Nigeria's largest listed company and has a two-thirds share of the domestic cement market. As regional director for pan-Africa markets, Mbouck oversees the company's performance in the nine other countries where it also operates cement factories – Cameroon, Congo, Ethiopia, Ghana, Senegal, Sierra Leone, South Africa, Tanzania and Zambia.
With the value of Africa's cement industry forecast to grow at a compound annual rate of 5.9% in the decade to 2029, driven by a swathe of infrastructure development projects, the company is in a sector where opportunity abounds.
It is a prospect that Mbouck obviously relishes. 'I am very competitive, and I love engaging in new ventures and new responsibilities,' he says.
Growing up on the Gulf of Guinea coast in Douala, Cameroon's biggest city, he was intrigued by the Rubik's Cube puzzle and by chess, and developed a fascination for numbers and strategy.
An undergraduate internship in the finance department of the Hilton Hotel in Yaoundé, the capital of Cameroon, brought him into contact with auditors from Ernst & Young. Following his graduation in 2001 from the Catholic University of Central Africa in Yaoundé, the Big Four firm recruited him immediately to its team.
Over the next seven years he specialised in the telecoms and energy sectors, travelling extensively in Europe, Central and West Africa for businesses such as Orange Cameroon, Celtel Chad, Telecel Gabon, Total (Elf) and Eni, among others.
He joined Finnish power plant manufacturer Wärtsilä, which was setting up a subsidiary in central Africa, as area business controller. He realised, though, that to sit at the top table it was 'essential' to gain membership of a professional accountancy body. He chose ACCA. Soon after completing the qualification, he was promoted to regional business controller, and found himself controlling the finances of Wärtsilä subsidiaries in 28 countries across West and Central Africa.
Engaging in a number of strategic projects and negotiations for Wärtsilä, he realised he had a key skill. 'It appeared I had a talent for high-level strategic negotiation for immense projects,' he says.
Having taken himself off to Harvard Business School to supplement those strategy and management skills, at 36 he became Wärtsilä's youngest regional CEO – for Central Africa.
'Under my tenure, the entity experienced exponential growth – revenue doubled in the first year and tripled in the second,' the youthful-looking top executive says.
A born competitor
Buoyed by his successes at Wärtsilä, he fantasised about a more competitive, dynamic market where he could deploy what he sees as his primary skill: competitiveness. When he joined Dangote Cement in 2018, his roadmap was straightforward: 'contribute to developing a pan-African DNA and ensure a winning competitive position, performance and development'.
For Mbouck, it was a new industry with new challenges. 'As one of the biggest conglomerates in sub-Saharan Africa, Dangote Cement is exposed to typical challenges, which are tackled with sound business integration,' he says.
One of those challenges is, of course, power supply. Many countries in Africa have a poorly developed or non-existent electrical grid, but Dangote has introduced internal generation capabilities to become self-sufficient in power. There are now on-site power plants at most of Dangote's production facilities in Nigeria, Senegal, Tanzania and Zambia.
The company also converted its cement kilns to take a wider range of fuel feedstocks. 'It has diversified the fuel supply, improved operational flexibility and reduced costs,' says Mbouck. 'Business integration also enables Dangote Cement to source coal from the parent group's mining operations, making combustible supply more reliable and predictable.'
Then there is the logistics challenge – which the company has addressed by acquiring and operating a fleet of over 9,000 trucks. 'It enhances our volume dispatch and reach to markets by limiting reliance on third-party trucks,' Mbouck explains, 'and it facilitates the export scheme and performance.'
The talent challenge – a skilled and qualified workforce is in high demand at Dangote Cement, as in many other African businesses – has also had to be addressed. Mbouck says the company has been successful in retaining as well as recruiting, by focusing strongly on the professional development of its employees. 'Dangote Academy offers training opportunities, delivering 8,160 training hours per year and 114 different training courses,' he explains.
On a mission…
Mbouck says that responding to these challenges has helped develop a culture of success in the company. 'When you work for Dangote, you find yourself on a mission, as the group is engaged in transforming the face of the continent.'
His own approach is straightforward. 'Talk to as many people as possible in the business units and value their vision, their insight and their input,' he counsels. 'I engage on a regular basis with country heads, sales managers, sales reps and business analysts to understand their current competitive challenges, review performance and establish what kind of support, approval and resources they need from head office.'
There is plenty to take into account – market dynamics, stakeholders, products, country macro and micro highlights, competitors' moves, etc. Mbouck says that keeping in mind the profit and loss account, and the balance sheet, helps him determine the right and viable tactical steps.
He adds that supplying superior-quality cement has been fundamental to the company's success. 'We are helped in what we do by outstanding product quality,' he says. 'We always offer a higher grade of cement in every market, as well as potentially the most efficient logistics on the continent.'
Finding successful ways to deal with some of Africa's most intractable challenges has helped reinforce company growth. Dangote Cement has new plants in the pipeline across Africa – in Côte d'Ivoire, Cameroon, Gabon, Ghana, Niger, Togo and elsewhere. The parent company – Dangote Industries – is also ramping up and has big prospects in the pipeline. They include a US$2bn fertiliser plant and the US$12bn oil refinery currently under construction in Lagos, which is expected to produce 650,000 barrels a day when it reaches full capacity some time in 2021.
Mbouck also praises the group's multicultural leadership, a mix of established and younger executives ('such as the iconic businesswoman Halima Aliko Dangote, walking in the steps of our founder Aliko Dangote'), for its success in growing the business so effectively.
'The new businesses will change the paradigm in the Nigerian and sub-Saharan African oil sector,' Mbouck predicts. 'The revenue of the group will dramatically grow. In an interview with David Rubenstein [an American financier who interviews successful business leaders on his eponymous TV show], our founder and chairman Aliko Dangote estimated that group revenue will reach US$30bn in two years. This is huge.'
Continental shift
Mbouck sees the African Continental Free Trade Area (AfCFTA) as an immense opportunity for Africa. With a combined GDP of US$2.3 trillion and a population of 1.2 billion (mostly aged under 30), it could be a game-changer if governments demonstrate the political will to promote the bloc and clear up the grey areas.
'AfCFTA is likely to boost the overall economy and trigger diversification, job creation, GDP, intraregional trade and agriculture – and hopefully, incite young Africa to innovate,' he says. 'Too few patent registrations are filed in or from Africa. In 2017, African countries registered just 1,330 patents by residents, compared with 1,682 in Latin America and the Caribbean, 592,508 in Asia and 116,359 in Europe.'
Opportunity clearly matters enormously to Mbouck on a personal as well as a continental level. 'I'm learning Android coding in my spare time in Java,' he says. 'I've been a chess player since I was nine years old and have always loved everything related to strategy, intelligence, numbering. The challenge excites me.'
He also wants to have a positive impact on his own ecosystem, he says. Together with his sister, who is a cardiologist in the UK, his wife and his other siblings, he is a trustee of the charity Mahola Health Foundation, which organises medical missions to rural areas of Cameroon each year that provide free healthcare assistance and surgery. 'As a family, we've grown up with the belief that we should give back to people in need,' he explains.
Bola Olajuwon is a journalist and assistant editor of The Nation, based in Lagos.
"As a chess player since I was nine years old, I love everything related to strategy, intelligence, numbering"