ACCA Virtual Careers Fairs
Powered by ACCA Careers – the world's largest specialist financial job board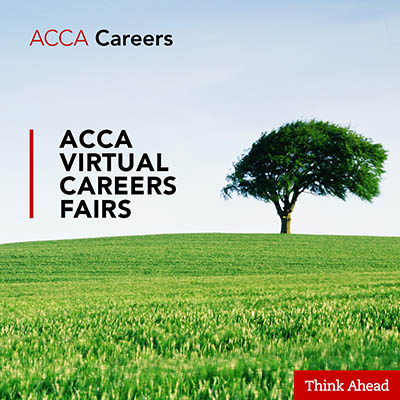 Since their launch in early March, ACCA Virtual Careers Fairs have now been successfully run in eleven of our global markets; Ireland, Singapore, Middle East, Romania, Mauritius, Hong Kong, Pakistan, Malaysia, China the UK and India.
So far, the fairs have collectively attracted over 45,000 registrations from our professional community of members, future members and prospective students, all keen to experience the innovative way that ACCA digitally connects this talent with our global network of employers.
Despite the commercial uncertainties caused by the pandemic, over 350 companies have taken advantage of this new format, as they are still in need of ACCA talent, making over 3,000 job opportunities available. This has resulted in 60,000 job views via the ACCA Careers job site, leading to a staggering 21,000 unique job applications.
The fairs also benefit attendees by providing a range of practical employability advice, featuring live expert led webinars, articles, videos, live chats with ACCA representatives and employers covering topics such as interview skills, CV writing, recruitment in a changing landscape and how to deal with redundancy. In addition we supply information and resources for each ACCA stakeholder group, with exclusive content for our members held in a separate area within each fair. The member exclusive content includes pre-recorded presentations from industry experts on career development topics such as 'Building your Personal Brand', and 'How to Make Partner'. There is also a dedicated area focused on Covid-19, connecting users to a host of resources, such as the support hub on ACCA Global, as well as information on how to continue to work effectively during this challenging time.
Look out for an upcoming invitation to a Virtual Careers Fair for your region, designed with your career needs in mind, as these events now become a permanent fixture in the ACCA calendar.