ACCA president Leo Lee describes how the organisation has a key role in reducing polarisation and transforming the economies of developing countries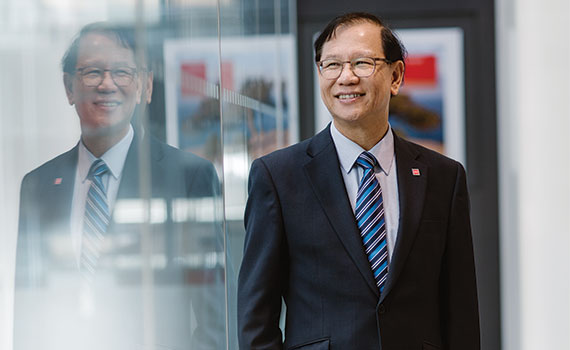 This article was first published in the March 2018 UK edition of Accounting and Business magazine.
ACCA president Leo Lee has grown to understand the impact that his professional body has on individuals and countries. It was upon joining ACCA's Council in 2005 that Lee, who became president in December last year, says he became aware that the organisation was much bigger than he had previously realised. 'I saw ACCA's significant impact on people's lives and how it helps to grow economies,' he says.
Open access, he acknowledges, speaks particularly to emerging markets where ACCA has invested heavily. 'Once a young person gains our Qualification, his or her life is changed, as is their income, and often the lives of those around them,' he says. Lee has also observed how investing in accountancy education – through ACCA and higher education – helps transform economies.
A growing economy in developing countries also helps narrow polarisation between rich and poor. 'Through education and job opportunities, ACCA makes the world a better place; it is an important contribution we make,' he says. 'This is one of the reasons I offered to stand as an ACCA officer. I want to spend more of my time encouraging young people to see accountancy as their career.'
As deputy president last year, Lee had already travelled extensively in emerging economies, especially in Asia, including Indonesia, Nepal and Cambodia. 'When I talk to the local accountancy bodies, they tell me they do not have the talent pool to help,' he says. 'That is where ACCA can come in, working as a partner with the local profession, helping the economy grow.
'I can be a role model telling young people how ACCA can open many doors and make the world a better place.' And he quotes an old proverb: 'It is beautiful to see people smile; it is even more beautiful if you are the reason for the smile. I hope to be the reason for the smile.'
Leading and shaping
In his presidential year Lee is continuing the work of ACCA, leading and shaping the accountancy profession. He started his journey to president two decades ago. In 1997 Lee – who has spent his professional life in Hong Kong – was elected as a committee member of ACCA Hong Kong. He was elected its president in 2004.
At the time, the local accountancy body, with whom ACCA had mutual recognition, was looking to switch to graduate-only entry. This was not in line with ACCA's open-access policy where the philosophy was – and remains – for young people to prove their competence through examination.
'We don't control the input; we control the output,' Lee says. 'Everyone has to pass the same exam to become professional accountants.' He joined Council to safeguard those principles. 'Whether other bodies recognise you is not relevant,' he says. 'You must ensure your qualification is relevant to the business world. If it can meet the needs of the employers then it will be a gold standard.'
He also wanted to help to ensure the relevancy of the qualification. Lee's first election-to-Council statement in 2006 highlighted two elements: first, that ACCA should remain an international passport for professional accountants; and secondly, that the leadership must ensure the relevance of the qualification. 'I am happy that what I pledged to do has to a large extent been achieved', he says. 'There is always room for improvement but we have made great strides.'
Lee points, for instance, to one great stride – ACCA's strategic alliance with CA ANZ in 2016, which was a key piece in the jigsaw ensuring that the qualification is recognised all over the world. He is also pleased that ACCA has invested in its research, Professional accountants – the future, which, in the report Drivers of change and future skills, identifies seven quotients of success for professional accountants.
'From these findings – where we interviewed over 10,000 business leaders across the world – we looked again at our qualification, which introduces for September a new case-study paper allowing candidates to blend technical, ethical and business skills and a module on strategic business leadership.
Licence to reform
Looking back over his career, Lee describes the highlight as being director of licensing at Hong Kong's independent securities and futures market regulator, the Securities and Futures Commission, as well as leading an initiative to reform the licensing regime, focusing on the competency of intermediaries to help improve investor protection and confidence.
Over his working life Lee has seen technology pose challenges. The latest iteration is robots; he saw one recently performing invoicing work. 'In three hours the robot completed tasks that would take a human three days,' he says. He muses over whether developments such as blockchain, with its promise of transparency, could undermine the role of auditors and assurance work.
'These are tools; they can't replace judgment and decision-making,' he says. 'We need to rethink the competencies and skills required from accountants and that is what we are doing.'
For Lee, accounting describes what happens in business. 'When technology changes that world, we have to change, which is why we so regularly review and update our syllabus. That is why our members will continue to be in demand by employers.'
As he settles into the presidential role, his only worry is a lack of time, as he is trying to meet as many members and students as possible. But to share that burden he pays tribute to his fellow officers and ACCA team, noting that 'to be happy alone is not as good as to be happy with other people'.
Peter Williams, journalist
"Through education and job opportunities, ACCA makes the world a better place"