Stepping down as head of ACCA Ireland, Liz Hughes reflects on a period when challenges set the pace of change and ACCA evolved to meet members' needs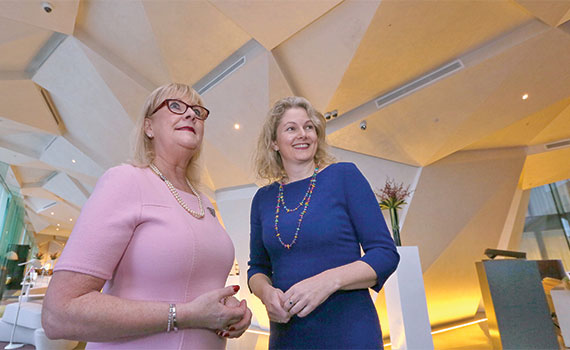 This article was first published in the March 2018 Ireland edition of Accounting and Business magazine.
When I was appointed head of ACCA Ireland in 2010, I wasn't new to the organisation; I'd held the role of marketing and communications manager a number of years before. But the sheer scale of the economic challenges being experienced by the country was new to everyone.
Accountants have an expectation of job security in their roles that is usually justified, but the extremes of the downturn undermined that for many, often plunging members into difficult personal and financial situations. It was clear to me that, for ACCA Ireland, there was not only an opportunity, but a responsibility, to help our members navigate this turbulent period. We did this by building networks and facilitating the kinds of information exchanges that would offer real value and focus minds on opportunity rather than the negativity that was around us.
Boosting diversity
If my eight years as head of ACCA Ireland leave any legacy, I hope it will be in the stronger relationships we've fostered between members and the organisation, as well as the progress we've made in supporting our diverse and talented member base. Looking at some of the practical actions we took to make our sectoral and regional panels more inclusive, it's clear they could hardly have come at a better time. The pace of change is not only having a political and economic impact, but affecting the very nature of the profession. ACCA has always taken a holistic view of supporting members in their careers, and that's clearer than ever today, not only in the continued evolution of the qualification, but in the delivery of our professional insights agenda.
This is also reflected in the way ACCA is valued by Ireland's next generation of business leaders. In 2010, we had 8,659 members in the country; at the beginning of 2018, that number stood at almost 12,000, an increase of over 35%. With the growth in members, there has been an increase in diversity, which in turn demonstrates Ireland's vibrancy and the opportunities it has to offer. Female membership stands at almost 50% of our member base, while the future is looking very bright for women in accounting as they make up over 50% of our student body in Ireland.
At an organisational level, ACCA Ireland is taking an active role in promoting diversity at boardroom level too, through the 30% Club. It also enjoys the distinction of being the first accountancy body to officially celebrate International Women's Day back in 2004. This annual event continues to go from strength to strength and in recent years has been a sell-out (hint: book early next year).
The calibre of our guest speakers at ACCA events over the last eight years largely speaks for itself, among them Michael O'Leary, Martin Shanahan, ministers for finance Pashcal Donohue and Michael Noonan, Regina Moran, Alan Cox and Josephine Feehily. I take it as a reflection of the standing enjoyed by ACCA Ireland nationally that Taoiseach Leo Varadkar joined us for the President's Forum in Trinity College's science gallery last summer, just a few days after his election to the role. Leadership from within the membership base has been equally impressive. Since 2010, no less than three global ACCA presidents have been from Ireland, an extraordinary expression of members' talent and desire to give something back to their professional body. They have been exceptional global ambassadors not just for ACCA but for Ireland.
Global growth
The international dimension became part of my own role in 2015, when I took on the additional position of head of ACCA Europe, developing and leading stakeholder networks across Europe to strengthen ACCA's position in markets such as Malta, Cyprus and Greece. It provided me with a fascinating new perspective on the reach and influence of ACCA, and the ambition of our members to act as positive agents of change in their businesses and communities.
I am also proud of the role that ACCA has played in the development of the non-executive director website, ACCA Members for Boards, which acts as a catalyst, connecting our members to a host of public and private entities. From a public value perspective, ACCA Ireland has played a key role in developing an important partnership with SOLAS, eCollege and Cenit, creating opportunities for long-term unemployed people to pursue the ACCA Qualification.
Change is a given, and my eight years at ACCA Ireland have shown the value of embracing and learning from it. ACCA will continue to evolve, but even as the pace accelerates, its core purpose remains in focus: to provide accountants with the world-class skills to pursue rewarding careers and positions that allow them to give back to society.
A commitment to always doing what's best for members has motivated me over the last eight years. It is something that I believe is evidenced in results such as the increase in member satisfaction, from 74% to 83.5%, between 2015 and 2017.
I have been fortunate to be enabled and inspired by a great CEO, Helen Brand, and by a brilliant team who made these years a time of huge productivity and positivity. We also managed to have some fun along the way.
As I move on, I will take from this time not just great memories from a pivotal period in Ireland, but a network of valued friends and colleagues. If the next chapter of my career proves as rewarding, I will be privileged indeed. I wish all the very best to my successor in taking over the reins.
"Change is a given, and my eight years at ACCA Ireland have shown the value of embracing and learning from it"