Finance professionals have a key role to play in ensuring that the public sector is fit for purpose in the digital age, says ACCA president Leo Lee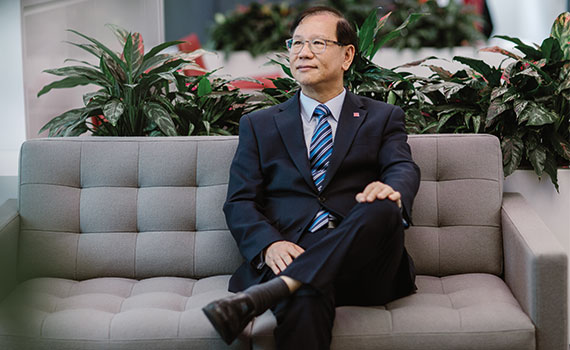 This article was first published in the April 2018 International edition of Accounting and Business magazine.
I was pleased to hear that more than 300 delegates from all over the world gathered in Singapore for ACCA's eighth annual International Public Sector Conference last month.
It is a challenging feat to bring together an international gathering of public sector representatives: after all, the sector is as diverse as it is complex and faces a litany of issues and circumstances unique to each country.
But each year, ACCA's International Public Sector Conference thinks about more than just the issues of today facing each country's public sector; it's about the forces that are shaping all sectors in the coming years, and the ways in which ACCA-qualified finance professionals can develop the skills and mindset to face them.
This year's conference focused on future-proofing the public sector in an increasingly digital age. How the sector plans for and responds to change is, of course, of great importance to the sector itself – but is even more so for its citizens. Around the world, finance professionals in the public sector are being called upon to understand the key forces shaping the future and how these could affect their organisations and countries, and also to provide support and influence financial decisions that will ensure public funds are deployed and spent cost-effectively and efficiently – both now and into the future.
In exploring this topic, the conference speakers drew on case studies and best practice examples – from Estonia's cutting-edge approach to becoming the world's most advanced digital society to the work of the Malaysia Digital Economy Corporation. It really is fantastic that ACCA's global network can bring together such diverse experiences to share our knowledge and insights.
The conference also covered a range of other topical issues, including talent strategies for the public sector and the improved transparency and accountability that result from adopting international standards.
A recorded webinar of this year's International Public Sector Conference will be made available on the CPD resource finder later this year, so I do encourage you to access that if you were unable to attend. AB will also have further coverage of the event in the next edition.
Thank you to all who planned, executed and spoke at this conference. Our members in the public sector are on the front line when it comes to developing and growing economies, and I am proud to see so many who are willing to share their knowledge across borders and organisations.
Leo Lee FCCA is retired, but formerly held various roles at the Securities and Futures Commission of Hong Kong and is past president of ACCA Hong Kong