As head of owner managed business audit and risk management at Mazars Singapore, G Arull FCCA is helping companies stay on the right regulatory track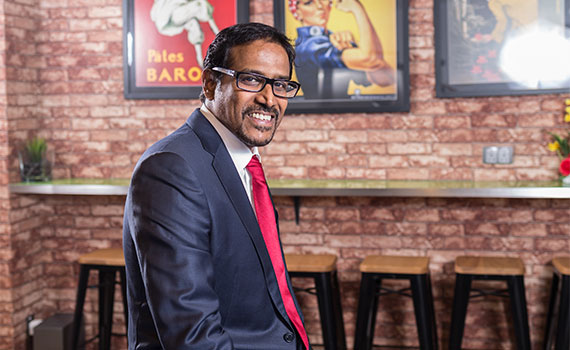 This article was first published in the April 2018 Singapore edition of Accounting and Business magazine.
For G Arull, the desire to help non-listed local businesses move to the next level is a strong driver in his day-to-day work. 'Smaller companies need more handling,' notes the head of owner managed business audit and advisory at Mazars Singapore. 'They need advice; sometimes they even look to you for HR advice. Most smaller businesses don't have expertise and they look at auditors as professional advisers.'
Much of his time is spent working with local construction, shipping and owner-managed businesses whose approach to accounting, says Arull, can be summed up as 'as long as I'm not doing anything wrong, I'm okay'. Unfortunately, regulators need a bit more than good intentions and Arull helps these companies stay on the right side of the authorities by making sure that they are compliant. He also advises them on the courses they can attend to learn more about local regulations that apply to them.
While small companies might struggle with dotting i's and crossing t's, this does not mean that auditing large companies is problem-free. While multinationals (MNCs) certainly have the processes and the people in place, they have their own issues. According to Arull – who ran his own auditing firm for five years before it merged with Mazars in 2011 – some MNCs think of Singapore as a place where standards are loose and irregularities can be smoothed over. 'MNCs are shocked when they learn that Singapore is aligned with international standards for risk management,' he says.
With over 25 years' experience in the profession, Arull has witnessed the auditor's role becoming more challenging. This is because auditors are increasingly being asked to do more to eradicate the presence of illegal acts and to report any suspicion to the authorities. 'Though confidentiality is one of the fundamental principles of our ethics codes, nonetheless our duty of confidentiality is overridden by statue, law or court of law,' he adds.
Greater regulation
While auditors' responsibility to report fraud is nothing new, the reporting element has been ratcheted up considerably in the last few years. For example, in July 2016, the International Ethics Standards Board for Accountants issued a pronouncement on Responding to Non-compliance with Laws and Regulations. Under this code, an auditor has to consider reporting non-compliance where public interests are concerned, even if there is no legal requirement for the auditor to do so.
Two years before that, the Institute of Singapore Chartered Accountants issued a pronouncement on countering money laundering and terrorism financing: Ethics Pronouncement (EP) 200. Singapore's anti-money laundering laws can hold a professional accountant liable for assisting in a crime, even if the accountants did so unknowingly. The prosecution does not need to prove that a person is aware of all the relevant facts. Instead, a person can be held liable based simply on evidence showing that they had 'reasonable grounds to believe'. EP 200 was issued to assist accountants in understanding their legal obligations and the standards they are expected to adopt.
Singapore's laws also require accountants to report suspicious transactions. Tipping off a person about an investigation or that a proposed investigation could be under way is also an offence. This means that if an auditor suspects that a business is engaged in money laundering or terrorism financing, they must inform the authorities confidentially. Meanwhile, the auditor needs to continue auditing the firm as if it is business as usual.
Vital pillar
For Arull, ethics is a vital pillar of the profession. 'We are only here because people regard us as trustworthy,' he says.
While ethics is something that concerns the entire accounting industry, not just auditors, the notion has yet to gain significant traction, he says.
'Even in my firm, people used to see Ethics Pronouncements as only for auditors,' he notes ruefully. 'But that's not true. You are responsible to the public. You are giving the confidence that what is being done is reliable. Investors want to know that what has been done has been done with integrity.' The failure of Enron in 2001 is, he says, a prime example of what happens when both accountants and auditors become ethically compromised.
His interest in ethics goes back a long way. When he was running his own firm, Strategic Assurance, he was careful to avoid conflicts of interest and chose not to carry out any accounting work at all. 'We were only doing audits, secretarial work and tax,' he recalls. 'I didn't want any conflict of interest – or even the appearance of a conflict of interest.'
It was his interest in ethics that motivated him to speak on a panel at the inaugural ACCA Ethics Film Festival held in Singapore last October. There, he described the importance of ethical behaviour, illustrating it with scenes from Inside Job, a documentary on the financial crisis of 2008. The movie looked at the origins of the financial crisis, the subsequent meltdown and its aftermath.
During the panel discussion, Arull noted that ethical failures by the leaders of companies in the financial services industry contributed to the financial crisis. And yet the leaders of 'too-big-to-fail' banks got off largely scot-free. 'Why hasn't a single executive from these companies gone to jail?' he asked rhetorically.
That is why Arull is in favour of enhancing government regulations and regulatory oversight of the financial services industry. 'One of the fundamental duties of the government is to protect its citizens,' he says. 'In this context the regulators need to constantly ensure regulations exist to hold senior management of financial services entities appropriately responsible and liable legally.'
While the 2008 financial crisis had a devastating effect on the world economy, it did not really impact Arull directly. He was running his own auditing firm at the time and it was doing well. He joined Mazars because he wanted to grow but could not find a suitable partner to merge with. When Mazars came calling, he thought it over and spoke to the other partner in his firm before deciding to merge.
Open and transparent
Post-merger, he was one of five partners at the firm. Today, that figure has more than doubled. That the partners have been able to work together is particularly noteworthy given that many of them were, like Arull, owners of their own accountancy firms before mergers.
Taking a bunch of strong-willed individuals who prefer to run their own businesses, and making them work together as a team, is no easy task. 'What helps is the firm's culture of being very open and transparent,' he says.
About his fellow partners, he says, 'We don't feel like we are working for a firm. We respect each individual's space.'
Arull also has a creative streak. In his youth, he harboured ambitions of becoming an artist but after completing compulsory military service, he decided to follow in the footsteps of his older sister who worked as an auditor. He signed up for an accounting course at a local school, and thus set aside his drawing pencils for the auditor's green pen instead.
Since joining Mazars, Arull says he has been constantly challenged, which is one reason he has stayed with the firm. 'In Mazars, I never do anything for longer than two years,' he says.
Initially, he was put in charge of human resources, where his challenge was to help Mazars recruit and retain talents. A big believer in taking care of his staff, he has instituted changes to ensure that annual assessments are fair. 'Staff are your greatest assets,' he says. 'You take care of your staff, they will take care of your business.'
He has also worked hard to recruit more locals, both at the entry level and among management. This was at a time in Singapore when there were concerns about foreigners taking up jobs at the expense of locals
During the recruitment process, Arull keeps an eye out for ACCA graduates in particular. 'ACCA is one qualification that says that the person has what it takes,' he says. 'The course is tough.'
Arull himself spent four years achieving the ACCA Qualification, which he studied for while working in a local auditing firm.
Today, in addition to his role as head of owner managed business audits, he is also in charge of risk management. In this capacity, Arull is conscious about the importance of managing all kinds of risk: ensuring information security in the office, preventing conflicts of interest or determining whether the firm should take on certain clients.
Arull thrives on learning new things, whether it is through gaining new responsibilities at the firm, mastering the ins and outs of a business that is being audited, or having to keep up with new standards and regulations. He does not see himself retiring. Instead, he wants to go on as long as he is able to. 'If you are a person who likes consistent learning, then auditing is the profession for you.'
Jimmy Yap, journalist
"MNCs are shocked when they learn that Singapore is aligned with international standards for risk management"
"Staff are your greatest assets. You take care of your staff, they will take care of your business"