As TAR UC approaches its half-century milestone next year, Kho Sok Kee, vice president of administration and facilities development, talks about its enduring appeal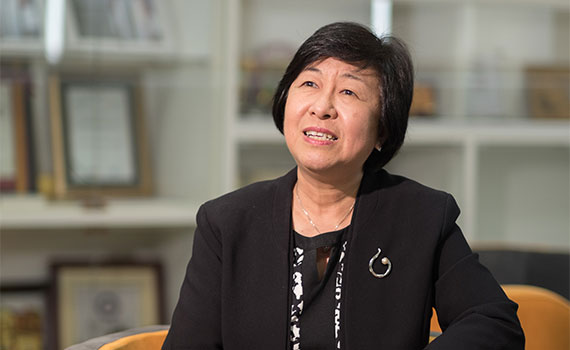 This article was first published in the April 2018 Malaysia edition of Accounting and Business magazine.
In almost five decades, Tunku Abdul Rahman University College (TAR UC) has established itself as a venerable institution and a byword in the sphere of Malaysian higher education. In realising its vision of providing quality and affordable education for the masses, the institution has contributed indelibly to talent development and nation building, supporting Malaysia's transition from its agrarian roots to the cusp of the Fourth Industrial Revolution today.
To mark its 50th anniversary, TAR UC will hold its Golden Jubilee celebrations on 24 February 2019. On 13 February 2018, it held a momentous ceremony at its main Kuala Lumpur campus to launch the anniversary countdown, which honoured its founding leaders. To commemorate these founders' vision and exemplary leadership in challenging circumstances, TAR UC named 10 key buildings in the main campus after them: TAR UC's eponym and Malaysia's first prime minister, YTM Tunku Abdul Rahman Putra Al-Haj; founder and first president of TAR College Tun Tan Siew Sin; Tan Sri Khaw Kai Boh; Tan Sri Lee San Choon; Tun Dr Ling Liong Sik; Dato' Lew Sip Hon; Tan Sri Dr Ng Lay Swee; Dato' Kum Boo; Dr Thong Saw Pak; and Chong Yean Seong. These founders have been instrumental in propagating TAR UC's vision – to bring education to all people, regardless of race, age and creed, at a time when tertiary education opportunities
were limited.
Today, although TAR UC enjoys all-round recognition for high-quality and affordable education, it is especially renowned for its accountancy programme, rated as one of the best in the country, and enjoys especially strong linkages with ACCA. 'We have been offering ACCA since 1971, making it 47 years in all!' remarks Kho Sok Kee, vice president of administration and facilities development. She estimates that TAR UC has produced 30,000 accountancy graduates in total since starting its school of business studies, and 10,000 of these are ACCA qualified. 'We produce 50% of the country's professional accountants,' she says. 'This is how we contribute to nation building, by creating a pool of talent, not only of accountants but also in other professions.'
Platinum-status institution
In 2007, ACCA awarded the then TAR College its highest Platinum status as an Approved Learning Partner. TAR UC remains the only institution in the world approved to run the Internally Assessed ACCA Fundamentals Programme, established in 1987. In addition, the institution continues to produce multiple ACCA award winners and surpass world pass rates in the ACCA external professional level examinations. Although there are too many to list here, suffice to say that many of TAR UC's accountancy graduates and FCCAs have gone on to become CEOs and CFOs in plcs and multinational corporations, partners in global practice firms and formidable regulators.
Asked about TAR UC's formula for success, Kho attributes it to 'embracing a values-based culture that permeates down from the top to the lowest levels. In whatever we do, we have a sense of fulfilment and purpose, an aim to make good a person's life through education. Many things are done on consensus and through engagement; it is all very straightforward. We operate ethically, with professionalism and integrity.'
This values-based culture is integral to imparting the right mindset to its accountancy students, especially in terms of inculcating professional judgment and ethics. 'The values-based culture is very much instilled in our staff,' Kho says. 'They are passion-driven, and very ethical and professional when they teach, and students can sense this. I have no qualms that the person standing there breathes and speaks this values-based approach, and this will actually permeate down to the students. Therefore, our students would be able to exercise that sense of professionalism and judgment because it is inside them. You can't teach it but you can be a role model.'
Despite TAR UC's long success from humble beginnings, Kho acknowledges that challenges are still part and parcel of life. One such challenge is managing financing and budgetary constraints in a highly competitive higher education landscape. 'Our tagline is quality and affordable education. Our fees are very affordable because we believe that education should not be commercialised and we are very prudently managed. We are also very grateful for the funding we are receiving from the government; this goes a long way towards keeping fees low,' Kho explains.
Giving back
Fortunately, TAR UC can also count on aid from its alumni who subscribe to the institution's enduring Asian values of gratitude and giving back. Kho notes that TAR UC actively engages with its alumni networks and associations, and many graduates provide generous financial support for their alma mater, financing endowment, scholarship and student loan funds that benefit past, present and future generations of students. Currently, TAR UC has 32 student loan funds to the tune of RM3.2m set up by esteemed alumni, because 'we don't believe that students should leave us for financial reasons'.
One distinguished donor is Teng Ngiek Lian, one of the pioneering batch of FCCAs from the then TAR College and a gifted investment manager dubbed the Warren Buffett of Singapore. In tribute to his mentor, Chong Yean Seong, the first head of TAR UC's school of business studies and one of the Big Ten founders honoured, Teng set up the YS Chong Student Loan Fund worth RM250,000 and an endowment fund of RM1.36m in 2013, to finance deserving needy undergraduates and to fund research in business practices, especially in corporate governance.
Yet another challenge is digital disruption. 'It is inevitable that we have to embrace the Fourth Industrial Revolution and digital technology that is now so pervasive,' Kho says. 'The ABC of the future of work is artificial intelligence, big data analytics and cloud computing. We can't run away.'
In line with this, Kho says, one of the institution's strategic goals is to have integrated high-quality teaching research and community outreach. 'We need to get our staff to embrace more innovative teaching and learning using more of the digital platforms, such as Google Classroom and the G suite as we transition into having a smart campus soon,' she says. Further, part of the academic staff's key performance indicators is that they need to embrace innovative teaching and the institution has established an innovative teaching committee to ensure this.
'The future of work is actually very complex,' she says. 'With artificial intelligence and automation, the role of accountants is being disrupted.'
Accountants should, Kho says, acquire very broad-based skillsets, such as lateral thinking, and be open to change. 'Don't be afraid to adopt new approaches. Be adaptable,' she urges. 'There is no fixed mould anymore.'
In alignment with this new approach, some universities are extending their degree programmes from three years to four, in the hope that the extra year will enable them to inculcate some of these new skillsets in graduates. Kho also recommends that institutions of higher learning collaborate with companies and industry to prepare future accountants for this changing landscape.
Given that the digital economy will definitely disrupt the accountancy profession, TAR UC has created a virtual learning lab especially for ACCA students, in partnership with ACCA, PwC, Deloitte and KPMG and using ACCA-focused learning materials provided by BPP, ACCA's approved learning media partner. Apart from putting up content relevant to accounting, TAR UC's academic staff also use this virtual learning platform (VLP) for teaching and assessment. 'If academics use the VLP with students, then students are actually seamlessly embracing the platform and they become very conversant and comfortable with ACCA's e-assessment system,' Kho explains. 'This is our way of embracing innovation and keeping abreast of what is out there in the learning landscape.'
It is worth noting that TAR UC is one of the eight institutions in Malaysia being awarded the Premier Digital Tech University status by the Malaysia Digital Economy Corporation and the Ministry of Higher Education.
Loftier heights
Looking ahead, TAR UC is aiming for loftier heights. Notably, it is projected to achieve full university status by the end of this year, according to Malaysian minister of transport Dato' Sri Liow Tiong Lai, who is also chairman of the board of trustees of TARC Education Foundation and TAR UC's board of governors, in media reports. University colleges may apply for full university status after a period of five years; TAR UC gained university college status on 2 May 2013.
Kho was the key driver behind TAR UC's move to establish dual award arrangements with three UK universities. She anticipates that gaining university status will enable TAR UC to 'move further up the value chain as an institution of higher learning'. Among the benefits, the institution would be able to engage in more industry-linked research and projects, to offer doctoral degrees and to recruit more international students. 'University status gives added value, expands our market reach and gives us a competitive edge in a very crowded industry with over 500 institutions of higher learning,' she says.
As TAR UC moves into a new phase, so, too, does Kho, who plans to retire shortly. 'I've spent 30 years – literally half my life – here,' she says. 'Eventually, people have to stop, and the timing is right for me. I need time to smell the flowers.' She looks forward to travelling, spending time with her grandchildren and exploring her other passions: blogging and cooking.
She can be satisfied that her legacy – like that of those 10 founders – will help TAR UC pursue another 50 years of vibrant progress. 'I can move on, knowing that it will be in good hands.'
Nazatul Izma Abdullah, journalist
"We have a sense of fulfilment and purpose, an aim to make good a person's life through education"
"It is inevitable that we have to embrace the Fourth Industrial Revolution and digital technology that is now so pervasive. We can't run away"