One Irish company is demonstrating how blockchain technology can play a vital role in ensuring charitable donations reach their intended destination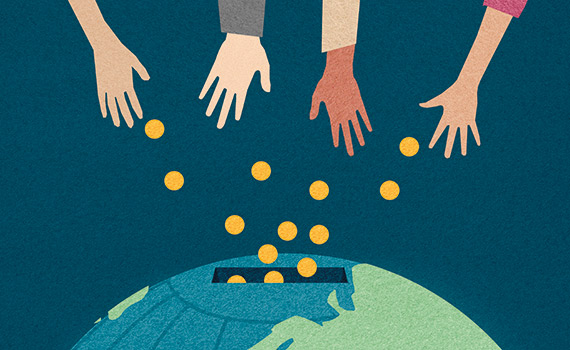 This article was first published in the May 2018 Ireland edition of Accounting and Business magazine.
Award-winning Irish company AID:Tech claims to be the first organisation in the world to use blockchain technology to prove that international aid to Syrian refugees in Lebanon reached its intended recipients. The Irish Red Cross team had almost real-time information on the distribution of the aid. In the process, AID:Tech demonstrated that blockchain can be applied to activities beyond the support of cryptocurrencies.
AID:Tech was co-founded by Irish entrepreneurs Joseph Thompson (now its CEO) and Niall Dennehy, COO. The idea came to Thompson after completing a 156-mile marathon in Morocco's Sahara desert in 2009. After raising large sums of sponsorship he wanted to know how the money was spent. 'But, as he attempted to follow-up with the NGO [non-governmental organisation] on behalf of his sponsors to learn about the impact of their donation, he was surprised and disillusioned to learn that it was not possible to confirm whether the funds did go towards the cause as intended,' explains the company's programme manager Grace Ma. 'The donations could not be traced.'
While studying a pioneering master's programme for digital currency at the University of Nicosia, Cyprus, Thompson learnt about the potential of blockchain technology and came to realise the role it could play in addressing the lack of transparency and accountability in the development and humanitarian sector that he had experienced first-hand.
Blockchain applications are all about verification – a digital ledger system – in this instance verifying that aid has gone where it is supposed to. AID:Tech points out that today more than two billion people in the world are living without access to formal financial services, and 2.4 billion don't have a legal identity. The company works with NGOs and governments to offer a way of building financial inclusion, by linking individuals and financial transactions via blockchain-supported applications.
Aid agencies record movements of funds via blockchain, while individuals are issued with smart cards with unique QR (quick response) codes (such as a barcode) to achieve last mile provision. Beneficiaries can redeem their assistance and purchase goods and services via partner merchant vendors.
'By providing recipients with an AID:Tech digital identity, they are equipped with not only an identity tool, but also a means to receive and hold digital entitlements, including aid, welfare, remittance and healthcare,' Ma explains.
According to AID:Tech, as a result of fraud and corruption, 30% of official development aid never reaches the intended beneficiaries. Using blockchain, donors can receive assurance as to where aid resources are and who receives it.
'By marrying access with identity, our client partners can digitally deliver entitlements including welfare, remittance and aid packages directly to end-users – to their digital identity,' says Ma. 'Long-term deployment accumulates transactional data, with records permanently captured.'
AID:Tech is now moving beyond working with aid agencies to supporting individuals who donate to charities through its 'DonateApp'. 'Our goal is to challenge the status quo of everyday giving,' says Ma.
'Consumers are increasingly informed and ethics driven – they are thinking more about how best their money is spent. In light of that trend, the current approach to everyday giving seems likely to be unsustainable.'
The company is building this application by working closely with the sector, to fully understand existing pain points and what incentivises donors. Donors will be able to give to the organisation, appeal, or individual/s of their choice using the app, when and where they want to. Once a donor's donations have been delivered to the end recipient/s, or end point of tracking, the donor will receive a mobile notification. The aim is to change the landscape of charitable giving and tackle potential donors' concerns.
Aid:Tech has won a series of awards for combining technological innovation with humanitarian objectives. Together with the Irish Red Cross, the company won the grand prize at the IsDB Fintech Islamic Finance Challenge. Founder Joseph Thompson was recognised as the United Nations' Sustainable Development Goals Pioneer for Blockchain Technology, while the company was the overall Game Changer Award winner in Citi's Tech for Integrity Challenge.
Paul Gosling, journalist
"Consumers are increasingly informed and ethics-driven – they are thinking more about how best their money is spent"