A technology-enabled business model headed up by tech-savvy leaders can make companies agile and reactive enough to survive the digital storm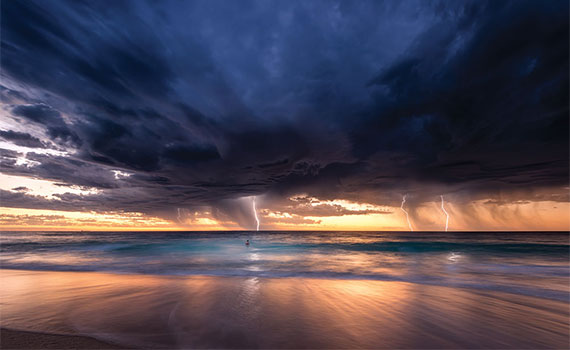 This article was first published in the May 2018 International edition of Accounting and Business magazine.
In the not-too-distant past, companies with a well-defined business model could feel reasonably confident about the future. If they had set their process architecture and supporting organisational models well to target a market – be it selling consumer goods or bank accounts – they could expect to prosper.
But as the forces of disruption have been unleashed over the last 20 years, those models have become increasingly tested, offering insufficient flexibility. Many corporates that failed to adapt their models to these changing conditions have fallen by the wayside.
Now a new phase appears to have arrived. We are in the age of the tech-enabled business model that ties together all forms of technology being used across organisations, enabling them to be become agile and reactive, even able to withstand the relentless waves of disruption that are hitting every sector. A moment of truth is dawning on more and more CEOs and CFOs that they must either construct such a model to continually adapt through technological innovation or expect to be destroyed by disruptive forces that are usually tech-driven.
The simple truth is that leaders who grasp this concept and can exploit it will succeed, whereas their peers who are less digitally enlightened are more likely to fail.
The main threat to traditional business models has changed because big data has enabled disruptors to create new forms of value, argues Kenneth Cukier, senior editor of digital products at The Economist. What's changed, he says, is that the technology has become so powerful, the cost of memory has gone down, data storage ability has massively increased and there has been a rise of the big-data mindset. 'There has been a big advancement of how to create economic value from data,' he says. 'You can make decisions based on that data in a way that you really couldn't previously.'
Bounty of expansion
What the World Economic Forum hailed in 2016 as the fourth industrial revolution is now upon us, say many commentators. In their book What to do when machines do everything, Malcolm Frank, Paul Roehrig and Ben Pring of global technology consultancy Cognizant write that this is 'a time of economic dislocation, when old ways of production give way to new ones, and when those who can harness the power of the new technology will harvest the bounty of economic expansion'.
The challenge is for companies to be able to exploit the strengths of tech to drive their business models – either by mimicking the disruptors or by developing their own approach.
Many commentators believe that the likelihood of success depends on whether a business model has been developed with technology to achieve a strong customer-facing proposition at its heart. Chris Bones, professor of creativity and leadership at Manchester Business School in the UK, says online retailers Amazon and ASOS are strong examples of this, whereas fashion retailer Next is not. 'Their website is all about Next, not the customer,' says Bones, who previously held senior roles at Diageo and Cadbury Schweppes.
That sentiment is echoed by Jonathan Wyatt, a managing director and digital lead at consultancy Protiviti, which specialises in helping traditional companies manage disruption. 'Digital leaders go to market with the voice of the customer as central, compared to most other organisations, which put themselves first,' he says.
Take the example of Starling Bank, a challenger bank that operates a customer-centric business model. Founder and CEO Anne Boden says the approach is about 'giving customers what they want now'. By managing their current account on their mobile phones, customers can use their debit cards, Apple Pay and faster payments functions to set up standing orders and direct debits.
'We believe that data is owned by the consumer. They should have access to that data and be empowered to use it for their own benefit,' says Boden, a 30-year veteran of the traditional banking sector.
Disruptor mindset
Wyatt says that two key factors are contributing to the success of disruptors that corporates need to focus on: creating a well-defined business model and being able to disrupt it from within. He adds that developing the mindset of the disruptor is what many larger companies find hardest to achieve.
Frank, Roehrig and Pring write that the starting point for a truly digital model should not be to ask: 'How do we make it better/faster/cheaper by adding new technology to it?' They believe that the question should be: 'If digital technologies were available when we designed this process, would we have structured it differently?'
The trio continue: 'The former lens gives you [video rental chain] Blockbuster, which put internet e-commerce on top of a retail chain network. The latter lens yields Netflix, which designed core processes as digital from the ground up.' What happened next is clear to see.
Perhaps no company's approach symbolises more the challenge of developing a tech-enabled business model than General Electric (GE), the oldest company listed on the New York Stock Exchange. Former GE CEO Jeff Immelt recognised the need to develop new business models for the digital industrial economy after reading Marc Andreessen's 2011 Wall Street Journal article 'Why software is eating the world' and Eric Ries's book The Lean Startup.
Immelt said: 'If you went to bed last night as an industrial company, you're going to wake up this morning as a software and analytics company'. He may have been forward-thinking, but not enough to prevent his exit from the company last year after running it since 2000.
Lawrie Holmes, journalist
"Digital leaders go to market with the voice of the customer as central, compared to most organisations that put themselves first"