From undersea cables to becoming CFO of IAC, a specialist in aircraft painting, interiors and graphics, Iarla Hughes ACCA charts the path of of his high-flying career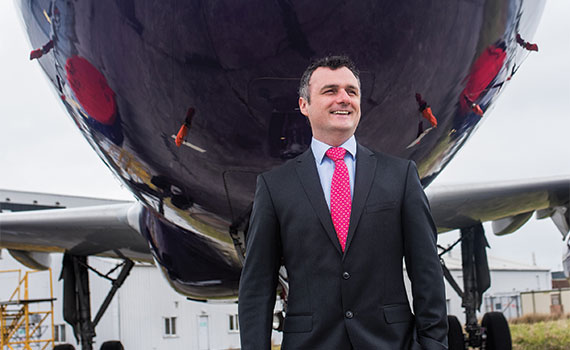 This article was first published in the May 2018 Ireland edition of Accounting and Business magazine.
From trainee accountant in 2004 to CFO in less than 10 years, Iarla Hughes' career trajectory has been nothing less than meteoric. Today, he is global CFO of International Aerospace Coatings, or IAC. With its European headquarters based at Shannon Airport, the company is one of the world's leading aircraft finishing specialists and a global leader in aircraft painting, interiors and graphics.
Hughes attributes his success to a combination of training, being in the right place at the right time, and ultimately, having the pluck to 'get out there and be heard'.
'As a young trainee accountant in my mid-20s competing for senior roles, I had to gain the respect of people who would have been a lot older, and a lot more experienced,' he explains. 'What helped me in my career is that I was good at getting out from behind the laptop and communicating with people who were quite a bit more senior than me.'
But while starting out with a relatively small accountancy practice in Castlebar, County Mayo, gave Hughes a wide breadth of experience in terms of tax, auditing, due diligence and financial advice, larger horizons beckoned.
In 2007, in a very tough global economy, Hughes decided to leave his secure job to explore the opportunities in Dublin. This would be the beginning of his rapid advancement through the ranks, and, as he explains, the difficult economy at the time would prove to be to his advantage.
'For many of my career moves so far, there has been an element of luck and timing,' he notes. 'My first job in Dublin in 2007, for example, was as finance manager for a company called Cable & Wireless, which is the largest subsea fibre company in the world. When I look back on that role now, there was a great deal of turmoil in the economy and in the industry. Companies were cutting costs everywhere, resulting in a lot of redundancies. Fortunately for me that worked in my favour and I was able to transition into increasingly progressive roles quickly.'
New opportunities opened up in the company as a result of downsizing, and in the space of three years, Hughes moved from assistant finance manager to finance manager, then to financial controller for the Irish business, before being promoted to finance director of Europe, Middle East and Africa. 'I may not have had the opportunity under a different environment,' he says.
However, education also played a part. Hughes attributes his ability to translate advanced management practices and finance expertise across continents and industries, to the diverse training he gained in completing his ACCA Qualification.
Global recognition
One of the key factors for choosing ACCA was the brand, he says. 'It's a very strong brand in Ireland, and I had friends who were going into the programme. However, I've come to appreciate the global value of the ACCA designation – it's recognised anywhere I go. For example, at the moment I'm in Seattle, Washington – people know ACCA. The same holds for the Caribbean and across Europe and Asia. So, it's really transferable, which is hugely important in my current role at IAC.'
In 2015 Hughes' first job as newly appointed CFO was to amalgamate three companies into one. As he explains, IAC was born out of the merger of Associated Painters, Leading Edge and Eirtech Aviation, all companies that had been pillars of the aircraft painting industry since the late 1980s. His task was to integrate their finance teams and systems into regional offices in Spokane, Washington, which would look after their US interests, and Shannon Ireland, which would have full responsibility for Europe and Asia. 'There was a lot of work that went into the systems,' explains Hughes. 'They were working in silos and on different platforms, so it was a large piece of work bringing it all together.'
The name change to IAC became official at the beginning of 2017. In his subsequent role as global CFO, one of Hughes' primary responsibilities has been to ensure the effective expansion of the company into Asian markets through a collaboration with Singapore Airlines. 'I had a hands-on role in moving into that region,' he notes, 'specifically ensuring that the company understood the legislative environment – the laws, regulations, and reporting structures. That's always the crucial part if you're opening a new market,' he says. 'You really need to understand the laws on the ground to ensure that you're fully compliant.' In September 2017, IAC announced its expansion into Singapore's Changi Airport, marking its first presence in Asia.
New horizons
Within a decade, Hughes had made the transition from the Cable & Wireless world of underground cables to a global CFO role in the aerospace sector, and then taken responsibility for undertaking large function and systems integrations. Once again, being in the right place at the right time in Hughes' career gave him the advantage.
In July 2012, Cable & Wireless was bought out by Vodafone and integrated into the business in April 2013. As Hughes explains, he was given the task of integration manager/finance director in that process for the Irish business – General Wireless Ireland – and also for another company owned under the Cable & Wireless brand, Glasgow-based Damon Broadband.
It was through that process that he discovered the critical roles culture and communication play in the post merger and integration process. 'It was a mammoth task to transition a company of that size into a company the size of Vodafone,' he says, 'and the biggest challenge was the culture. There were people who had worked there for many years and they weren't used to the scope of change that would be coming. The biggest thing for me was bringing the team along on that journey and then making sure that they were comfortable in transitioning into a different organisation.'
But that wasn't the end of it. A year later, Hughes once again found himself leading the post acquisition strategy – as CFO for mobile phone network provider Digicel, this time on the buy side, and in a very contrasting climate from Ireland's. Again, timing worked in his favour, he says.
'It seemed like a dream opportunity for me. I got to work in a different market and a very different environment. I decided to make the transition and move to the beautiful Caribbean islands of the Turks and Caicos.' It was a very forward-looking business, explains Hughes, which started from nothing and would turn into a multi-billion organisation in a short time. Indeed, he was soon on an acquisition trail of buying TV and broadband companies within that segment of islands.
The ability to move between environments and industries wasn't all down to serendipity, Hughes points out. He attributes his versatility in changing course largely to his ACCA training. 'The ACCA designation provided me with the skills necessary to move between sectors and to have the analytical foundation to transform financial information and operational data into action plans, as well as understand the fundamentals of both the buy and sell side of M&A. What's really important from a financial perspective, across all roles and industries,' he adds, 'is that you have the ability to review data and spot anomalies.
'You're going to find data that may not be accurate, and what's extraordinarily important is that the CFO has the ability to spot those inaccuracies and fix them before they get published. And that's a skill set that's transferrable irrespective of what industry you're working in.'
Ramona Dzinkowski is a Canadian economist and editor-in-chief of the Sustainable Accounting Review
"I've come to appreciate the global value of the ACCA designation. It is highly transferable, which is hugely important in my current role"