More than 150 software companies have jumped on the information highway bandwagon. But how do you use business intelligence intelligently, asks Liam Bastick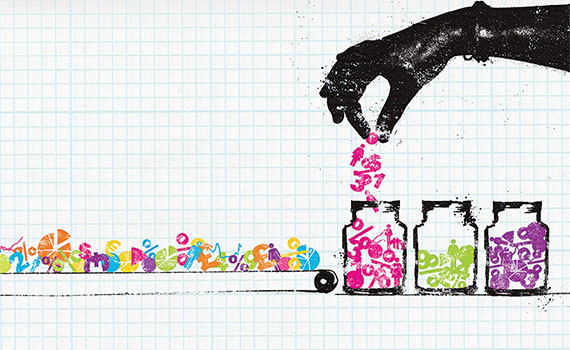 This article was first published in the June 2018 China edition of Accounting and Business magazine.
In today's competitive environment, the need for timely data that can be sliced and diced in a myriad of ways has never been more essential.
Senior managers need access to sales and costs reports instantaneously to identify trends, recognise issues and allow their companies to steal a march on rivals. Many organisations attempt to collate this with the humble spreadsheet – a reliable solution but not one that takes data by the scruff of the neck and wrings out the knowledge in an efficient and effective way. It's very old school.
The paradigm has shifted and dynamic change is what's needed – not just from businesses but from service providers too. More than 150 software companies have jumped on the information highway bandwagon to turn data into something, well, more.
In the past, spreadsheets and management information systems typically served up a succession of knowledge metrics, namely key performance indicators (KPIs) that were relevant 18 months previously when the process was decided, with results 21 days old or worse. Knowledge and wisdom based on these methods were mere pipedreams.
With a lack of agility, flexibility and timeliness, these mechanisms made the term 'business intelligence' (BI) the epitomal oxymoron. The speed of change had to change speedily.
Many companies have tried to plug this expectation gap. Some have tried to take the organisation along the whole journey, from data to wisdom; others have focused on key areas such as informative charts and dashboards. There's nothing wrong with seeking a complete solution or a simple fix as long as the end user recognises what the tools address and, just as importantly, how expensive they are. That's right: you have to analyse the analytical tools.
What are the key objectives of BI tools?
Extraction: data is pulled from one or more sources (data).
Transformation: data is manipulated and/or cleaned so that it may be analysed more efficiently (information).
Loading: data is added to a reporting system (information).
Calculation, relation and correlation: data is linked as relationships are defined and calculations are performed to gain knowledge.
Reporting and what-if analysis: outputs are prepared numerically or graphically with the ability to perform sensitivity and scenario analyses (knowledge and wisdom).
When assessing such revolutionary tools, here are 10 important questions:
Can this solution access my business data? Not everything is in Excel; no matter how sophisticated and clever the tool is, if it cannot forge links to the required data sources, it is not right for you.
How easy is it to work with live data? Foreign exchange traders will not accept monthly updating. An extreme example, of course, but the point is well made: how easy is it to update data and how long does that process take?
How easy is it to create ad hoc reports? Even top-spec software needs to be customisable. KPIs move on and, as information leads to knowledge, wisdom will require changes to reporting over time and other dimensions. Can new data be added from new sources with relative ease? Can granularity of data be modified?
Does it provide automated insights? Today's analyst needs to analyse rather than prepare. Tomorrow's analyst will seek help in finding correlations in large datasets that may be too unwieldy for the less experienced or time-poor.
Is it user-friendly? Access is much more powerful than everyone's second favourite software, Excel – but it's not used because it is more sophisticated and unforgiving of mistakes. Software requiring PhDs in IT is unlikely to lead the market or be a term of endearment for analysts.
What's the bang for buck? What does it deliver per element of scarce resource? This may not be a dollar figure: it may be reporting time, staff hours, computing requirements, bandwidth and so on.
What is the level of customer support? Is it easy to get answers to questions quickly? Do answers make sense and come from a helpdesk you trust?

How easy is it to share the outputs, workload, reports etc? Some tools require logging into a secure system, which prevents customers, shareholders and other key stakeholders from accessing information that may be relevant. Can reporting be shared inter- and intra-departmentally?
Does the software require internet access? Many businesses do not trust the non-fluffy cloud or operate in strict regimes where placing data on third-party servers is prohibited. This is often a deal-breaker.
How secure is the data? Some systems are more secure than others. These systems tend to be less flexible and more expensive, so a trade-off must be considered.
It is difficult to determine what is right for you, but there are the 'usual suspects' (see box opposite).
The options can be daunting, but it's riskier to continue to rely on spreadsheeting. Manage your data now before it manages your organisation.
Liam Bastick is director of financial modelling specialists SumProduct (sumproduct.com)
What's out there?
| Software | Description  |
| --- | --- |
| IBM | Building on from the more 'traditional' Cognos, Watson has become part-celebrity in this environment and has been a case study for many studying accountants. |
| Microsoft Power BI | A new kid on the block, the software giant has made no secret of the fact it wants to cut out the middle man and has set its price and ease of use accordingly. The joke often told that the only three buttons any management information system requires are 'OK', 'Cancel' and 'Export to Excel' becomes more relevant by the day.  |
| Oracle | Favoured by businesses using its software already, it is recognised for having powerful BI and visualisation tools. |
| Qlik | Offering a suite of tools (QlikView is particularly well known), this software focuses on self-service business intelligence. |
| Salesforce | Well known for its customer relationship management (CRM) system, Salesforce offers a range of BI tools such as Einstein Analytics. |
| SAP | Many organisations use the enterprise resource planning (ERP) tool, so SAP has developed several BI tools to work in tandem, such as BusinessObjects and SAP Analytics Cloud. |
| SAS | SAS has various tools that provide visual reporting solutions (visual analytics) and powerful tools more often in the realm of data scientists than data analysts. |
| Tableau | This is one of the original entrants in the BI arena, offering visualisation tools with real-time and predictive analytics. |
"There's nothing wrong with seeking a complete solution or a simple fix as long as the end user recognises what the tools address"