In the final article in our series on how UK businesses can prepare for Brexit, we look at skills migration and how to plan for a labour shortage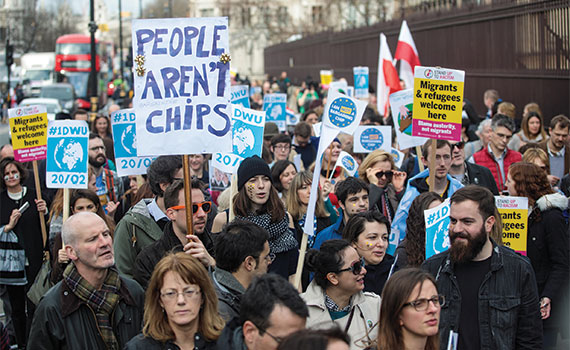 This article was first published in the June 2018 UK edition of Accounting and Business magazine.
The EU migrant workforce in the UK makes a hefty contribution to the labour force. The roughly 2.4 million EU citizens from outside the UK who make a living here account for more than 7% of the overall workforce and outnumber non-EU workers by nearly 2:1. A fifth of small businesses have at least one EU citizen working for them, according to the Federation of Small Businesses (FSB).
But even these figures understate the reliance of some industries on EU workers. Agriculture, hotels, catering and manufacturing are all heavily dependent on the flow from the continent. For example, 12.6% of the construction labour force (the figure is 50% in London and the South East) originate from outside the UK, with recently joined EU member nations such as Romania accounting for 5.7% of the sector workforce.
Companies cannot predict what type of regime will follow Brexit. But this does not mean they have to sit on their hands and wait. Alison Hutton, leader of the global mobility team at Mazars Group, says: 'It would be wise to brace for a more restricted supply of workers from overseas.' She points out that net migration into the UK has already fallen by around a fifth since the Brexit vote in June 2016, a sign that many EU workers are looking for jobs elsewhere.
Impact assessment
Companies that employ a significant proportion of EU workers would be wise to undertake an impact assessment. This will help identify staff who may need guidance to continue to work in the UK and help management understand what the likely vacancies and skills gaps will be should a significant number of their employees leave the UK. Nor is this an issue just for EU workers: the rights of non-EU workers might be affected by Brexit as previous working-visa arrangements with non-EU countries may also come into question.

The UK government has been working to minimise disruption, announcing earlier this year that EU citizens in the UK will continue to enjoy the right to equal treatment for conditions of employment and work during the transition period between Brexit day on 29 March 2019 and 31 December 2020.
Employees – EU and non-EU alike – who have been in the UK for at least five years qualify for permanent resident status. Furthermore, the UK government has guaranteed that EU citizens arriving before Brexit will be allowed to stay until they meet the five-year yardstick and thus qualify to stay indefinitely.
This doesn't mean companies don't need to act. First, many workers may need help in navigating the immigration process. 'The UK is redesigning the immigration system with a new settled-status designation to replace permanent resident,' explains Joe Owen, a senior researcher at the Institute for Government, who is leading the institute's work into preparations for Brexit. 'Even workers who are entitled to this status will have to apply, and many will need help from their employer. If companies want to reduce the risk of losing key workers, this is something they should not neglect.'
Smaller businesses are particularly dependent on mid-skilled workers from the EU in areas such as care, construction, bookkeeping and administration – 47% of all EU workers employed by smaller businesses fill mid-skilled roles, according to the FSB. 'The reliance on EU workers in this mid-skilled area partly reflects the historic weakness of the technical education system in the UK,' says Sonali Parekh, head of policy at the FSB. 'Keeping hold of these workers will be important for many smaller businesses.'
Businesses that have limited migration expertise in their HR departments, or no HR team at all, may need to develop this or seek external support. This will be especially important over the long term if the UK moves towards a visa-based system for European workers. This may not be feasible for smaller businesses, with limited headcounts, although, according to the FSB, 95% of small businesses don't recruit from outside the European Economic Area. 'This is generally more bureaucracy than more modestly sized firms can cope with,' says Parekh.

In any event, companies should prepare for a labour drought. Those that wait until shortages emerge could be forced to offer higher wages or scale back output or services.
Technology
Companies in some industries cannot always rely on being able to attract a sufficient number of home-grown workers, says Hutton. Locals consider many positions unattractive for the work involved or the rates of pay. 'One solution might be to step up investment in automation,' she says. 'I suspect that Brexit could provide a push towards greater automation in several sectors.'
Companies have traditionally responded to labour scarcity by seeking to boost productivity. For larger businesses, this may take the form of investing more heavily in robotics and artificial intelligence. Automation is already starting to take root in the labour-intensive construction sector, where EU workers play a prominent role.
But there are plenty of labour-saving technologies available to even the smallest business, says John Ashcroft, chief executive of Pro Manchester, which represents the business community in the North West. 'A wide variety of software operations are available, especially in online accounting, invoicing, payment and debt management,' he says. Companies can also turn to customer relationship management (CRM) technology, using data analysis to improve efficiency in sales, marketing and servicing client requests. 'All businesses should have in place a great CRM system and contemporary communication tools including a good mailing house and/or online marketing tools,' he adds.
Training
Training also has an important role to play. Cross-training existing employees in different roles can lift productivity and reduce the need to add to the payroll. FSB spokesperson Alan Soady points to apprenticeships, 'which have the potential to play a part in helping to plug the skills gap in small businesses.'
The mid-skilled roles occupied by so many EU migrants typically require specialist, sometimes technical, skills and training, which apprenticeships are well suited to preparing individuals to perform, according to the FSB.
The UK government recently introduced a scheme to boost apprenticeships, with a 0.5% training levy on businesses with wage bills over £3m a year. But many experts believe more will be needed to fill any gap left by a shrinkage in EU workers. The number of apprenticeships has fallen by about 40% in the six months since the levy was introduced, possibly because companies are rejigging current training to fit the system rather than boosting their training spend. But, however the apprenticeship system evolves, training – for large and small businesses alike – will be crucial to averting skills shortages if immigration is restricted.
Dijana Suljovic, journalist
"In the event of annual sector quotas, companies will need to get used to speaking up for their interests on a regular basis"