The World Cup is a money-spinner for Fifa, but scandal and politics threaten to scupper the football governing body's bonanza from this month's tournament in Russia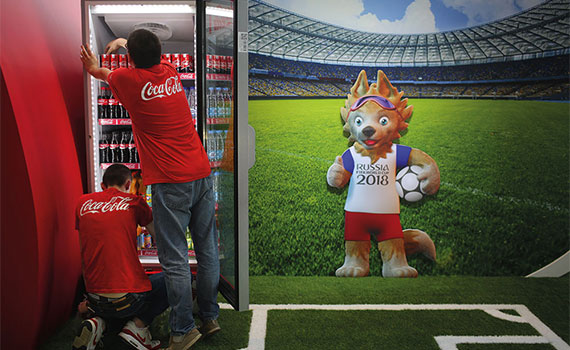 This article was first published in the June 2018 International edition of Accounting and Business magazine.
Fifa's decision to award Russia the 2018 World Cup has the potential to hit football's governing body where it hurts the most – in the pocket. When the tournament kicks off in Moscow on 14 June, it is hoped that the excitement of the event will overshadow problems off the pitch that could make the tournament a major financial and PR headache.
High-profile names Castrol and Johnson & Johnson pulled out of sponsoring an event that has been tainted since Fifa's controversial 2010 award of the 2018 and 2022 tournaments to Russia and Qatar respectively. Sony and Emirates decided not to renew their contracts when they expired at the end of the tournament in Brazil in 2014.
Claims of state-sponsored doping in Russia and the diplomatic rift with the West have contributed to a toxic mix that has put off a number of potential sponsors. Many senior dignitaries from the West will not be attending, leaving well-connected Russian businessmen, many of whom helped build the tournament infrastructure, to enjoy the event. To compound the commercial difficulties, the US failed to qualify for the tournament. Sports industry analysts say that Western business groups are also looking to avoid the potential reputational damage of being associated with a scandal-hit organisation.
Fifa has been striving to restore its reputation following the scandals associated with the reign of its former president Sepp Blatter. But for now at least, Fifa's brand remains toxic, with court cases in New York last year presenting a picture of widespread bribery and corruption.
As Accounting and Business went to press, Fifa had filled only 14 of the total 34 sponsorship slots available, although 12 of the 14 slots in the top two sponsorship tiers (the most lucrative) had gone. Adidas, Coca-Cola, Gazprom, Qatar Airways and Visa figure among the seven takers to date of the eight top-tier slots, and Budweiser and McDonald's are among the five takers of the six second-tier slots. The third and lowest tier of sponsorship has most absentees. In previous tournaments, the vast majority of advertisers have been signed up at least 18 months before the first match.
The US$2.6bn profit generated by the World Cup in Brazil cemented Fifa's position as one of the wealthiest governing bodies in world sport. Income for the 2014 tournament included US$2.4bn in TV rights fees, US$1.6bn in sponsorship and US$527m in ticket sales.
But Fifa believes it is getting back on track. On the publication of its 2017 financial year report, its president, Gianni Infantino, declared: 'We had committed to restoring trust in the organisation and boosting investments for the development of football worldwide. This is now a reality. Today, Fifa's financial situation is very solid thanks to the growing interest from our partners.'
While the chances of Fifa making 2014-scale returns on this year's World Cup seem remote, the body has secured crucial financial backing and support from several Chinese companies. Smartphone maker Vivo has agreed a deal said to be worth around €65m a year to sponsor Fifa tournaments up to the 2022 World Cup, real estate and leisure conglomerate Wanda reportedly took up a deal worth US$80m a year, while consumer electronics brand Hisense signed for an undisclosed amount. Electric-powered scooter company Yadea and China Mengniu Dairy have also completed sponsorship deals.
Simon Chadwick, professor of sports enterprise at Salford Business School in the UK, says: 'Fifa acknowledges that Chinese companies have plugged its finances at a time when it is struggling financially. But there is also acknowledgement in China that companies have taken advantage of Fifa's precarious situation. China aims to become a leading football nation by 2050. There is a desire to exert pressure and influence on the organisation to host a World Cup. China also wants the likes of Wanda and Vivo to be part of the global narrative, in the same way as McDonald's and Coca-Cola. Sponsoring the World Cup helps achieve these aims.'
According to Fifa's annual reports, revenues from commercial and marketing deals related to the 2018 World Cup were US$246m in 2015, down from US$404m in 2013. A lack of sponsors, alongside the huge legal costs related to corruption probes, contributed to Fifa reporting a US$391m pre-tax loss in 2016. The organisation posted a restated US$117m shortfall for 2015.
The football body's accounts for 2017 show a net loss of US$192m, although they also reveal that 98% of revenue contracts have been signed for the full-cycle budget for 2015-18. Reserves have fallen from US$1.34bn in 2015 to US$1.05bn in 2016 and US$930m in 2017.
However the new revenue standard implemented by the governing body (IFRS 15) means the vast majority of revenue and expenses related to the tournament will be allocated to the current financial year, which ought to produce a very large surplus in the next set of accounts.
The Russian government has confirmed that the cost of hosting the event has risen to US$11.8bn. The funding comes mainly from the federal budget, which makes up 57.6% of the sum. A further 28.8% was raised by private and state-run companies, and 13.6% comes from regional government budgets. St Petersburg's stadium alone cost around US$70m, seven times the original estimate; it opened nine years late and caused controversy over lax labour laws and the use of low-paid North Korean labourers.
While Fifa doesn't have to pay any of these costs, analysts believe the tournament will not perform as well as in 2014. So the 2018 accounts will make for fascinating reading when they are released next year. Before then, the focus will be on Russia and the dramas that unfold during an extravaganza of football, off the pitch as much as on it.
Alex Miller, journalist
World Cup 2018 in numbers
| | |
| --- | --- |
| Number of games to be played in 32 days | 64 |
| First tournament (Uruguay) | 1930 |
| Number of stadiums hosting matches | 12 |
| Most World Cup wins (Brazil) | Brazil |
| Number of teams competing | 32 |
| Total at-home audience for 2014 tournament | 3.2bn |
| Most goals in a tournament match (Austria 7-5 Switzerland, 1954) | 12 |
| Most goals scored by a player at a tournament (Miroslav Klose, Germany) | 16 |
| Most tournaments a player has played in (Antonio Carbajal, Mexico, 1950-66; and Lothar Matthäus, Germany, 1982-98) | 5 |
"In previous tournaments, the vast majority of advertisers have been signed up at least 18 months before the first match"
"There is acknowledgement in China that companies have taken advantage of Fifa's precarious situation"