Members of the ACCA Malaysia Advisory Committee describe the challenges facing the profession, from dealing with new standards to embedding ethics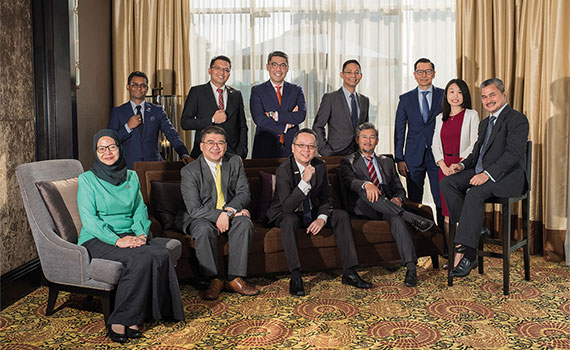 This article was first published in the June 2018 Malaysia edition of Accounting and Business magazine.
Forging a path for progress has never been easy and the ACCA Malaysia Advisory Committee (ACCA MAC) has always risen to the challenge. The current committee, which was elected last October, is an impressive and energetic team that includes Big Four partners, mid-tier firm representatives and major industry players. At its head is Dato' Merina Abu Tahir, head of internal audit at Malaysia Airlines, and deputy president Dato' Lock Peng Kuan, a partner with Baker Tilly Malaysia.
Indicating that he's hit the ground running, Dato' Lock has student, stakeholder and member engagement in his sights. 'Because of its innovation in qualifications, ACCA is in a prime position to produce the professional accountants the world needs,' he says. 'The student pipeline is integral to membership growth, and our open-access policy attracts students with ability and develops the talent.' Stakeholder engagement is set to increase, he adds, and ACCA MAC's member advocacy role will be prominent.
'ACCA MAC has a role to help members adapt and prosper in times of change. The rapid evolution of the business landscape, along with technology advances and enhanced regulation, will pose challenges to accountants,' he says, adding that a number of committees have already been formed to help members navigate the tasks. Among them are the new SMP Focus Group, of which he is chair. 'I hope to build a committee with a strong pipeline of members with diversity and inclusion at the centre of our activities,' he adds, noting that the group is working on advocacy and awareness activities to reach out to members.
ACCA MAC members already see themselves as bridging the gaps between the profession and industry, academia, regulators and the corporate world. Dato' Amiruddin Abdul Satar, president and managing director of KPJ Healthcare, feels his appointment was timely. 'It's important for industry players to be able to give input at this stage,' he says. 'We have to deal with many standards now.'
His view is supported by Hoh Yoon Hoong, a partner with EY. 'The standards which are in the pipeline now are major ones,' Hoh points out. 'They will have a significant impact on businesses, hence before they are implemented there has to be feedback and in-depth discussions and comments involving representatives from both the profession and industry. ACCA MAC is a good platform for this.'
Hoh also describes one aspect of implementation that tends to be less publicised: the role that accountants inevitably have to play between their clients and regulators, which often puts them between the proverbial rock and hard place. 'Accountants bear the brunt of management dissatisfaction,' he says. 'We have to constantly justify the extra costs that come with compliance. It isn't easy; ACCA MAC will be able to give a different perspective.'
Putting audit on the map
While Hoh expresses hopes that ACCA MAC will narrow the current gaps in understanding, Dato' Amiruddin feels that accepting the appointment was also a way of giving back to the ACCA community, as the qualification that he attained in the UK in the mid-1980s has stood him in good stead for the better part of four decades. For Mok Wan Kong, audit partner at KPMG, his stint as a committee member will centre on making audit a preferred branch of the profession through raising auditors' profiles, not just as the most traditional of number crunchers but as full partners and value creators. 'Auditing is something dynamic,' he says. 'The word is often misunderstood but it really implies having a wide range of skills.'
Auditing involves skillsets that need to evolve to meet the changing requirements of businesses – and a parallel mindset change, he adds. There are, he says, many things auditors can do that are not directly related to numbers, in both internal and external auditing, like monitoring and improving processes for better transparency and corporate governance.
Agreeing on the need for auditors to be versatile and flexible, Lim Fen Nee, Deloitte's SEA professional practice change and transformation leader, identifies her auditing background as one of the cornerstones that have supported her throughout a career that has seen her take on various roles, sometimes multiple ones, simultaneously.
She stresses the importance of developing emotional intelligence in tandem with upskilling analytical ability for those just entering and currently in the profession. Lim is a strong advocate of ACCA's recently launched Women's Network, which she sees as an invaluable platform for the promotion of diversity, inclusiveness and the establishment of mentoring programmes for young professionals regardless of gender. 'It encompasses all aspects of "Think Ahead", which is what ACCA is about,' she says. 'There is great value in leveraging on this, personally and professionally, for young accountants just starting out, and the businesses they work with.'
Push the integrity agenda
Renganathan Kannan was appointed to ACCA MAC for the first time in December 2017. Having worked in the legal industry before, the partner with mid-tier firm TraTax immediately saw the need to push the integrity agenda, particularly among those just entering the profession. He sees more extensive collaboration with other professions as one way of achieving excellence and ethics. This has gained importance because ACCA qualifications give better mobility, enabling holders to work in many countries, thus exposing them to a range of different environments. 'Younger accountants must be able to handle the entire value chain,' he stresses.
For Ray Ng Kar Teik, senior manager with Averis, appointment to ACCA MAC was a coming-home of sorts. 'Twenty years ago, I was the first ACCA student president,' he says. 'Now I can continue to serve, just on a different level.' An example of how accountants can be flexible, mobile and versatile, Ng, who has had stints abroad, is now a proponent of global business solutions (GBS), which he urges young accountants to embrace, given the long-term impact on industry and the profession. Likewise, Muhammad Razin Shah, director of Bahtera Sri Kandi Holdings and a committee member since 2016, underscores the importance of the perspective of ACCA's younger members.
'Young professionals are moving into C-suite appointments across the industrial board,' says Razin. 'They have a lot to contribute.' With 23 years of experience, Azizan Zakaria is well placed to advise clients on audit matters, which he does as a partner with PwC, but inevitably finds himself advising on other business issues as well. 'When you do things outside your scope, you're broadening your own knowledge,' he says. 'This helps you advise clients better; you're actually helping them improve their internal controls so you become their business partner in a very real sense.'
Kamarul Ariffin Ngah was appointed to ACCA MAC in 2016 and brings a public sector perspective to what is essentially a private sector environment. Formerly an auditor in the private sector, he is now a financial adviser with the Ministry of Finance's strategic investment division, offering a private sector perspective on finance and accounting issues. He says that the public sector offers a great deal of scope for accounting professionals. 'You're not limited to auditing,' he says. 'There are many different areas to explore beyond accounting, in the civil service.'
Lifelong career partner
ACCA has always considered itself as a lifelong career partner, says past ACCA president Datuk Alexandra Chin, who heads her own firm. 'Our members are diverse and we have to continue supporting them,' she says, adding that 'for young professionals who have just started out, ACCA's support for them is crucial'. As chair of the recently launched ACCA Malaysia Women's Network, she sees young women accountants moving front and centre as their numbers grow and making their presence felt in prominent corporate roles.
ACCA MAC members will need every bit of their considerable professional experience as they strive to meet their objectives, engaging with regulators, learning providers, employers, universities and government along the way. Dato' Merina points out some priority areas such as helping more accountants obtain ACCA qualifications; greater collaboration with universities like UiTM and other organisations like MyPAC and Yayasan Peneraju; enhancing ACCA's outreach, stepping up member advocacy and support; and supporting the Committee to Strengthen the Accountancy Profession in Malaysia.
What kind of resources will be needed, and how will these be acquired? 'We need more member advocates to help bring together members and increase our networking activities,' Dato' Merina says. 'ACCA has more than 13,000 members in Malaysia. We need to keep them engaged and create avenues for members to obtain more value from their membership.'
Ultimately, she says, ACCA MAC's goal is to see an active members' network through various initiatives such as the Malaysia Women's Network, and increased activities especially for those in major cities outside the Klang Valley, and in East Malaysia. 'We want our members in SMPs and SMEs particularly, to feel that this is a platform for them to develop and support their businesses. ACCA can be a major enabler.'
Majella Gomes, journalist
| No | Name | Designation | Organisation | Position in MAC |
| --- | --- | --- | --- | --- |
| 1 | Dato' Merina Abu Tahir | Head, internal audit | Malaysia Airlines | President |
| 2 | Dato' Lock Peng Kuan | Partner | Baker Tilly (Malaysia) | Deputy president |
| 3 | Hoh Yoon Hoong | Partner | EY Malaysia | Committee member |
| 4 | Azizan Zakaria | Partner | PwC Malaysia | Committee member |
| 5 | Muhammad Razin Shah | Finance director | Bahtera Sri Kandi Holdings | Committee member |
| 6 | Mok Wan Kong | Partner | KPMG Malaysia | Committee member |
| 7 | Kamarul Ariffin Ngah | Financial adviser | Ministry of Finance Malaysia | Committee member |
| 8 | Lim Fen Nee | Partner, SEA professional practice change and transformation leader | Deloitte Malaysia | Committee member |
| 9 | Dato' Amiruddin Abdul Satar | President and managing director | KPJ Healthcare | Committee member |
| 10 | Renganathan Kannan | Partner | TraTax | Committee member |
| 11 | Ray Ng Kar Teik | Senior manager | Averis | Committee member |
| 12 | Datuk Alexandra Chin | Sole proprietor | Messrs Alexandra FL Chin | Committee member |
"For young professionals who have just started out, ACCA's support for them is crucial"