Hugh Murnane FCCA describes how his training has enabled him to move from Ireland to Australia, latterly becoming CFO of Omnicom Media Group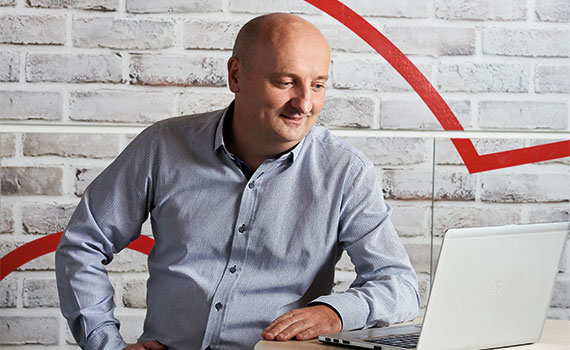 This article was first published in the June 2018 Ireland edition of Accounting and Business magazine.
When he left Dublin on a gap year, with the urge to 'follow the sun', then-junior accountant Hugh Murnane had two passports in his possession.
One was the kind that enables international travel; the other was his ticket to funding the journey – an ACCA Qualification, which Murnane believed gave him the professional credibility to get work in any major city.
Most backpackers landing in Australia take casual jobs in pubs and the like, and while that 'would have been appealing', the now 46-year-old Murnane recounts, it didn't pay much. However, a few months of professional contract roles in Sydney and Melbourne fuelled his Ford Falcon, financed the road trip, and would eventually bring him back to Australia where Murnane, FCCA, family man and resident of Sydney's prime eastern beaches, is now chief financial officer Australia at Omnicom Media Group (OMG), a circa AU$2bn operation.
Murnane has always had an eye for business. Upon leaving school, he'd been undecided about whether to pursue a business degree or an accounting qualification. The scales were tipped in accounting's favour when he was advised that to fulfil his ambition he would need 'an accounting qualification as an end game'.
'My older brother, who is also an accountant and FCCA, told me he felt it would open doors in business. Every big company needs a CFO,' he reasoned.
So Murnane chose 'the more efficient route' – ACCA, a career passport which was portable and respected around the world.
After qualifying at Dublin Institute of Technology, Murnane worked first as an accountant at Arnotts, Ireland's department store institution. Later, after returning from Australia, he built up the finance function for IT startup AEP Networks, an encryption specialist, from scratch.
But the climate didn't suit Josette, his French-born then-girlfriend (now wife), whom he'd met while travelling, and they had always planned to move somewhere warmer. After a couple of years they settled back in Sydney.
There Murnane's career blossomed, from head of finance at music giant Sanity, Virgin & HMV to CFO at Initiative Australia, a AU$300m media buying business, and then CFO for Oceania region at TNS, part of British multinational media company WPP, before moving to his present role at OMG.
OMG manages all the media agencies within global parent Omnicom Group, a diverse group with nine different businesses under its umbrella, each with its own executive team and individual CEO. Murnane sits at the top of the financial food chain, overseeing a team of 57 in finance and 13 in IT responsible for the management of millions of invoices a year.
On a typical day, his role is split 60/40 between finance and commercial operations. Commercial involves anything from being a sounding board for all business decisions, including hiring of staff, potential acquisitions, new business opportunities and bringing a financial voice to the OMG Australia management team and the OMG board of directors. 'Both areas can require quite different skillsets but operational outputs feed directly into commercial decision making,' Murnane said.
With about 750 people in the company as a whole, the finance function is 'heavily weighted' compared to other businesses, he says. But there's a lot at stake. Clients rely on OMG to advise on and implement their marketing strategy and spend. And with AU$2bn in advertising billing passing through its books annually, which the company needs to recoup from its clients before passing on to the vendor, 'you can't afford to get it wrong,' says Murnane.
It can be a complex dance. Until the client pays for their advertising, or if they default, OMG is liable as the media buyer – despite making no margin. 'We also must pay our suppliers on time in order to get the discount which we have already passed on to our client,' Murnane explains.
Getting it right is reliant upon three key fundamentals: processes, people and systems, all of which have been restructured during Murnane's time at OMG.
'We have robust, transparent systems in place where we measure everything, including giving daily reports on cash, debtors and creditors,' says Murnane. So if any potential issues are flagged, they're identified and worked through early on.
Media is a fast-paced and competitive business. Like the accounting profession itself, it's also an industry in disruption. Advertising spots can change at a moment's notice and clients might change their minds quite late in the day. Furthermore, it's OMG's job, as the advisor, to demonstrate bang for buck.
With traditional media, Murnane explains, it can be hard to quantify, for example, how many people have taken notice of a particular billboard. With online content, website optimisation provides the evidence not only of who clicks and when, but how long they stay there. Reflecting this trend, he says, Google and Facebook came from nowhere 10 years ago to become two of the group's biggest suppliers now.
So the company has set up a programmatic division, Accuen, which targets ads on the internet to a particular demographic and measures the outcomes, as well as a consulting and technical support division, Annalect, to interpret that data with clients.
A lot of the group's peer networks and clients have outsourced their finance function to external third party providers. This is a strategy that Murnane is cautious about engaging in, having seen the pitfalls that other businesses have encountered.
'External providers can't easily explain a query, and this can be quite frustrating to stakeholders,' he says. 'Finance departments need to understand the business, and that's so much easier if they feel part of the business locally. People look at offshore outsourcing as a like-for-like replacement and that's never the case.'
Speaking with other CFOs, he hears this view frequently, and finds that some companies, having tried outsourcing to countries such as the Philippines, India and Malaysia 'have pulled up stumps and come back'.
To compensate for the cost advantage of offshoring business functions, you have to add value in other ways, Murnane says. 'One of the best things finance can do for any company is to enable the business to work efficiently, and not occupy management's time on day-to-day stuff.'
He is a fan of digitisation, however, and is steering Omnicom's finance function towards a paperless operation, which saves time and money.
The company's accounting processes have also been streamlined, and the automation of some tasks has seen jobs growth in the finance team outpaced by other sectors of the business.
But business itself is constantly changing and if you want to be in finance, you have to keep evolving, Murnane says. This also applies to the CFO's role. As well as citing 'being curious' as a top professional trait for a successful CFO, he sees the ability to communicate as essential, both in the C-suite – a hotbed of curiosity – and right down the line.
'Data digitalisation is the big thing in finance at the moment – you need to be able to give them the numbers in a user-friendly fashion, and not just static numbers, but something they can drill into, go below the headline and see what's making it up.' Using this technology, he explains, 'every OMG manager would have a dashboard to get analysis of a client's revenue line, (and could) compare it to figures from last year, or the previous month, or to the budget'.
This tests every part of a CFO's technical knowledge, and in that role, he adds, the onus of professional development is on you: 'If you sit still, you are at risk of being commoditised.'
To keep on top of his own game, Murnane attends ACCA events wherever possible, and actively networks with peers to share knowledge and experiences. In 2016, he completed the company directors course run by the Australian Institute of Company Directors.
When he first came to Sydney in 2003, ACCA had a low profile in Australia. 'It's been a pleasure to see how it's developed in that time,' Murnane says. He believes the alliance with CA ANZ (Chartered Accountants Australia and New Zealand) is the right way to continue building ACCA's brand recognition in this part of the world.
Outside of work, family occupies much of this father of three's time. The Botany Bay playground of his three Aussie-born kids is a long way from Murnane's own childhood home in Tipperary, Ireland, but things have panned out well.
'While I remain proudly Irish and may never support the Wallabies (Australia's national Rugby Union team), I truly love Australia and am appreciative of the opportunities and lifestyle it offers,' he said.
Peta Tomlinson, journalist
"As a CFO, the onus of professional development is on you. If you sit still, you are at risk of being commoditised"
"One of the best things finance can do for any company is to enable the business to work efficiently, and not occupy management's time on day-to-day stuff"