New research shows that the creative sector can prosper in rural Ireland, generating jobs and bringing a range of often under-appreciated cultural and economic benefits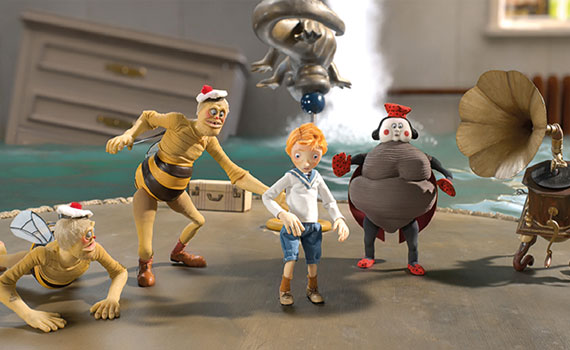 This article was first published in the July 2018 Ireland edition of Accounting and Business magazine.
Think of Ireland's rural economy and online gaming, smartphone apps and animation may not spring immediately to mind. Yet not only are the creative sectors active beyond Ireland's cities, there is ample evidence to show them, in many cases, to be thriving.
A recently published EU-funded study built on three years of research to paint a picture of a creative sector in the West of Ireland – encompassing counties as far north as Donegal and south as Clare, and including Leitrim, Sligo, Mayo, Roscommon and Galway – to be in rude good health and worth almost half a billion euros annually. In a region where over 60% of the population live in rural areas, the research identified 5,000 sole traders and small and medium-sized enterprises employing about 13,000 people active across a range of disciplines, from architecture and app development to traditional crafts and theatre. It may be a broad definition of creativity but the research finds a common thread of socio-economic contributions that such activities can make to their localities and argues that a vibrant creative sector has many positive impacts beyond the economic, helping to build and strengthen a sense of community identity in isolated regions and localities. It also points to the fact that such vibrancy can make regions attractive to larger investors and foreign direct investment (FDI) in particular.
Distinct contribution
A creative momentum is a three-year (2015–2018), €2m EU-funded research project focused on the development of the creative industries in regions across Europe's northern edge. Among its partner organisations is NUI Galway, where the project was implemented by the School of Geography and Archaeology and the Whitaker Institute, and led by Dr Patrick Collins, a lecturer in economic geography. Collins explains that he was initially drawn to the project following previous work investigating the choices and decision-making of FDI companies. 'The question as to why international companies would choose a certain location has tended to get narrowed down to tax. However, through interviews with the large tech companies, we found the decision-making often tied in to the idea of culture and creativity, and the ability to be critically engaged. That marked Ireland out as a location of choice for many companies.'
While acknowledging that Facebook is not going to set up in Clifton or Google in Gweedore anytime soon, Collins says the research highlights the distinctive contribution rural Ireland can make in terms of building Ireland's creative and tech capacity. 'We are living in an increasingly urbanised world, where it's more difficult for rural areas to compete. Yet, whether it's media, gaming, apps, theatre or architecture, creative people are often attracted to the periphery and, when we set out to map the creative infrastructure of rural places, we found that the West of Ireland does particularly well in terms of attracting them.' Job creation figures for the sector back this up. Creative industry employment in the West of Ireland grew by 15.8% between 2012 and 2015 and is predicted to remain strong up to 2020, when employment by the sector could reach over 14,000, worth €632m annually.
Infrastructural challenges, and particularly rural broadband availability, remain potential constraints, yet Collins notes that, while research in 2010 found access to high-speed internet to be the number one challenge for business in rural Ireland, today it ranks a slightly more palatable third.
The research also found that many of those engaged in creativity do so as part of a portfolio of activities, with lessons and broader implications for all of us. 'Many are effectively serial entrepreneurs, where creativity is just one of many parts of their working lives,' Collins notes, adding that this sense of creativity being 'subsidised' by other economic activities merits more regard than it may currently get in Ireland. 'In the Nordic countries, the idea of the pursuit of artistic expression is much more easily recognised as an economic endeavour than here. In Ireland, we still tend to put our culture in a more junior position.'
Film first
If you're looking for an example of rural creativity in action, you could do worse than to keep an eye on your local cinema. Ireland's independent TV and film production companies have flourished in recent years and the establishment of TG4 in Galway in 1996 created new opportunities for many in the region. Based in the Gaeltacht village of Spiddal, Co Galway, production company Telegael has clocked up numerous Emmy and IFTA awards for its output, which has been broadcast in 140 territories around the world. This year, the Cannes Film Festival saw the official launch of its latest and most ambitious production, Captain Morten and the Spider Queen. Six years in the making, this €10m international co-production is Ireland's first stop-motion feature film and was made entirely in rural Galway, boasting an all-Irish cast including Brendan Gleeson, Pauline McLynn, Ciaran Hinds and Michael McElhatton.
With the accommodation crisis in Ireland's cities showing no signs of abating, and studio space increasingly hard to come by, more and more creative people struggle with the challenge of making a living while making their art. Rural Ireland has proven it can be a fertile ground for creativity and there is now a real opportunity to encourage a new generation of artists and creatives to look to our own green fields rather than further afield.
Donal Nugent, journalist
"'Why international companies choose a certain location... often ties in to the idea of culture. That marked Ireland out as a location of choice'"