FTSE 350 companies are investing in websites fit for the future and have made great strides over time, but there is still room for improvement, says Richard Dixon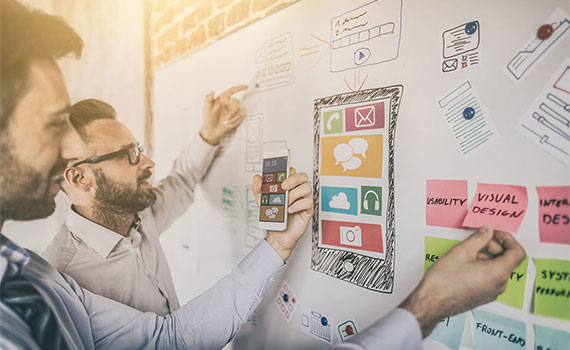 This article was first published in the September 2018 UK edition of Accounting and Business magazine.
Companies listed on the London Stock Exchange are increasingly recognising the importance of their websites as a channel for engaging with shareholders, customers and clients. Playing catch-up with other, more consumer-focused websites in terms of user experience, FTSE 350 companies are finally realising that these platforms are the trusted destination for corporate information.
According to the findings published in Lighting the way, stakeholder communications consultancy Black Sun's latest annual digital research of FTSE 100 and 250 corporate websites, the rise of digitalisation and instant global access to information has placed the concerns of wider stakeholder groups higher up the corporate agenda. These companies are increasingly putting their websites at the heart of their communications programme for stakeholder engagement – the 'go-to' destination for their corporate story. The need for companies to ensure their online communication goes beyond simply presenting a compelling investment proposition is all the greater now that the Markets in Financial Instruments Directive (MiFID II) is limiting sell-side coverage of listed businesses.
FTSE 350 companies are increasingly producing strategic and future-looking content to articulate their objectives and prospects to a widening group of stakeholders. This is often done using information found within the annual report and can require significant investment in the latest digital technology.
Strategic priorities
One way in which companies are upgrading their content is by offering greater clarity on strategic priorities and sustainability commitments. The number of FTSE 100 companies disclosing strategic objectives has risen 13% since 2017, and 79% now disclose specific sustainability commitments, up from 59% last year. Seventy per cent of FTSE 100 companies and 72% of the FTSE 250 publish individual strategic objectives.
One area to improve is the publication of key performance indicators. Only 30% of the FTSE 100 include overviews of their KPIs.
Increasingly, companies are recognising the importance of providing documents that are relevant and easily accessible to investors so they can make more informed investment decisions. There has been an increase in corporate websites that provide archives of webcasts (84% of the FTSE 100) and presentations for investors (98% of the FTSE 100 and 96% of the FTSE 250 provide access to investor proposition presentation materials).
Access to key shareholder information has been significantly improved, with the FTSE 250 showing a 36% increase in disclosure about the upcoming AGM and a 20% rise in allowing investors to add events to their calendars. However, the number of websites offering an investor proposition section remains relatively low for both FTSE 100 and 250 groups (34% and 52%, respectively).
One area for improvement is in downloadable investor factsheets; only 32% of the FTSE 100 and 24% of the FTSE 250 make this available.
Operating environment
More companies are now including news, thought-leadership pieces and blogs that discuss their operating environment and broader industry developments. This is up from 55% in 2017 to 69% this year. But despite the growing importance of social media in communicating corporate transparency and authenticity, less than half of the FTSE 100 and FTSE 250 incorporate a 'share' button, and less than 10% of both groups publish a social media wall.
Another key trend is the increased use of rich media and interactivity across FTSE companies. Communicating the right content to diverse audiences is a major challenge, so companies are using video as a means to instantly articulate key messages. The interactivity of websites is also improving with the use of carousels, sliders and interactive maps, but the FTSE 250 lags behind the FTSE 100 in using of such features.
Looking at Black Sun's findings gathered since 2015, many corporate websites have made progress, demonstrating transparency by providing insightful and compelling content through new digital technologies. Many, however, still have some work to do.
Richard Dixon is chief digital officer at stakeholder communications consultancy Black Sun
FTSE 100 corporate information online
 
 
2017
2018
Clarity on strategic priorities

+13%

70% disclose specific strategic objectives

57%
70%

Evidencing market  leadership

 

+14%

69% include news, think-pieces and blogs to evidence their market leadership

55%
69%

Committing to a sustainable future

 

+20%

79% provide their specific sustainability commitments

59%
79%

Attracting future talent

 

+15%

77% now list job vacancies

62%
77%

Exploiting rich media

 

+6%

72% of sites now contain video in more than one section

66%
72%

Looking to a social future

 

47%

of sites enable users to share this content

N/A
47%
"One way in which companies are upgrading their content is by offering greater clarity on strategic priorities and sustainability commitments"