As ACCA continues to celebrate 30 years in mainland China, Beijing's Global Summit highlighted the growing importance of connectivity in business and finance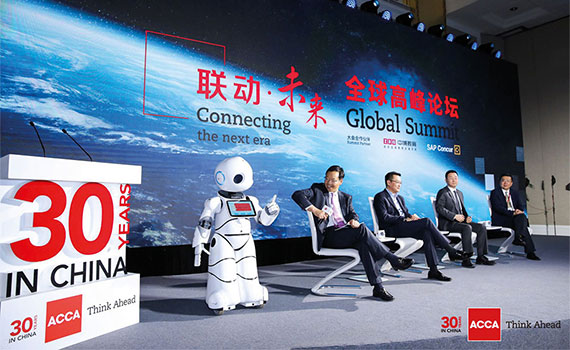 This article was first published in the September 2018 China edition of Accounting and Business magazine.
Connectivity was the theme of ACCA's Global Summit in Beijing, part of a programme of events celebrating 30 years in mainland China.
Entitled 'Connecting the next era', the summit featured more than 20 experts and thought leaders from various industries, who shared their insights into various aspects of connectivity, from the past, present and future and China's place in the world to finance and technology.
'Over the past three decades, ACCA has been committed to helping support growth in China by thinking ahead, connecting markets and communities and using our global reach to support the profession to flourish and grow,' said ACCA president Leo Lee in his opening speech.
Since its foundation in 1904, ACCA has acted as a 'superconnector', bridging career paths for professional accountants while helping employers train talent and grow businesses, Lee said.
Looking forward, chief executive Helen Brand said that she expected mainland China to create new opportunities for business and the accountancy profession, as the country plays an even more important global role.
'It's ACCA's role to help professionals to navigate the challenges and maximise opportunities,' said Brand, adding that the focus of artificial intelligence (AI), robotics and data analytics can help prepare for a better connected new world.
ACCA's involvement coincided with the opening up of the Chinese market, noted Chen Yugui, deputy president and secretary general of the Chinese Institute of Certified Public Accountants. 'The industry's growth has benefited from China's fast-growing economy and the driving need of innovation and risk control,' he said. 'Becoming a certified accountant has become an increasingly popular choice among young people in the country.'
Global convergence
Prof Zhang Weiguo, a former board member of the International Accounting Standards Board, gave his thanks and congratulations. Having witnessed ACCA's first official visit to mainland China in 1988, he noted that the organisation's history also represents the convergence of the global economy and accounting standards.
China needs to train more talent with international communication skills and share the philosophy of value investment based on financial information, Zhang noted.
Prof Qin Rongsheng, secretary general and president of the Beijing National Accounting Institute, and chair of the session on connecting the past, present and future, echoed this. 'ACCA is the most influential international professional body in the country in accounting, audit and business management,' he said.
Nick Pollard, managing director, Asia Pacific, at the CFA Institute, said that while ACCA and the institute are global networks they connect locally to ensure professional excellence in finance, promoting the highest standards in ethics, trust, inclusion and innovation, and serving the public good.
'It's important to remember that human talent in an increasingly digital world can't be underestimated,' he noted. 'We must complement and harness these new forces, not fight against them, because these forces will dramatically expand our market opportunities.
'There is short-term disruption for sure; tasks we do personally today will be automated tomorrow. However, no technology, application or bot will replace advice, perspective and the nuance of experience that humans bring to the table.'
With the rapid internationalisation of mainland China's financial industry, the race to secure talent is on, Pollard said.
A key part of China's connection to the world is the Belt and Road Initiative (BRI), which will unleash tremendous momentum for global growth, said Paul Chan, Financial Secretary of the Government of the Hong Kong Special Administrative Region. He noted that while countries along the Belt and Road are home to over 60% of the global population, their combined GDP accounts for around 30% .
'The initiative will provide opportunities for professional services such as risk assessment of projects, quality control of infrastructural construction, operational management and legal arbitration,' Chan said.
Fang Qiuchen, chairman of the China International Contractors' Association, noted that last year its members signed 41 contracts valued at over US$1bn – with a combined value of US$144.3bn – along the Belt and Road, compared with 33 in 2016. With a growing number of governments wanting contractors to help drive industrial development, ACCA can help to train companies' finance professionals and therefore improve their competitiveness, Fang added.
Fu Junyuan, executive director and CFO at China Communications Construction Company Group, echoed this, noting that the company is preparing to train 100 CFOs for the firm's overseas branches over the next two years with help from international professional institutes like ACCA.
Meanwhile, Pakistan is a converging point for the land and maritime Silk Road, according to Mustafa Hyder Sayed, executive director of the Pakistan-China Institute. 'It's where you can profit,' he said. 'A lot of things will happen in the capital market.'
During the panel discussion on connecting China to the world, Ayla Majid FCCA, CEO at CAMCO, noted that the BRI is applaudable in addressing the needs of developing countries.
Profound changes are expected to be made along the Belt and Road, according to Prof Li Kouqing, president of the Shanghai National Accounting Institute and secretary general of the Asia-Pacific Finance and Development Centre. 'We will understand China and the world better through the infrastructure construction and innovation of global value chain,' he said.
Into the unknown
Technology was also in the spotlight, with business leaders from both finance and technology industries sharing their views of venturing into the unknown and embracing innovation and having the chance to meet a robot.
Technology is expected to greatly disrupt China's retail sector, said Ben Tian, senior director at Alibaba Cloud Research Center, who added that retailers now can pull data to instruct their order placement, inventory and even products for manufacturing.
'Big data has enabled shops to "zoom in" and understand user preference within a 3km circle,' said Tian. 'As a result, all convenience stores and shopping malls will look unique to cater to micro-localised demand.'
Technology devices have also expanded from personal computers and smartphones to automobiles, said Gary Gu ACCA, co-founder and CEO, AIWAYS.
'As cars are becoming electrified, intelligent and internet connected, the trend has brought opportunities for new entrants to outpace traditional giants,' said Gu. Describing operational speed as a key criterion, he said that the carmaking industry now requires spontaneous advancement in research, manufacturing and delivery.
Agility is key
Looking into the future, Li Changhua, senior executive partner of Gartner, expected 'ABCDE' technologies – AI, blockchain, cloud, data analytics and design thinking, and experience – to dominate the future of the tech world.
'Jobs will be replaced and augmented by machine,' he said, adding that within AI, voice recognition and computer vision are already maturing. 'Agility and competitive advantage will be an important judgment of that decision,' he said.
While ACCA has driven immensely the convergence of international accounting standards over the past decades, blockchain is expected to play its part in the years to come, said Wilson Wan, co-founder of TMT Post and chair of the session on connecting the digital world.
'The question is no longer whether to adopt robots in the financial department, but where and how,' said David Yu FCCA, managing director of LinkedIn China, adding that financial robots can work 15 times faster than humans and can operate 24-7, replacing 80% of rules-based book-keeping processes.
'About 72% of CEOs believe tech will reshape the competition in their industry over the next five years,' Yu said. As the CEO's best partner and potential successor, CFOs should keep track of AI and other technologies, he added.
'Only when ground-level work can be replaced by machine can financial professionals upgrade themselves and usher in the spring of the industry,' said Chen Hu FCCA, CEO, ZTE Holdings New Cloud Service, during the panel discussion on connecting technology and finance, which was chaired by David Wu FCCA, the first ACCA member in mainland China.
Innovation can only come from real practice, using technology as a tool for productivity, said Meng Xin ACCA, finance director at China Unicom Global and CFO at China Unicom (America).
'Using an old map is not going to lead us to a new continent,' Meng said. 'We have to take the initiative and embrace changes.'
'Together we can build a really strong foundation for China and the world to move forward to a brighter future,' concluded Maggie McGhee, director of Professional Insights at ACCA, on the overarching theme of connectivity. 'We look forward to working with our members and partners to realise shared ambitions.'
Sarah Dai, journalist
"No technology, application or bot will replace advice, perspective and the nuance of experience that humans bring to the table"