ACCA Hong Kong's annual conference highlighted the opportunities on offer to finance professionals thanks to the Guangdong-Hong Kong-Macao Bay Area initiative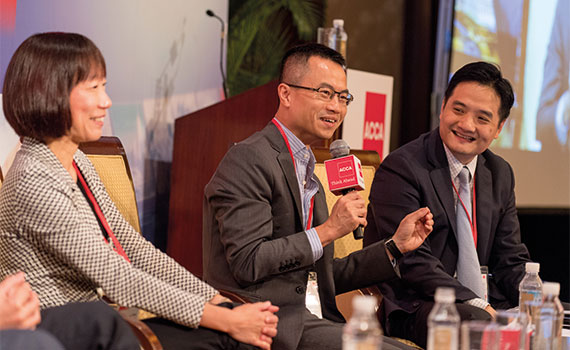 This article was first published in the September 2018 China edition of Accounting and Business magazine.
Hong Kong has the talent and acumen to take a leading role in the Guangdong-Hong Kong-Macao Bay Area initiative as the region emerges as a global economic powerhouse.
This view was widely shared during ACCA Hong Kong's annual conference in June, which focused on the Bay Area initiative that will link 11 cities in Guangdong's Pearl River Delta into a single integrated economic zone.
Themed 'Discover and Empower – Unleashing Hong Kong's Potential as World-Class Smart Economy', the event brought together experts to discuss Hong Kong's competitive edge within the Bay Area and the implications of the freer flow of talent and capital.
ACCA president Leo Lee opened the conference by noting that accountants should look into how their role may evolve under the Bay Area initiative.
Teresa Tso, ACCA Hong Kong chairman, outlined ACCA's report, Greater Bay Area Opportunities: Capitalising Hong Kong's Unique Edge, which formed ACCA's recommendations to the Hong Kong special administrative region (SAR) government.
In his keynote speech, Paul Chan, financial secretary of the HKSAR Government, told delegates that Hong Kong is well positioned to capitalise on the opportunities created by the initiative.
'Hong Kong's many compelling advantages, including our highly internationalised business environment, an open and efficient market, the free flow of capital, information and talent, the common law system and the rule of law, can hardly be replicated by other places in a short period of time,' he said.
As one of the world's leading financial centres and China's international financial capital, Hong Kong could be the platform for capital formation and funding and the base for Bay Area companies' offshore operation and corporate treasury centre, Chan said, noting that the rapid growth of wealth in the Bay Area will also create enormous business opportunities for Hong Kong's financial services, in particular in the areas of wealth and asset management.
Deeper collaboration
'The Bay Area has all it takes to become the international innovation and technology hub of China,' Chan continued. 'The deepening collaboration among the cities in the Bay Area will enable us to leverage the synergies of the world-class financial and professional services of Hong Kong, the vibrant tech business sector in Shenzhen, as well as the advanced manufacturing in cities in Guangdong province, such as Dongguan, Huizhou and Guangzhou.'
Chan added that the Hong Kong government is working closely with Shenzhen to develop the Hong Kong-Shenzhen Innovation and Technology Park in the Lok Ma Chau loop, which will be a flagship for attracting research institutions, technology companies and talent to Hong Kong.
'ACCA has made a great contribution to upholding and upgrading the professionalism of local accountants,' Chan said, stressing the important role that finance professionals are playing in Hong Kong's sustainable development.
George Leung, adviser for Asia Pacific at HSBC, noted that 'the economic size of the Bay Area was the same as that of South Korea in 2016, and by 2030 it will exceed that of Brazil. The estimated GDP is US$4.6 trillion by 2030,' adding that it is growing by almost 9% per year.
Leung emphasised the importance of the free flow of people, goods and investment for the success of the Bay Area, with three stages to be achieved, the first being people mobility aided by infrastructure. 'Hong Kong already has the Guangzhou-Shenzhen-Hong Kong Express Rail Link and the Hong Kong-Zhuhai-Macao Bridge,' he said. 'They can shorten the commuting time and distance for people in the Bay Area cities.'
The second stage, synergy of industries, would see each city play a specific role based on their particular strength. 'Hong Kong is strong in finance, Shenzhen in innovation and technology and Dongguan and Huizhou in advanced manufacturing. Meanwhile, Guangzhou serves as a transportation hub and Macao as a tourism centre, along with Zhaoqing providing agriculture,' he said.
The third stage, Leung explained, is to create a common market. Crossborder payments also play a key role in facilitating the flow of capital.
Strong systems
Speakers agreed that Hong Kong's professional services have a big part to play, but the city has more than that to offer, not least a world-class accountancy profession.
Jeffrey Lam, non-official member of the SAR executive council and a member of the legislative council, stressed the value of Hong Kong's systems.
'The tax and legal systems of Hong Kong are considered superior,' he said. 'We implemented the two-tier tax system and tax deduction for research and development expenditure. We also have an international currency and a better global vision.'
Derek Ku, vice general manager, CFO office at Tencent added: 'Hong Kong has a solid legal foundation, and its environment and policies make it easier to attract foreign talent.'
'Accountants in Hong Kong are much trusted given their reputation,' said Lam, Speakers urged professionals and leaders to develop soft skills and promote diversity.
'Companies very often emphasise their financial assets, but human assets are equally important,' said Andrew Tsui, chairman, Hong Kong and Southern China at Korn Ferry.
'Hong Kongers tend to opt for structure, which is closely aligned with risk aversion. This destroys innovation,' he said. 'Life-long learning is important.'
Paul Poon, vice chancellor at the CLP Power Academy at CLP Power Hong Kong, said that corporations have a role to play. 'Hong Kong's strengths lie in its governance, safety, international experience and intuitive thinking,' he said. 'We need to foster talent to keep these advantages. We should develop talent internally and expand the talent pool.
'Big corporations can export their internal training model to other companies to enlarge the talent pool to meet the needs of Hong Kong and the Bay Area.
Wilton Fok, director of the e-Learning development laboratory in the department of electrical and electronic engineering at the University of Hong Kong, described how his team is working on mobile applications to help corporations to train their staff.
'Through mobile applications, we aim to achieve TEAM: training, engagement, assessment and motivation,' he said. 'We provide big corporations with the applications to implement training in a wider area.' Mobile applications, he explained, can help to eliminate geographical barriers.
Teddy Liu, general manager, corporate and talent development department at New World Development, agreed that corporations could do more, for example by creating an inclusive, harmonious working environment.
'In the age of artificial intelligence, we should focus more on developing our soft skills such as integrity. Hong Kongers need to be more agile and inclusive. Our ethical standards are high. To lead China to go global, we can export to them our governance, education, wisdom and good practices,' he added.
Leading China in its global ambitions requires more than people management; capital is also important. The flow of capital, enhanced shareholding regime and crossborder payments all can facilitate integration and help China go global through Hong Kong under the Bay Area initiative. To this end, Hong Kong can be a bridge between China and the world, said Keith Lui, executive director of the supervision of markets division at the Securities and Futures Commission of Hong Kong.
'We have Shanghai/Shenzhen-Hong Kong Stock Connect, a new programme for both Hong Kong and China that has been successful. There is capital control in China. Stock Connect makes China feel comfortable to allow foreign capital to the country, and vice versa,' said Lui.
Utilise technology
For greater integration and freer flow of capital, Lui said, modern technology is needed. 'For integration within the Bay Area, mainland authorities may need to think about how to utilise modern technology to monitor the investment activities of millions of people so as to effectively keep track of the outbound capital flows among residents in the Bay Area cities,' he said.
Joseph Chan, CEO at AsiaPay, also touched on crossborder payment and how other cities may benefit from Hong Kong's expertise.
'Payments come in many more different ways nowadays. Chinese companies are extending their e-wallets to Hong Kong: Octopus, for example, has also been tapping into the Chinese market. There is still room for both sides to enhance crossborder payment for consumers and businesses,' said Joseph Chan, who pointed out that China has launched a crossborder payment licence for companies in China as well as for foreign-owned companies.
Arnold Cheng, director for Hong Kong and Pearl River Delta at John Swire & Sons (China), noted that Hong Kong's low tax system would enable the SAR to serve as a platform to draw foreign capital to the Bay Area, although with three different currencies and different tax systems 'it is important to see how policies can be implemented in the Bay Area at the central government level to address the challenges', he added.
Speaking as a capital market player, Tim Fang, co-head of debt capital markets at AMTD Group, talked of the enhanced shareholding regime that helps attract 'new-economy' – fintech and biotech – companies to list in Hong Kong, with the weighted voting rights (WVR) structure a vital step.
'We need to incentivise the leadership to grow their business with their long-term vision,' he said. 'WVR can balance between stimulating the growth of these new-economy companies while protecting the interest of minority shareholders.'
Lui expressed similar feelings. 'Is it still feasible to use the traditional practice to govern these companies?' he asked. 'Corporate governance needs to adapt to this change and to facilitate the economic drive. The economy is driven by companies, after all.'
Elise Mak, journalist