Accountancy Europe chief executive – and keen horse rider – Olivier Boutellis-Taft is passionate about spurring the accountancy profession on to embrace change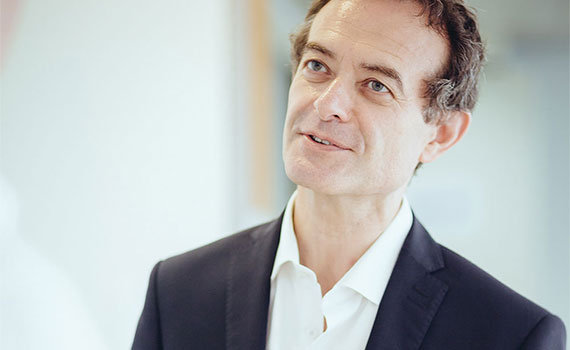 This article was first published in the September 2018 International edition of Accounting and Business magazine.
Keeping accounting relevant through ongoing transformation is the force that drives Olivier Boutellis-Taft, chief executive of the finance professionals' organisation Accountancy Europe. 'Change is my fuel,' he says, speaking to AB at his office in the heart of the European Union (EU) quarter in Brussels, where the décor, not long since rebranded in the organisation's bright yellow signature livery, reflects this dynamic view.
Despite the visible changes in his own organisation, Boutellis-Taft regrets the slow pace of change in the profession as a whole. 'We are still terribly change-reluctant,' he says. He accepts, though, that the profession does take a more rounded view of its work today than it did when he started out. In the old days, he says candidly, the profession's role in tax, for example, was mostly 'to help large corporations pay less of it. Even I, as a student at a rather progressive university, was only taught how to get around paying tax,' he recalls.
A crucial role
Today, Accountancy Europe unites 51 professional accounting organisations, representing approximately one million accountants, auditors and other financial advisers from 37 countries, and plays a key role in informing European policy debate.
Boutellis-Taft believes it is crucial that accountants play a part in society's response to a range of new challenges, from financial inequality to protectionism to money laundering, all of which Accountancy Europe has taken a position on. 'A profession that does not reflect on its role in wider society is doomed to disappear,' he says.
Commenting on the development of this broader role, Boutellis-Taft says: 'A discourse [on social inequality] in the European Parliament might have been seen as left-wing activism 10 or even five years ago, but now it has become mainstream. The need to address social inequality is something promoted by the Organisation for Economic Co-operation and Development, and the International Monetary Fund, and you wouldn't tag them as leftist. Finally, we are starting to understand the cost of greed and its impact on the planet and its people.'
Boutellis-Taft himself trained as a lawyer rather than an accountant. Born and educated in Paris, where he studied business administration and economics, law and EU policy at the Sorbonne University, he chose not to start his professional career in a law firm, instead electing to join the tax department of a Big Four accounting firm and going on to create his own service line advising on European public policy. 'It was a lot more appealing and modern than a traditional law firm. I wanted something where technology had taken off – and this was evident at PricewaterhouseCoopers (PwC) where I started my career,' he says.
After more than seven years at PwC in Brussels, he returned to France and spent four years as a public prosecutor in northern France (Lille) and the rural south west (Dax), also lecturing in EU affairs at Toulouse Business School, before returning to Brussels to take the helm at Accountancy Europe in 2006. At the time of its 30th anniversary a decade later, he oversaw its rebranding from the Federation of European Accountants to its current incarnation.
He has also served on the governing board of the European Policy Centre and as an independent director of business reporting standards group XBRL International.
Matter of trust
Building trust and transparency is now at the core of professional accountants' work in both private and public sectors, and particularly in the latter where the challenge is also greater, Boutellis-Taft says, adding that reliable accounting and audits are a means to build that trust. 'We've done a lot of work improving public financial management, for example, by promoting accrual accounting standards,' he says.
Another area that keeps Boutellis-Taft busy is sustainable finance. 'Accountancy has always had a key role in maintaining the world's financial systems and it is even bigger now – we see that financial capital is fully linked to human, technology and natural capital,' he says.
He commends the 'fascinating work' of the International Integrated Reporting Council (IIRC) in advancing a more holistic approach to reporting. Accountancy Europe has been supporting the IIRC by stimulating the debate on the future of corporate reporting since 2015.
A few years back, environmental issues might not have been of concern to accountants, but they are now an integral part of Accountancy Europe's work. 'We work on ESG [environmental, social and governance] disclosure to show how a company is impacting its environment and how sustainable its value creation process is. Businesses that are actively reporting on ESG matters are likely to take a long-term view, rather than look at short-term gains.'
Put another way: 'What gets measured, gets done,' Boutellis-Taft stresses. 'If we also measure externalities like pollution, resource depletion and global warming, market failures will be corrected, and this will drive a truly sustainable economy.'
Investors, even mainstream ones, increasingly ask for such corporate ESG information as a basis for their investment decisions, but Boutellis-Taft laments that this information is not always transparent. 'Greenwashing is a terrible plague,' he says.
'It is important that any review mechanism we put in place has a truly independent eye,' he says, with external audits essential to provide the reliability and trust that markets need and society demands.
As you would expect, ethics are high up the Accountancy Europe agenda. 'Ethics has always been the foundation of the profession,' says Boutellis-Taft, 'but ethics is not cast in stone – it varies across cultures and times. It is critical that we remain constantly aware of this evolution and of societal expectations. ACCA's report on ethics and trust in a digital age is spot on in emphasising the ethical considerations in the modern world and taking a global perspective.'
But, he adds: 'We need to recognise that not all people who act unethically are really bad. In practice, it is often greed and other social pressures that lead to unethical behaviour.'
Naturally, all of Accountancy Europe's member organisations teach ethics, but Boutellis-Taft believes teaching isn't everything. 'Selection is also important,' he says. '[In populating the profession] we need to choose people who are brave and capable of critical analysis.'
In April, Accountancy Europe welcomed the European Commission's proposals to strengthen whistleblower protection, which Boutellis-Taft describes as 'a prime source of information on financial wrongdoing.
'It's embarrassing for organisations in the short-term, but it's critical in the long run. No one likes to be contradicted, but we must encourage people to disagree or speak up,' he says.
Emotional intelligence', he adds, 'is also extremely important, and something of which machines are not yet capable'. While technical skills, even complex ones, are easily handled by machines, technology with emotional intelligence is 'still a long way off', he believes.
'This is another reason for accountants to invest more in soft skills like moral judgment, courage and empathy – these were seen as secondary in the past, but they are important in managing people,' Boutellis-Taft emphasises – a view reinforced by ACCA research, which identified emotional intelligence as one of seven key quotients that will be needed by professional accountants of the future. Above all, he is determined to make accountancy a profession where 'people count', he says.
It's all a far cry from the career he might have had, having started his working life in the world of horse riding, competing as a professional showjumper at international events. Initially trained as a sports teacher and running his own business in equestrian sports, he says he learned 'far more about life from riding than at university' – which he attended quite late, completing his postgraduate degree aged 27.
'I still have two mares and a foal and restarted riding 10 years ago. But I've no time to ride any more,' he says.
Liz Newmark, journalist in Brussels
"A profession that does not reflect on its role in wider society is doomed to disappear"
"Accountancy has always had a key role in maintaining the world's financial systems and it is even bigger now"