With a target to be the most inclusive employer by 2020, the Civil Service is a great place to be a leader, says chief people officer Rupert McNeil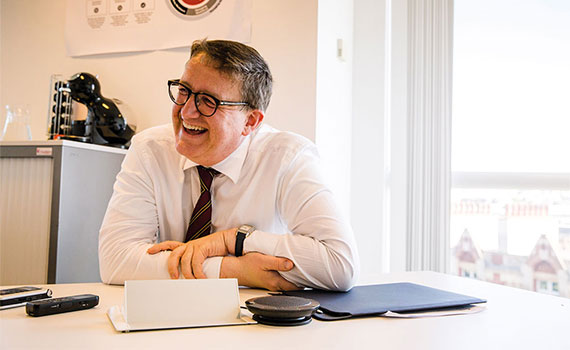 This article was first published in the September 2018 UK edition of Accounting and Business magazine.
Rupert McNeil is the first person to hold the role and title of chief people officer at the Civil Service. The new post, says McNeil, is indicative of a phenomenon across the service of creating functions to support the work that happens across government. He heads up 3,500 HR professionals who look after 420,000 employees and he has counterparts in 10 big functions, including finance, commercial and digital. The service recognises 20-plus professions, including finance.
McNeil's role is to make sure the Civil Service has the right workforce to deliver 'great outcomes' for citizens. 'I have to ensure we have the right skills in place, and that includes the biggest post-war challenge the service has faced – exiting the EU.'
Equally, McNeil has to look down the track at forthcoming issues such as automation, demographic change and diversity and inclusion, to ensure the Civil Service is representative of modern Britain. And they all have to be digital workers.
Long term, McNeil is determined to produce world-class leaders for the 2040s. 'My view is that everyone is a leader in their context – whether that is a prison officer on a prison wing or a permanent secretary.'
The Civil Service has a leadership statement that sets out to instil across the diverse working contexts the need to be inspiring (setting vision); empowering ('decisions need to be made as close to the front line as possible'); confident (for instance, in terms of values espoused and money well spent), and providing a great place to work.
Having worked in professional services firms, banking and insurance organisations, McNeil says: 'Compared to the private sector, this is a fast-paced environment. Change is quick, large-scale, transparent and scrutinised.'
He praises the desire to work collaboratively and the speed of communication across the service (facilitated through the Private Office structure, which links a secretary of state to the department at large). He adds, laughing, that a colleague told him 'things happen either very fast or very slowly'.
McNeil believes the service is a great place to be a leader. For example, weeks after the June 2016 referendum, three new departments had been established. And he cites the way various departments – supported by the commercial function – 'brigaded themselves to protect taxpayers and citizens' following the Carillion collapse.
As part of the strategy of pushing professions, McNeil wants more people to think of spending some of their career in the public sector. 'As people move up the career pathway, they could move in and out of the service. Get ACCA qualified, go out of the Civil Service, get experience and come back. Just have more permeability.'
The automation challenge
McNeil notes that his finance professional colleagues are impressed at the work done by ACCA on automation and the changing nature of the finance function. Across the Civil Service, he says: 'The HR function has a responsibility to ensure we respond in the right way to the challenge of automation. I believe the job that touches the citizen – benefit officers, for example – will see their role enlarged and become more skilled. Generally, history shows new jobs are created.'
He says the change faced by government is comparable to the change in financial services in terms of complexity, risk, regulation and digital transformation. 'HR has to ensure the people component is optimised for the operating model: buy in or outsource, grow skills or buy them? How do you construct jobs for the operating model?' He brings that experience of answering these questions in large, complex organisations into an even larger, more complex entity.
Strategic HR
In 2016, McNeil launched a service workforce plan with key objectives: building commercial capability, leading in digital transformation' improving diversity and inclusion and having 'coherent rewards' for employees.
A key element is ensuring that those who have come up through a policy, operational or technology route have the skills to manage people from other disciplines. 'For example, all Civil Service leaders need to know enough about finance to spend money effectively.'
It has set itself the target of being the most inclusive employer by 2020, including increasing the number of people with disabilities and ethnic minorities in the top 4,000-strong layer. ('Diversity is about ingredients; inclusion is about how you mix them to create the right culture.') It is currently developing measures on inclusion.
HR and finance are working on the shared services strategy: 'Both have processes that involve a large number of employees.' McNeil says that in some places – HM Treasury is one – finance skills have always been highly regarded, but it was not so across the board. 'About 10 years ago, there was an epiphany that you needed qualified financial professionals to do finance roles.'
He is careful to say that the service works with different accountancy bodies: 'They fill different ecological niches. Finance as a sector has different skill needs, and ACCA is busy filling many of those.' He points out the 'great work' ACCA is doing in the area of apprenticeships. 'Corporate services – and finance in particular – are a great way to bring people into the Civil Service and onto senior management roles, finance and elsewhere.'
Peter Williams, journalist
"People could move in and out of the service – get ACCA qualified, go out, get experience and come back"