A Shanghai conference co-hosted by ACCA China looked at BRI's ambitions for technological innovation and the challenges for the finance function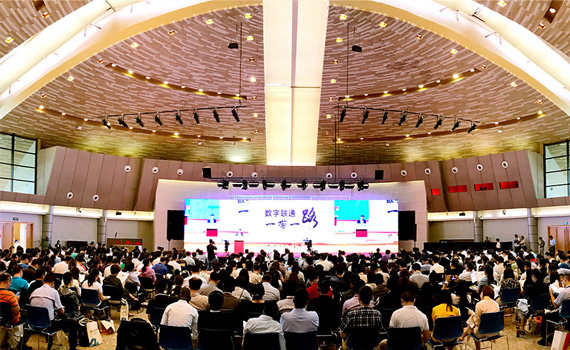 This article was first published in the October 2018 China edition of Accounting and Business magazine.
The Belt and Road initiative (BRI) is not just about building a physical infrastructure; its digital presence will be just as vital to development in the region and beyond.
That was the key message of a conference entitled 'Digital Connectivity in the Belt and Road', held in Shanghai in June. Co-hosted by ACCA China, Shanghai National Accounting Institute (SNAI), Deloitte China, the Accounting Society of China, Inspur Group and Yonyou, the event looked at accounting infrastructure, opportunities and challenges, and governance. It also launched the Belt and Road Accounting Research Centre, which will conduct and promote in-depth research into BRI.
'It's not possible to have a physical trade route today without a digital imprint; it's completely unthinkable to plan expenditure on infrastructure without also considering the associated IT spending,' said Robert Stenhouse, ACCA's deputy president. 'The finance profession will also be critical to the success of BRI.'
He added that ACCA is committed to developing the talent that BRI needs to progress, by working with national regulators and policymakers.
Drive for harmony
The Digital Silk Road is a major element of BRI. The major challenges include promoting digital connectivity by introducing common technical standards in participating nations, and facilitating the coordination and harmonisation of accounting policy.
The rapid development of digital technology and infrastructure building, the willingness to cooperate and innovation in business models are already providing opportunities for digital connectivity. However, a divide still exists.
'The gaps in digital technology application among different BRI countries, as well as the absence of standards for accounting, pose challenges to connecting digitally,' said Liu Qin, SNAI vice president.
The BRI region is home to more than 65% of the world's population. Development is uneven; most countries are emerging economies and lack even a rudimentary digital infrastructure. In Liu's view, priorities include developing cloud accounting and shared financial services.
'The use of the digital cloud can allow anyone to access services anywhere across the region, and to accelerate the development of applications for various users,' said Brendan Sheehan, ACCA Council member and CEO at White Squires. He added that new technology – such as robotic process automation, machine learning, artificial intelligence (AI), the Internet of Things, blockchain and data lakes – will rapidly evolve.
According to a survey by ACCA and the Shanghai Stock Exchange – The Belt and Road Initiative: Reshaping the global value chain – differences in accounting standards are seen as obstacles to crossborder investment in the region. Therefore, international convergence will help companies produce high-quality, more comparable and more transparent financial reports. At the same time, it will facilitate crossborder investment and capital market integration, improving market liquidity.
Common standard
'Given that the Belt and Road countries vary in accounting development, the notion and scope of accounting infrastructure from county to country remain to be studied,' said Lian Min, deputy general manager at China Communications Construction, noting that different standards were the biggest challenge to a project the company undertook in Malaysia. In addition, differences in tax systems and rates between BRI countries should also be taken into account.
According to the IFRS Foundation's Pocket Guide to IFRS Standards, among the 65 BRI countries, 54 (83%) have requested that all or most domestic listed companies and institutions prepare financial reports in accordance with IFRS Standards; three (Vietnam, Laos and Egypt) are using their own standards; and two (India and Indonesia) are converging with IFRS Standards on a continuing basis. Thailand is directly applying the standards, and Uzbekistan requires only domestic banks to comply. (Turkmenistan, Kyrgyzstan, Tajikistan and Lebanon were not included in the guide.)
High-calibre talent is also essential, with professionals acting as bridges between mainland China and other countries along the routes.
'Across the BRI network, we are looking at more than 50 languages and dozens of local accounting standards,' Stenhouse pointed out. 'If we are to work on cooperative projects and facilitate crossborder trade, we will need to be speaking the same economic language, and working within the same structures and standards. We need to build in the ongoing development and enhancement of standards that preserve value but also facilitate future growth.'
Stenhouse added that finance professionals will also require emotional intelligence to effectively communicate across borders and between cultures.
Marta Rejman, ACCA Council member and head of the shared services centre at Publicis Groupe, compared the situation with that experienced in Europe. 'Many Western European countries have aligned and stable legal and tax systems,' she said. 'Yes, they may be complicated, but a lot of work has gone into making systems and processes aligned. It's vital that BRI understands how all this works.'
Rejman, conceded, however, that problems still exist. 'Central and Eastern European countries are still in need of investment, and have very complex and constantly changing tax and legal systems which make it difficult for foreign investors to enter the market and function properly within the local regime,' she pointed out. 'Bureaucracy is difficult to manage.'
The key to success is, stressed Rejman, having the right pool of talent. She suggested that companies in mainland China employ local students as well as expats, as well as ensuring that universities and accountancy organisations are equipped to train the new generation.
BRI is, panellists agreed, an economic turnaround bringing global cooperation and trade relations to a different level. Such an ambitious international trade route will only be successful if the connected economies and talents collaborate productively with each other.
Ailin Zhou, journalist