Delia Ferreira Rubio, chair of anti-corruption NGO Transparency International, has spent much of her career fighting graft and the misuse of public power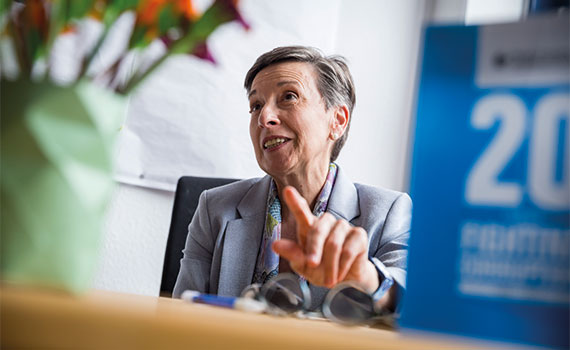 This article was first published in the October 2018 International edition of Accounting and Business magazine.
This year looks like marking a high in the fight against corruption. Courts in South Korea and Brazil have imposed long jail terms on their former political leaders. In Peru, one ex-president has served jail time, and three more are under investigation. Elsewhere in the world, high-profile figures face similar probes. The message is that even those at the top are not untouchable.
Delia Ferreira Rubio, chair of the non-governmental organisation (NGO) Transparency International, believes there has been substantial progress since the anti-corruption movement she now leads was founded 25 years ago. 'A quarter of a century ago, corruption was not on the public agenda,' she says, speaking from Transparency International's Berlin offices. 'Now it is an issue that can sway election outcomes.'
Transparency International, which has branches in 100 countries, has helped put in place an integrity infrastructure. There are now anti-corruption laws on the books in most countries, Ferreira Rubio points out, including provision for independent anti-corruption agencies and protection for whistleblowers. 'We have seen strong progress in many parts of the world in ensuring that people who disclose corruption are shielded from retaliation, with especially impressive developments in Europe,' she says. International law enforcement and the development of legal mechanisms for recovering stolen assets were given a major boost back in 2005 when the UN Convention against Corruption (signed by 140 nations) came into effect.
Despite these advances, there is still work to do, Ferreira Rubio says. The World Bank estimates that around US$1.5 trillion in bribes is still siphoned off from the global economy each year.
Grand corruption
Part of the challenge, she says, is that 'grand corruption' has become more sophisticated, especially over the past five years. 'Technological advances mean that stolen money can now travel across the world in just a few seconds, and sophisticated software can preserve the anonymity of transactions. The use of shell companies and tax havens has also made it harder to follow the money.' This crossborder corruption, she argues, demands new tools: 'You can't fight the corruption of the 21st century with the tools of the 19th.'
Ferreira Rubio identifies several potential solutions. The first is more information sharing across jurisdictions. At present, she complains, prosecutors chasing stolen funds can face a range of bureaucratic hurdles, with requests for information being funnelled through foreign ministries. 'This can slow down the chase and makes it easier for corrupt officials to hide their tracks,' she says.
Ferreira Rubio is constantly travelling to visit the organisation's national branches and attend meetings. At the time of interview, after a month away from the office, she has in her in-tray one request for an interview, another for an opinion article, and invitations to speak at a university and to contribute to the upcoming Civil Society 20 meeting, which Argentina is hosting – and that's all in just one week in August.
Born in Córdoba, Argentina, Ferreira Rubio completed her PhD in law at Complutense University in Madrid, Spain. Since then she has split her time between being a law professor and consulting on corruption for non-profit organisations and a host of multilateral bodies, such as the Inter-American Development Bank. She has served as an election monitor in Brazil and Honduras, and advised on campaign finance in Costa Rica and Mexico.
The daughter of two constitutional lawyers, she developed a passion for public ethics at a young age. More than 35 years into her career, she still retains a passion for cleaning up public life around the world.
One area of recent particular concern, she says, has been identifying the beneficial owners of bank accounts or companies. A notable advance in solving this problem, she believes, was the UK parliament's vote earlier this year to require all British overseas territories to make public the real owners of all their registered companies by the end of 2020. Last year Transparency International's UK branch identified £4.4bn (US$5.7bn) worth of property in the UK that had been bought with suspicious wealth; of the companies used for the transactions, nearly half were based in the British Virgin Islands.
Ferreira Rubio is concerned that many major nations have been dragging their feet in removing the financial anonymity that allows criminals to hide their identity. Only six G20 countries (Brazil, France, Germany, Italy, the UK and Spain) currently have central registers, and only the UK's is publicly available. The problem was underlined by the 2017 'Global Laundromat' scandal, a money-laundering scam that involved moving between US$20bn and US$80bn out of Russia through more than 26,000 payments to 96 different countries, including all G20 nations except Brazil.
Technology cuts both ways
The complexity of such scandals also highlights the growing role of technology in hiding the stolen funds. Ferreira Rubio believes, however, that IT advances can be part of the solution as well as the problem. 'Prosecutors need to match the technological prowess of the criminals,' she says, adding: 'Technology can facilitate access to public information, as well as making it easier to monitor government budgets and public spending.'
Ultimately, though, the anti-corruption fight is a battle for hearts and minds, and Ferreira Rubio sees the accounting profession as an essential part of the solution. 'Laundering and hiding money can't be done without the help of highly skilled professional accountants and lawyers,' she says. 'As a result, it is vital that professionals are on the right side of this struggle.' She sees ACCA's inclusion of an ethics and professional skills module in its qualification as a positive sign, recognising the importance of the ethical dimension in accountancy.
However, the problem remains truly global. Even New Zealand, ranked the least corrupt nation in Transparency International's Corruption Perceptions Index, was hit last year by its largest-ever bribery case. A court found that an executive at road engineering company Projenz had paid an Auckland public contracts official a total of NZ$1m (US$670,000). Both men are now serving jail terms. 'We need to remember that corruption can occur anywhere,' Ferreira Rubio says. 'It's not just a developing world problem. And while certain sectors, like public procurement, are at particularly high risk for corruption, no sector is immune.'
Citizen pain
Ultimately, it is citizens who suffer from corruption, and those worst placed financially may suffer most. According to the World Bank, poor families in developing countries can spend twice as much of their income on bribes as high-income families.
Ferreira Rubio says: 'Petty corruption is the most conspicuous – such as when a seven-year-old child is only given good grades if they bring in a phone card for the teacher.' But while grand corruption – such as the siphoning off of money from roads, education or health – is less direct, it is no less pernicious. 'It causes delays in construction projects, undermines economic growth and weakens the confidence of businesses,' she says. It also contaminates democracy, as citizens cannot be sure that politicians are making decisions in the best interests of the public.
Ferreira Rubio has dedicated much of her professional life to cleaning up corruption. 'This is inevitably a gradual process since it involves reshaping laws, institutions and public priorities,' she says. 'But I remain optimistic. I wouldn't have spent so many decades on corruption if I didn't believe it was a fight that can be won.'
Dijana Suljovic, journalist
Most improved (by 2017 ranking)
| Country | 2012 rank | 2017 rank | Gain in points score |
| --- | --- | --- | --- |
| UK | 17 | 8 | +8 to 82 |
| Greece | 94 | 59 | +12 to 48 |
| Belarus | 123 | 68 | +13 to 44 |
Largest setbacks (by 2017 ranking)
| | | | |
| --- | --- | --- | --- |
| Country | 2012 rank | 2017 rank | Gain in points score |
| Australia | 7 | 13 | –8 to 77 |
| Saint Lucia | 22 | 48 | –16 to 55 |
| Turkey | 54 | 81 | –9 to 40 |