John Sayles FCCA, head of commercial finance at Crown Commercial Service, is reducing supplier risk in the government's procurement of common goods and services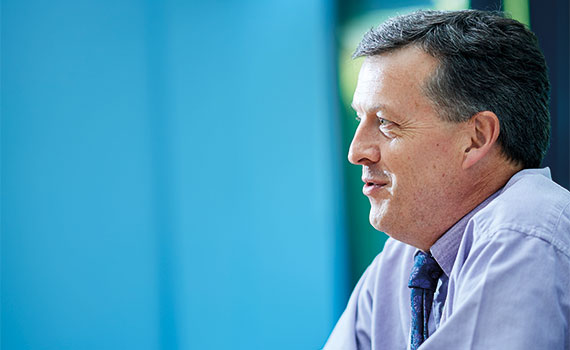 This article was first published in the October 2018 UK edition of Accounting and Business magazine.
Supplier due diligence is a hot topic in government following the collapse of Carillion earlier this year and profit warnings from other large public sector contractors. This places John Sayles FCCA at the sharp end of events. He has been head of commercial finance for the past three years and his portfolio of responsibilities include assessing the viability of potential public sector contractors for Crown Commercial Service (CCS).
'The essence is to undertake the due diligence and supplier assurance role for all new suppliers that may wish to join a framework that CCS is establishing,' he explains. 'We are very much involved at the front end in terms of assessing the risk of financial failure of particular suppliers for a commercial agreement. This helps to ensure continuity and completion of common goods and services contracts with our public sector customers.'
CCS is a trading fund and executive agency of the Cabinet Office (the corporate headquarters for government). The majority of CCS revenue is levy income, included in the contract price, charged by the supplier to public bodies. However, that contract price is ultimately lower than market averages because of the procurement work of CCS, so the public sector achieves a net gain. In 2017/18 CCS customers achieved commercial benefits worth over £600m compared to current market comparators.
For some types of procurement the risk of supplier failure is low. With stationery and office equipment, for example, if a supplier ceases to trade, another supplier can be easily sourced and there is no financial loss for the public body, as there will have been no prepayment for goods that cannot subsequently be delivered. But, Sayles adds: 'There are other procurements that are higher risk, such as cyber and major IT services, where there are larger call-off contracts. The role of CCS is to be an enabler for government, to take some of the heavy lifting out of the procurement work, providing common goods and services commercial agreements that central government and wider public sector organisations can use efficiently.'
Visibility study
Sayles' team undertakes due diligence on between 50 and 60 frameworks per year. This involves assessing the economic and financial standing of every new supplier, with a focus on four pillars of business activity: buildings, people, technology and corporate services. For each framework the number of bidders can vary from fewer than 10 to over 400, and their viability and sustainability must be assessed according to the procurement risk profile.
The buildings pillar includes a facilities management category, which is currently being reviewed by the public sector following the collapse of Carillion. 'We are looking at this very carefully,' says Sayles. 'There is more concern in that marketplace now.'
While the government is undertaking a policy review into what can be learnt from the Carillion experience, Sayles agrees that some responses are obvious. One is to recognise that even if a subsidiary is in good health, it can be compromised by the parent company being in a less favourable position. Recent experience also underlines the importance of not just going for the cheapest bidder, but also of ensuring the sustainability of contractors and understanding the supply chain.
Analytics
CCS operates a two-tier system of due diligence for all potential suppliers. Initially, this involves the use of the financial failure score and risk reports from the data analytics specialist Dun & Bradstreet. 'Where risk dictates, this is then backed by asking a bidding entity for further information, such as audited financial statements for the last two years,' says Sayles. 'If the supplier is a new startup it may require a deeper evaluation, and we will look at its business plans and finance lines. We also look for warning signs, such as the failed business associations of directors.'
CCS monitors the financial health of all suppliers throughout the life of commercial agreements with the support of its subscription to the Dun & Bradstreet alert service. Using business analytics tools like Microsoft Power Bi, says Sayles, helps his team support all CCS commercial agreement managers in identifying and mitigating supplier financial risk.
He explains, 'We evaluate the market, obtain competitive prices and then establish common goods and services options that represent value for money, which in turn provide savings for customers. In essence it is an economies-of-scale model, identifying and aggregating demand.'
The range of providers can include public sector contractors – for example, NHS hospitals seeking to improve their own economies of scale by supplying laundry-cleaning services to other local NHS bodies.
Sayles also supports the government in trying to level the playing field for small businesses that want to supply to the public sector, and diversifying the government's supply chain. The aim is for small and medium-sized entities to fulfil a third of central government procurement spend by 2022.
'Commercial finance is an exciting and varied environment to work in,' says Sayles. 'It's rewarding to use my financial experience to support commercial colleagues across the organisation.'
Paul Gosling, journalist
"We are looking at facilities management very carefully following the collapse of Carillion"