Some practices need to step outside the comfort zone of assurance, tax and compliance, and start offering their clients assistance in operating internationally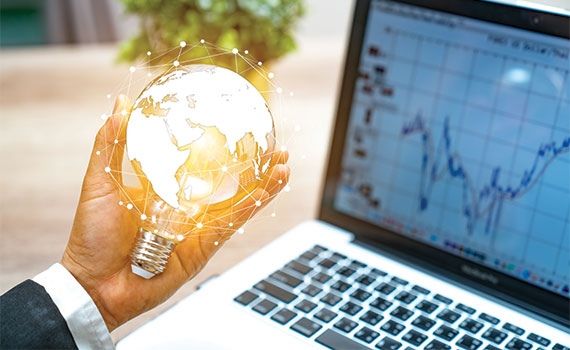 This article was first published in the October 2018 UK edition of Accounting and Business magazine.
Small and medium-sized accounting practices (SMPs) are ideally placed to help their SME (small and medium-sized enterprise) clients engage with international trade. But with only 24% of SMEs saying they make use of SMPs when looking to expand into other countries, practices will have to broaden the services they offer to get into this particular market.
Internationalisation is often seen as being about exporting, but the sector extends far wider than that. It covers importing, business partnerships, supply chains and foreign direct investment.
An ACCA report, Growing globally: how SMPs can unlock international ambitions, defines the opportunities for SMPs under three headings: market research; strategy and planning; and business model optimisation. However, it warns that practices also face risks in introducing new client services. If SMPs are to succeed in offering international services, they will have to embrace those risks and adapt their current business model of 'just' offering assurance, tax and compliance service lines. This means specialising, adopting a strategic mindset, expanding international networks and investing in professional development.
The main benefit of internationalisation to SMEs, according to the report, is access to new customers (cited by 45% of respondents), followed by greater profitability (35%), faster growth (33%) and access to new business networks (30%). Overall, trading in international markets is seen as helping businesses increase efficiency and productivity, become more innovative, and generate growth for the wider economy.
But the main barrier to both SMEs and SMPs in their international plans is regulation (cited by 37% and 33% respectively). The next biggest hurdle for companies is competition (27%) – for SMPs it's customs duties (25%).
On top of the tech
Many practices identify a key aspect of their role as helping SMEs to understand the importance of e-commerce at an earlier stage of the internationalisation process. As technology simplifies processes and costs traditionally associated with internationalisation, SMEs have more opportunity to enter international markets. SMPs should be pushing the advantages of this new business landscape to their clients.
Antoni Gómez, international president of accountancy firm Auren and a member of the SMP committee at IFAC (the profession's global organisation), says: 'Helping entrepreneurs adopt e-commerce and technology systems in order to develop their internal management structure is an essential part of what SMPs do. When clients get to the stage of upscaling their international activity, this will let them process transactions with customers and suppliers in a far more efficient way.'
If SMPs are to win more international work, they are going to have to compete against government agencies (used by 39% of SMEs), lawyers (35%) and banks (33%). However, small businesses working abroad do turn to accountants for advice on international tax, compliance, foreign exchange and accessing external finance.
SMPs should also be aware of how clients and prospective clients want to take advice. SMEs typically segment their advice needs according to the stage of the internationalisation journey they have reached.
One important role the report suggests SMPs could play is in referring clients across their external network. With their understanding of and proximity to their clients, SMPs have the expertise to refer businesses to many sources of advice (see panel). SMEs also need help with creating a strategy with global ambitions, using appropriate technology such as cloud platforms, and developing a finance function that can scale up – not to mention identifying which areas they need advice and support in.
SMPs know they should be providing that support. A 2017 IFAC survey shows that 45% expect advisory and consultancy to be the fastest-growing global service area, compared with 35% the year before.
Those practices that do work with SME clients on internationalisation have mixed views of the experience. It was described as a 'high or very high challenge' by 34%, but 'not a challenge' by 24%. Views differ across the globe. In Asia, where cross-border trade is growing rapidly, just under half (48%) place themselves in the 'high or very high challenge' category.
Many practices have a good understanding of the opportunities and barriers that clients engaging in international activities regularly encounter. SMPs interested in this work should consider that businesses are likely to need professional advice relating to individual activities. Equally, SMEs of different sizes require different types (and levels) of support. Therefore, businesses will be more likely to recognise the value of a practice's international support if it caters for their specific needs and circumstances.
SMPs tend to draw on a wide range of resources when advising SMEs looking to work internationally. The resource most frequently cited for generating advice for clients is desk research (45%). This suggests that accountants provide informal support rather than specialist expertise. But there is also a strong reliance on business networks (39%), followed by professional bodies (34%) and member associations (24%).
Shifting sands
As more businesses seek to take advantage of the opportunities presented by international trade, the type of professional advice demanded will change. While advising clients on this area will remain unfeasible for some SMPs, every practice should remain alert to the changing realities of how SMEs are operating globally.
SMPs that can take advantage of internationalisation opportunities do not have to change overnight. They can take a strategic approach to meeting client demands for new advisory services.
While the challenges of practice diversification are significant, the opportunities for growth for SMEs and SMPs alike may be greater still.
Peter Williams, journalist
Area of business focus
| | |
| --- | --- |
| None | 9% |
| Setting up operations | 25% |
| Establishing networks | 37% |
| Global supply chains | 39% |
| Exporting | 60% |
| Importing | 69% |
Key sources of advice
| | |
| --- | --- |
| Accelerator or incubator  | 6% |
| Financial adviser | 16% |
| Consultant | 20% |
| Trade association | 23% |
| Accountant | 23% |
| Industry event | 26% |
| Personal network | 32% |
| Bank | 33% |
| Lawyer | 35% |
| Government | 39% |
"SMPs should be pushing the advantages of the new tech-enabled international business opportunities to their clients"