Ireland's dairy farmers are expanding their horizons and targeting overseas markets, with financial advice from professional accountants critical to managing new business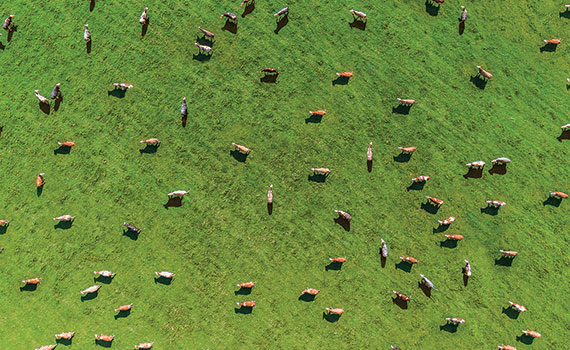 This article was first published in the November 2018 Ireland edition of Accounting and Business magazine.
Time was when dairy farming in Ireland was a family affair, with smallholdings and local dairies predominating. But those days are long gone. The Irish dairy sector is big business now, serving not just the local population but also overseas customers, with large brands targeting foreign markets.
This scaling up has required professionalisation and Irish accountants have played their part.
Dairy farmer Matthew Clancy is one such producer seeking advice. He switched from beef to dairy in 2015, selling off his pedigree Limousin cattle and buying in 200 Friesian and Jersey dairy cows. He has not regretted the transition. Income from his farm in the rolling fields of south Mayo and east Galway has nearly doubled compared with what Clancy made from beef.
A flow of agri talent like Clancy into dairy drove the value of Irish milk output by 45% in value terms from €1.8bn to €2.6bn between 2016-17. This after the European Union's dairy quota system was ended in 2015 and farmers could produce as much milk as they could sell.
Clancy beat a door to his accountant seeking guidance on applicable government grants as well as depreciation on new farm buildings, borrowing costs for dairy equipment and the tax implications of his increased income.
'It was a very complex time – we needed to crunch an awful lot of figures and get up to speed on so many regulations and projections,' he says.
Into Africa
About 60km from Clancy's farm is a futuristic new Aurivo Cooperative Society plant, in Ballaghaderreen, Co Roscommon, where a new €20m dryer turns milk from his cows into powder for export.
This factory, in a small west Ireland town, has had a big impact on public health in Africa's most populous state. Its milk powder has been feeding infants in Nigeria, a major market for a company that sees long-term growth on the continent. Indeed, Aurivo – better known in Ireland for its Connacht Gold brand butter – is now targeting Ivory Coast.
It is also diversifying at home, seeking higher margins in new products, such as For Goodness Shakes, a protein drink maker acquired (in a UK buyout) in 2015 by Aurivo and heavily marketed to sporty Irish youth at €1.99/600ml (a litre of Aurivo's Connacht Gold milk retails at €1).
It has also expanded into dairy ingredients, the staple of Irish dairy market leader the Kerry Group. In 2017, Aurivo dairy ingredients sales accounted for €143m of revenue, compared with €99m in consumer foods and €102m from agri-business.
Also expanding is Glanbia Ireland – the second largest dairy processor by turnover. It has invested €235m in three milk processing plants in Ireland since 2015 and aims to spend up to €300m by 2020, increasing output from 5,000 supplying farmers. Ornua Deutschland, Ornua's German wing – a firm distributing Kerrygold Irish butter and Dubliner cheese brands globally – is currently spending €60m on expanding a production facility in Germany.
Market leader Kerry Group remains healthy. Volumes rose 3.6% in the first 2018 semester, with revenues of €3.2bn, against a 1.3% dairy volume rise in the Irish dairy market average.
'Optimism levels are high,' says David Leydon, head of food and agribusiness at agri-focused accounting firm Ifac, which publishes regular studies on the sector. Worries, however, include a lack of preparation for Brexit among many businesses, while costs are increasing, with an impact on margin, according to Leydon. He also points to a shortage of labour and skills.
Dairy companies are investing in digital technologies, according to Leydon, but online trading is 'slow to get going' and long-term planning for succession is 'rare' in the sector.
Integration in the cooperative sector, however, has been a boon for accounting firms. The latest in a string of mergers has seen LacPatrick Dairies recently agree on a merger with Lakeland Dairies.
There is room for further consolidation, says Eamonn Farrell, head of research at the Irish Cooperative Organisation Society, which advocates a 'strong and consolidated' dairy sector. Farrell says: 'There have been more co-processing arrangements in recent years. It's up to each cooperative to look at it strategically to see what's best for themselves.'
For him, too, Brexit poses 'so much uncertainty'. He adds: 'We would like to see a deal and a transition arrangement in place to adjust.' He points to the 800 million litres of milk from Northern Ireland being processed in the Republic. 'The border is 500km; 370 milk tankers are crossing every day.' He also worries about new tariffs and certification in the UK post Brexit – a market for Irish dairy cheese (it buys 80,000 tonnes of Irish cheddar a year). Overall, however, he sees 2% annual global growth into the 'foreseeable future' for dairy products.
Back on his Co Mayo dairy farm, Clancy points to three concerns: labour, weather and costs. A summer drought meanwhile reduced his silage yield, increasing feed costs by 40% for 2018, squeezing his margins. 'It's a volatile business, we have a lot of budgeting to do, but it's better than beef farming,' he says.
Mark Godfrey, journalist
"Worries include a lack of preparation for Brexit among many businesses, while costs are increasing, with an impact on margin"