In order to get the most out of your website you need to stop thinking of it as a marketing expense and start seeing it as a business asset, says Tim Butler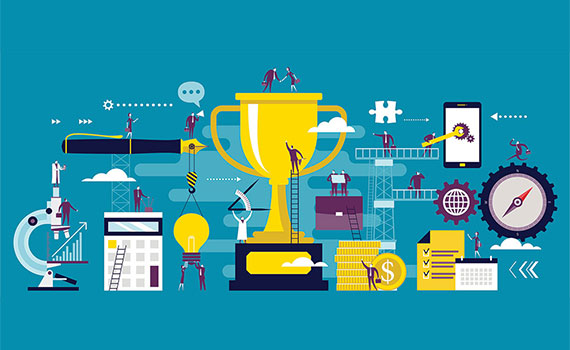 This article was first published in the November 2018 International edition of Accounting and Business magazine.
There are businesses that view digital marketing activity for their website as an unnecessary expense. Are they right? The simple answer is no. It is worth investing a significant proportion of your company's marketing budget into your website. Improving your website can create a long-term business asset that benefits your company by increasing search visibility and the potential for more sales leads.
There are a number of reasons why your accountancy business should invest in marketing activity in order to increase your website's potential as a long-term asset.
For a start, the number of people now going online is enormous. Almost half of the world's population use the internet: close to 3.8 billion people. Google alone processes more than 40,000 search queries every second, equating to over 3.5 billion searches every single day. The truth is that more and more people are turning to the internet to provide answers to questions and to find products or services.
Failure to appreciate the importance of your website being found online can lead to you falling behind your competitors. Accounting is a highly competitive marketing space and it is, therefore, important to take a proactive approach to investing both time and money in your website to make sure it is helping your business.
In addition, with companies predicted to spend 75% of their total marketing budget on digital initiatives by 2021, failure to appreciate the growing importance of this area will lead to your business falling behind competitors who are investing and are already seeing the benefits.
There are a number of ways to invest in your website in order to bring about positive results and effectively turn it into a business asset.
Short term: the paid search
If you want more traffic fast, then you can get your website found quickly by advertising for relevant search terms on Google AdWords and Bing Ads. You only pay for users who click on your ads and therefore go to your website. This is by far the fastest way to drive relevant prospects to your website quickly.
Paid search advertising gives you the ability to track exactly how much you are spending and how your ads are converting, and this means you can accurately calculate your return on investment (ROI). You know exactly how much money you are spending on advertising, and you will know if you are wasting money, as the data will show you if some of your ads are not converting well.
You must, however, use paid search tools carefully. By not having carefully targeted campaigns, you can end up spending a lot of money very quickly without getting any results. Learn how to use the tools or pay an expert agency to set up and run the campaigns for you. A good agency will charge you a significant amount of money for a good AdWords setup and ongoing management, but it's a worthy investment as your advertising spend will go much further. If the agency is cheap or it is charging you as a percentage of spend then beware: you're probably not getting the best deal.
Long term: SEO
You do not want to be paying for traffic all of the time as this will account for a significant expense and eat into your marketing budget. Instead, you will want to get found on search engines naturally. With 64% of website visits starting at a search engine, it is vitally important to invest in search engine optimisation (SEO) if you want your website to appear in search results for key industry terms.
It is important to consider that SEO is not an overnight solution. Your web designer or marketing agency probably told you they 'know about SEO'. This is common, but unless you have been charged for specific SEO work, assume that you still have it all to do.
There are simple things that you can do yourself to help your SEO:
Make sure your main headings include the phrases you want to get found for.
Ensure that your meta titles and descriptions are well written and, again, contain the phrases you want to be found for.
Change generic titles like 'services' to specific titles – 'what we do'.
Ask your suppliers and customers for links from their website.
Make sure that your Yell, Thomson Local and Google My Business pages all link to your website.
There are more than 1,000 items that Google takes into account when it determines what pages rank for any specific search. That means that there are lots of things that will help, but also lots to do. If you want to do it yourself buy a good book that was published in the last 12 months, as things move fast in search engine optimisation. Alternatively, get a good specialist agency to do it for you. As with paid searches, if the agency is cheap then it is unlikely that its services will be much good.
Investing time and money in search engine optimisation will turn your website into a long-term business asset. Being found online for the accountancy services you provide can lead to greater engagement with your website and increased enquiries.
Achieving a return
When spending money on marketing you will want to see the ROI. The problem is that calculating this from more traditional marketing methods, such as adverts in newspapers, radio advertisements and leaflets, is very difficult. You cannot accurately attribute an enquiry to the money you spent on newspaper advertisements unless that person actually tells you that is how they found out about your services.
American businessman John Wanamaker famously stated: 'Half the money I spend on advertising is wasted; the trouble is I don't know which half.' The good news is that, with modern digital marketing tools, you will not have the same problem as Wanamaker.
There are now tools available that allow you to track everything on your website, from visits to clicks to pages viewed. Specific SEO tools allow you to track your website and see how the changes you are making are impacting your rankings and search visibility. The ability to track what is happening with your website allows you to accurately determine whether your digital marketing expenditure is delivering an ROI.
If you are working with a digital marketing agency then they should be providing you with a report, at least on a monthly basis, with all the important metrics, so you can see how your website is performing, what impact your marketing expenditure is having and how it is helping to make your website into an asset for your business.
Website as business asset
For your website to become a business asset, and not just an expense, it needs to be generating traffic and contributing to sales leads interested in using your accountancy services. When done correctly, investing in your website through digital marketing such as paid search and SEO activity can turn your website into a long-term asset for your business.
Tim Butler, founder of digital marketing consultancy Innovation Visual
"Failure to appreciate the importance of your website being found online can lead to you falling behind your competitors"