The implementation of IFRS Standards in Afghanistan is a complex but critical element that will boost economic development, anti-corruption efforts and tax take alike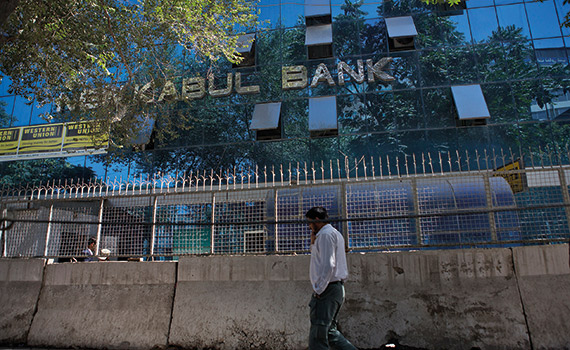 This article was first published in the November 2018 International edition of Accounting and Business magazine.
As part of its plan for sustainable economic development, Afghanistan is implementing international accounting and auditing standards. The country's accountancy profession has very ambitious plans, but given severe capacity constraints it will be some years before international standards are the norm there.
As deputy head of CPA Afghanistan, the South Asian country's sole professional accountancy organisation and its accountancy regulator, Bilal Hashmi has a key role in bringing accounting and auditing standards to Afghanistan. An ACCA member with over a decade's experience in auditing and accounting, he has also worked in Malaysia as well as Afghanistan.
Hashmi joined CPA Afghanistan at the end of 2016 to oversee the regulatory work and move towards the implementation and adoption of IFRS Standards. A key element of his role is supporting the Ministry of Commerce and Industry (MOCI) – the ultimate regulator of corporates in the country – the central bank Da Afghanistan Bank, and the communications and IT ministry. Regulation to date has focused primarily on two key sectors: banking and telecoms.
Hashmi says: 'It is a challenging environment because we do not have many professional accountants. Without certified accountants, companies do not know how to implement IFRS, and that is why we are giving support in order to help them follow the roadmap.'
Following the 2010 collapse of Kabul Bank, then the country's largest commercial bank, the central bank decided that adopting international auditing and accounting standards as set out by the International Federation of Accountants (IFAC) was essential for the banking sector. The country's largest sector by revenue – telecoms/IT – is also adopting IFRS Standards.
A professional who was part of a recent project in the country looking at transparency in finance and the state-owned enterprise (SOE) sector comments: 'Given the country's reliance on outside donor assistance, it is particularly important they have reliable systems of financial accountability to continue to access that funding.'
Experts from different professions are working together to improve transparency in challenging environments, helping to move away from opaque financial regimes. The professional comments: 'We can identify issues and gaps through discussion with stakeholders. One of the most effective ways to drive change is to get countries with similar challenges to work together, as a form of collective problem solving.'
Transition springboard
The Afghanistan financial sector is working hard to comply with IFRS 9, Financial Instruments. The banking sector is the starting point for transitioning to more sophisticated standards like IFRS. It is the sector of biggest risk and the first that needs to be connected to the international community, so it needs robust standards to promote financial transparency. It will probably be five years before Afghanistan sees significant progress, as a generation of good, strong accountants needs to be created. This is about professional judgment, not box-ticking.
Although there is no stock market in the country, CPA Afghanistan is encouraging large companies in every sector to work towards using international accounting standards. When that becomes compulsory, says Hashmi, is the MOCI's call.
He says: 'CPA Afghanistan has set out to support the MOCI to ensure the best implementation possible.' It's not feasible to set an exact timetable, but MOCI has a five-year plan for implementation in large companies and seven years for small and medium-sized enterprises (SMEs). 'We are looking at implementation for smaller entities because we have to focus on that as well.' The SME agenda is in large part driven by the desire to increase tax revenues.
At this stage, says Hashmi, it's not necessarily clear that the benefits of IFRS Standards will always outweigh the cost of complexity, implementation and disclosure. But Zarif Ludin, head of CPA Afghanistan, points out that establishing an accountancy profession helps to drive out corruption. Making smaller businesses comply with IFRS reporting helps tax authorities assess and collect tax, replacing cash accounting or no accounting.
Other significant challenges remain: the country's legal system – statutory and customary law – can be a block to making accounting regulations compulsory, and the country needs more qualified accountants. Progress is also slowed by a lack of effective co-ordination across stakeholders and by CPA Afghanistan's minimal resources. That should be set in context, though. Progress in setting up accountancy infrastructures has been remarkable and makes the Afghanistan profession one of the fastest growing in the world.
Along with many other partners, ACCA is working with CPA Afghanistan to assist this growth. Hashmi says the technical support given from the start has been 'significant and appreciated. Without ACCA it will be very difficult for CPA to take all those difficult assignments and implement properly.'
ACCA expertise
That technical help is coming via experts such as Richard Martin, ACCA's head of corporate reporting, who is engaging with CPA Afghanistan on its IFRS adoption roadmap. He says: 'Studies show that adopting IFRS is helpful for economic development, for attracting foreign direct investment [FDI], and reducing the cost of capital.' If SOEs seek financing from overseas, investors want to see an IFRS balance sheet.
Hashmi points to the enduring validity of the World Bank's report on the observance of standards and codes (ROSC). Written almost a decade ago, the report noted that the lack of governance codes was the major issue after security that was blocking FDI and economic growth.
He says: 'Without the accountancy profession as a whole it is going to be very difficult to achieve economic development. IFRS brings transparency and accountability in financial reporting, and that is what all the stakeholders want.'
Peter Williams, journalist
"If state-owned enterprises seek financing from overseas, investors want to see an IFRS balance sheet"