With a massive need for private-sector project funding and plenty of institutional money searching for yield, infrastructure finance is surely a marriage made in heaven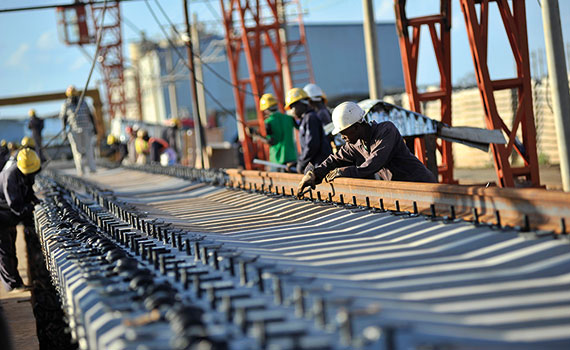 This article was first published in the November 2018 International edition of Accounting and Business magazine.
Around the world, the demand for investment in infrastructure is huge. To meet the needs of a projected global population of around nine billion people by 2040, the World Bank forecasts US$97 trillion in investment will be required. This includes funds needed to meet the United Nations Sustainable Development Goals, which aim to provide universal access to clean water, sanitation and electricity. The World Bank reckons there will be a funding shortfall of US$18 trillion.
It sounds like a perfect match: countries eager to build new infrastructure and cash-rich investors in search of reliable, long-term returns.
Across all continents and countries – even the wealthiest – infrastructure needs are considerable. Think London's US$19.8bn Crossrail project, the new cross-city rail link and Europe's largest infrastructure project, for example. Or Dubai's US$33bn Al Maktoum Airport, designed to handle 200 wide-bodied jets at the same time. Or the US$62bn South-to-North Water Transfer project in China, which has a 48-year construction schedule. Or Nigeria's US$12bn Lagos-Calabar Railway, a 1,400km route whose first phase is due for completion this year. These are all massive projects but around the world there are many, many smaller local water, transport, energy, healthcare and other schemes in process.
On the other side of the equation are the project financiers. As well as governments and municipalities, multilateral development banks such as the World Bank and its affiliate the International Finance Corporation (IFC) play a significant role. Others include the European Bank for Reconstruction and Development, the Asian Development Bank and the African Development Bank. An important part of the role of these institutions is to commit a certain level of funds and use their political influence to encourage the private sector – banks, principally – to stump up the remaining cash.
Beyond these institutions, the world's sovereign wealth funds, pension funds and insurance companies have some serious issues to resolve. They are respectively charged with responsibilities to their host countries, to their pensioners and to their policyholders. These organisations have massive amounts to invest but their assets need to be low risk in order to yield better returns than, for example, US treasury bonds or other sovereign debt, and to be long term and reliable in order to match their liabilities. They tend not to be experts in infrastructure and so have to rely on intermediaries to structure deals and investment funds for them to invest in.
Critical role
This is where specialist infrastructure investment funds perform a critical role. For example, Macquarie Infrastructure – part of the Australia-based Macquarie Group – has set up a series of funds that have invested in airports, seaports and power and energy facilities. Similarly, UK-based iCON Infrastructure has several funds that have invested €2.5bn (US$2.9bn) in water, transport, energy generation, storage and distribution assets across Europe and North America. Meanwhile, Mubadala Infrastructure Partners, an Abu Dhabi fund manager, invests in a variety of projects in the Middle East, North Africa and Turkey.
While the need for infrastructure is global, the African continent is currently perceived as a major source of investible infrastructure projects. This is because it is vast, diverse and, as its populations burgeon, its already underdeveloped and underfunded infrastructure needs are set to become even more pressing.
In a recent opinion piece in the Financial Times, Hendrik du Toit, co-CEO of South Africa's Investec Group, commented that Africa's infrastructure deficit was expected to run at about US$90bn annually for the next decade, while 'across the continent 620 million people still don't have electricity; 319 million people are living without access to reliable drinking water; and only 34% have road access'. However, he points out that there is a growing appetite among institutional investors for African risk; he cites the Emerging Africa Infrastructure Fund as a significant investor in water supply projects in Rwanda and solar power in Uganda, for example.
Considering the chequered and bloody history of these two countries, interest in investing in their infrastructure signals a massive change in attitude among investors, as well as peaceful progress in the region.
China's influence
Meanwhile, it is well known that some of the largest projects in Africa have been funded not by private equity but, effectively, by the Chinese government.
There has been much comment in the media about what China's real motives are for its huge investments in African infrastructure. But what we can say for sure is that China has invested in huge schemes on the African continent. Nigeria's Lagos-Calabar railway project (mentioned above) is one of these. Another is the US$3.6bn Nairobi-Mombasa railway, the largest infrastructure project in Kenya since its independence in 1963. China has also invested more in Egypt than any other country on the African continent and is currently planning to fund the building of an entirely new capital city, dubbed New Cairo, in the desert to the east of Cairo itself.
Meanwhile, a host of other new investors are supporting projects of all shapes and sizes. Insurance companies are funding private hospitals whose patients will pay for their healthcare through the investor's private health insurance, for example. The same revenue-driven approach also characterises local solar-powered energy projects and water provision and waste treatment plants.
Infrastructure projects are becoming a burgeoning business in Africa. But so are they in every other region of the world, providing alternative income streams for institutional investors and lenders. They are perceived as sustainable because local populations, particularly in emerging markets, will pay for the services they receive as their economies experience higher growth rates than the Western-developed world can achieve. This looks like a win-win for people, countries and regions, and for infrastructure investors as well. There is certainly a convergence of interests and time will tell if all parties can reap the rich benefits that infrastructure projects seem to offer them.
Richard Willsher, journalist
"While the need for infrastructure is global, the African continent is currently perceived as a major source of investible infrastructure projects"