An in-house startup is one option for organisations looking to fend off disruptor rivals, but rolling your own disruption involves pulling off a tricky management balancing act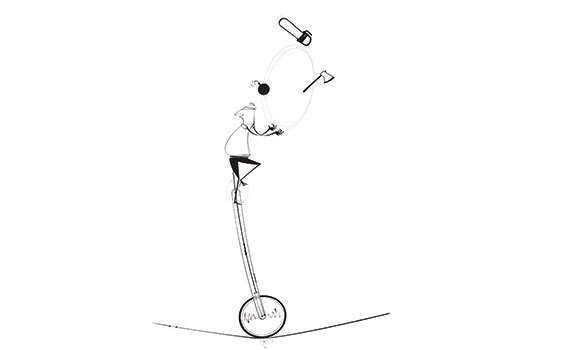 This article was first published in the November 2018 International edition of Accounting and Business magazine.
'No matter the industry, a corporation consists of business units with finite life spans: the technological and market bases of any business will eventually disappear.' So declared Clayton Christensen and Joseph Bower in their 1995 article in the Harvard Business Review entitled 'Disruptive Technologies: catching the wave'. It was an early attempt to capture the sense of growing business disruption.
Since then more and more corporate leaders have recognised the challenge created by the so-called waves of disruption that are impacting on their businesses. This largely technology-based disruption is characterised by new sector entrants with cheaper, better products and services – small but growing businesses that can be far nimbler than established competitors and therefore able to steal market share before the traditional sector leaders have had time to respond.
The sense of multiple threats is even hard-wired into the thinking of leaders who are running corporates with the most robust business models. For example, Prisca Havranek-Kosicek, who last year became CFO of Danish biotech company Novozymes (which dominates the global enzymes market and is frequently hailed as one of the world's most sustainable companies), says: 'We are preparing for an environment, linked to disruption, that is much more volatile, complex and more ambiguous than ever for any company in the world. Being ready for that change will be the key to success, not just across my planning horizon, but for the rest of my professional life.'
The response from business leaders in recent years has been to push for internal disruption to address the threat head-on. 'The business environment is constantly changing, with new technologies as important actors,' says Lebene Soga, fellow in entrepreneurship and leadership at Henley Business School. 'Consequently, businesses need to address challenges posed by disruption, either in their own settings, that of their competitors or the business environment as a whole, if they wish to remain competitive or relevant.'
Soga says that applying the concept of internal disruption offers businesses the opportunity to be first among equals, 'which then guarantees a lead in the market – at least before their competitors either catch up or overtake in some cases'.
Corporate take-up
There are many examples of how companies are addressing disruption by launching their own alternative products and services.
Take the retail banks in the UK and elsewhere; for many years they have come under assault from a range of new competitors challenging the traditional model. Those competitors include digital operators such as Starling Bank, which exploits machine learning and artificial intelligence (AI) to generate insight into how customers are spending their money so they can make better financial decisions.
Anne Boden, chief executive of Starling Bank, says it has been able to gain an edge over traditional banks that are stuck with legacy thinking by employing the technology and approach of Silicon Valley. 'We've built all our technology from scratch to give consumers the best possible banking experience,' she says.
In recent weeks it has emerged that Royal Bank of Scotland (RBS) is planning to roll out a standalone digital consumer bank in the UK as it seeks to fend off growing competition from challenger banks. Expected to be launched in 2019, the service has been named Bó (Danish for 'to live') and will be a separate, digital-only bank for personal customers. A recent press report suggests RBS aims to move one million existing customers to the new mobile-only banking platform from its NatWest subsidiary, although no customer will be forced to switch.
The approach of RBS conveys the urgency with which many large, established companies are seeking ways to counter the threat of disruption by launching their own home-grown startups. Key to many examples is the application of technologies such as AI.
The challenges
Soga says that while AI certainly has the capability to drive internal disruption, there are major challenges with applying the technology effectively. 'From my research standpoint and philosophy, AI should not just be considered as a technological tool that businesses must use to drive disruption; it must be considered as having its own ability to change the course it was originally set to achieve by the business.
This approach, Soga says, means that the business must be alert to AI's own needs if it is to benefit from the advantages that AI offers. He explains: 'For example, AI might require that employees engage differently, it might challenge a former way of working, it might make other work practices redundant; and so on. This understanding of AI as having a life of its own would make the business parent it by steering it in a way that makes disruption non-distractive.'
There is also a fundamental challenge in getting the board to buy into an internal disruptor. 'From my research, buy-in at board level could be slow, but bottom-up buy-in has the ability to get the board to appreciate the technology,' Soga says. 'In either case, ground-level or bottom-up buy-in is strongly needed to drive the change.'
Juggling act
But there are also deeper, more profound management issues that could limit corporate efforts to disrupt from within. James Berry, assistant professor at UCL School of Management, London, points to the problems of how to manage the ongoing business while nurturing the disruptor.
'How do you ensure the right resources are flowing into both the traditional business and the disruptor?' he asks. 'Business leaders must also be aware that powerful fiefdoms in the profitable parts of the business might seek to limit the threat of the internal disruptor, which they fear will in time eat into their business. Financial services would be a classic example of this.'
There's even a name for business chiefs able to manage both sides effectively: the ambidextrous leader – executives who can manage the traditional businesses while effectively supporting the disruptor. Their goal is to drive through innovative gains while continuing to maximise current profits.
Berry, referencing an article from 2004 in the Harvard Business Review by Charles O'Reilly and Michael Tushman called 'The ambidextrous organization', says the key to success is to ensure that the right processes and culture are in place for both the legacy business and the disruptor, and that the senior team is equipped to oversee this. If that is the case, a combination of the old and new can be very powerful cocktail indeed.
Lawrie Holmes, journalist
"Powerful fiefdoms in profitable parts of the business might seek to limit the threat of the internal disruptor in case it eats into their business"