Since Dominic Hall FCCA joined Aston Martin as FD for sales, the luxury car maker has roared away from record-breaking loss to highest ever revenue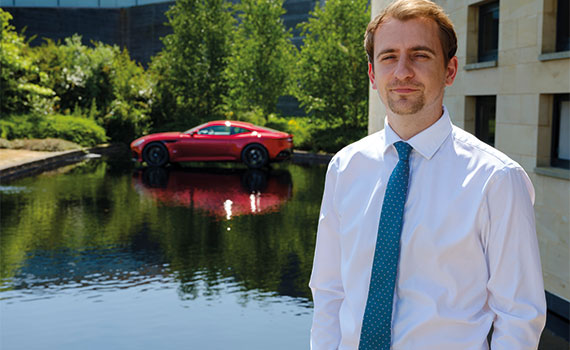 This article was first published in the November 2018 China edition of Accounting and Business magazine.
Dominic Hall FCCA has an enviable job as the director of finance, sales, at Aston Martin Lagonda. His office is at the premium brand's swish factory in Gaydon, just off the M40 in south Warwickshire, UK. In the lobby you can get up close and personal with an Aston Martin DB11 and the limited edition Valkyrie. A stroll to the canteen takes you past James Bond's vintage DB5, as well as the DB10 created (and crashed) especially for Daniel Craig in Spectre. And yes, Hall's company car is an Aston Martin.
Hall was barely 31 when he was offered the role in 2016: 'I get "you're younger than I thought you'd be" a lot,' he says, but he was by no means a newcomer to the luxury car market. After qualifying with Baker Tilly in 2009, he moved to McLaren Group, which at the time was in the R&D phase of launching the McLaren 12C, its first car for the commercial market.
He had risen quickly through the ranks of the fast-growing company, working for two years in Singapore as a finance specialist and later finance manager for McLaren, and looking after the development of the brand in Asia Pacific, including the setting up of a Chinese subsidiary.
'The brand was starting to become very exciting, and working for a smaller company was great because it was so hands-on,' Hall says. 'I had a global role in Singapore, managing managers across all time zones in the world in a working day that had a 17-hour spread. I learned to think differently, more globally.'
His boss at McLaren, who had moved to Aston Martin, put him forward for his current role. But with McLaren growing quickly – revenues were up by 70% year on year in 2016 – accepting the job was not an easy decision to make. Aston Martin had hit a low point that same year, with six consecutive years of losses culminating in a recording-breaking loss before tax of £162.8m and the axing of almost 300 jobs – 14% of the workforce.
'Geographically it was a difficult decision, as my family [he has two young children] still live in Surrey,' he says. 'But I also had to think about whether this was a financial situation that I wanted to invest in. McLaren was young and growing, and didn't have a history like Aston Martin's to live up to. Did I want to take that chance? But it felt like the right time to try something new.
'When I came here it was all about stabilisation after years of losses and it felt like there was a long way to go – cashflow recovery was still a few years away. But I invested my confidence in my CFO [Mark Wilson] and CEO [former Nissan executive Andy Palmer]. They'd come here for a reason and knew what they wanted to do. It felt like the right level of risk to take.' With Aston Martin making its stock market debut in October, selling around 25% of its stock on the London main market, it looks like a risk that has paid off. Hall was heavily involved in preparing the business for flotation.
More than dumb luck
Hall is well aware that the jobs at both McLaren and Aston Martin are roles that many would love. 'I needed to prove to myself that I wasn't just lucky and had got to where I was by being in the right place at the right time.'
Of course, there is a lot more to Hall's career than luck. The decisions he has made were quietly determined and focused. He settled on an accountancy career early on – on the basis that 'every company needs an accountant' – but studied philosophy at university because it interested him. He then looked for a career path that would take him where he wanted to go.
'I already had a sense I wanted to work in the car industry,' he says, 'and I knew qualifying in practice would be a good filtering exercise, as I'd get to see a lot of client companies.'
He chose Baker Tilly because of its size and its reputation as a good training firm, and the ACCA because it provided the best balance of commercial and technical skills.
'I like the fact that people don't think you are a "booky" accountant if you are an ACCA member,' he says. 'And I wanted to work globally – the ACCA Qualification is better understood internationally because it has so many global members.' He adds that choosing to work for smaller and medium-sized companies has paid him career dividends, as has specialising in sales and marketing. 'That has been a benefit, but I'm very aware now that I need to work on getting a breadth of experience.'
At Aston Martin Hall works closely with 160 retail partners spread all around the world. 'We have the global complexity of Unilever, but on a smaller scale,' he says. His responsibilities include pricing analysis of new products, marketing investment and partnerships, and exploring new revenue streams – which include car parts but also toys, computer games, property and even a submarine (in collaboration with Triton Submarines).
Impressive turnaround
It is brand diversity on this scale, as well as the exploration of new markets for the cars, that has helped fuel a remarkable turnaround in Aston Martin's fortunes, which was named the world's fastest-growing auto brand in 2018 by consultancy Brand Finance. Pre-tax profit soared to £86.7m in 2017 and revenues to £876m, a 48% increase on the previous 12 months and the highest in the car maker's history. The post-Brexit fall in sterling has helped to shift cars, but there is no denying that Aston Martin is now a far healthier company. 'It's not magic what we're doing here; it's hard work,' Hall says.
The market for the vehicles is beginning to slow in the UK but remains relatively strong in the US and is growing in Japan and China. The company is targeting female customers with subtle tweaks to design and careful marketing; half the V12 coupés it sold in China last year were snapped up by women. 'The fact is that more women buy luxury vehicles in China, and other purchasers are influenced by women, so it's important for us to understand what they want.'
Part of his role is to balance the product portfolio and make sure that the company is not overexposed to risk. Partnering with other businesses is approached with enormous care, mindful of the brand damage that could be inflicted should things go wrong.
'There is a risk of spreading the brand too thinly,' he says, 'so whatever we do, we have to do it the right way – not too much of it, and with the right partners. What we offer is design expertise, and anyone who wants to work with us needs to assure us that they do it as well as we do. If we get involved in developing an apartment block [the company has partnered with G&G Business Developments in the construction of a 391-apartment luxury block in Miami], it has to look good, it can't be sold at a cut price, and it can't be a financial failure.'
Outstanding design is at the centre of all the company does, and that influences the priorities of the finance function. 'Design doesn't happen by mistake; you have to make compromises in order to afford the indulgence,' is how Hall explains it. 'We deliver the car the designer wants to deliver, not the car the accountant wants to deliver.
'Our cars are not functional cars; they are not a commodity. Our purpose and aim is to create iconic, beautiful things.' That makes the threat of an eventual ban on petrol cars all the more challenging to navigate. The company is exploring electric technology and other innovations through the newly relaunched Lagonda brand, but the Aston Martin name itself has to remain true to its legacy and core, says Hall.
As if on cue, a Vanquish growls through the car park. 'People pay for that Aston Martin roar,' he says, 'We can't drop that.'
The IPO
Italian private equity fund Investindustrial and a consortium of Kuwaiti investors previously owned 90% of Aston Martin's shares between them. The flotation of 25% of the company's stock clearly changed that. 'One of the major shareholders invested for the mid-term, so an exit strategy was always going to happen,' says Hall. The stake held by the Kuwaiti consortium and Investindustrial is now 70% while Daimler has retained its 5%. The German car maker represents an important relationship for Aston Martin, giving access to the latest technology. 'It's good to have a big brother on board when you're a small business, but we also want to be independent,' says Hall. 'We are the last independent British car maker, so that's very important – and not just to us.'
Aston Martin's 103-year history, not to say its reputation as James Bond's car of choice, is something that must be protected and nurtured. 'That's one of the best things about this job,' says Hall. 'We're creating a legacy, an iconic product and beautiful things that will exist long after I'm gone.'
Liz Fisher, journalist
"We have the global complexity of Unilever, but on a smaller scale"