As the need to halt climate change intensifies, an Irish startup is aiming to empower ordinary citizens to make a difference, as LivingOffset CFO Ian McKeown FCCA explains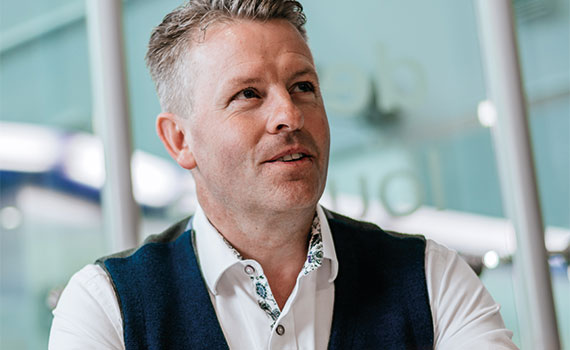 This article was first published in the November 2018 Ireland edition of Accounting and Business magazine.
There may be no bigger issue on the global agenda right now than climate change, with a growing awareness that the debate has moved from abstract 'future proofing' to something more urgent and immediate. In October this year, the UN Intergovernmental Panel on Climate Change warned that there are just 12 years to save the planet by fundamentally changing our consumption behaviour.
Yet while the debate revolves largely around government policies and global decision-making, it has always had an important personal dimension too. There's little doubt that the voices of concerned citizens have helped shape the debate over the years – something that has only intensified in our social media age. However, the question of how individual choices and actions can collectively add up to significant, measurable difference hasn't always been an easy one to answer.
Enter LivingOffset, an Irish startup that believes it holds the key. LivingOffset was founded in 2016 with the goal of allowing people to accurately measure the carbon footprint of their actions and then offset it directly by investing in a range of carbon reduction projects at the touch of a button.
While the idea of offsetting has been around for some time, and gained traction in the corporate sphere in particular, LivingOffset brings something unique to the equation, according to CFO Ian McKeown FCCA. 'LivingOffset was born out of the desire to give people direct control over their carbon footprint. There's been lots of talk about how to do this over the last number of years, but we have finally come up with a mechanism that allows everyone to do it. By using blockchain, LivingOffset gives you an immutable record of your offset purchase. It means you can trace your transaction right the way through from beginning to end.'
The user experience is centred on a smartphone app that allows people to upload small amounts of money to a digital wallet. 'The app then gives you a list of choices that mirror your daily actions and their carbon impact. So, for example, the carbon cost of your shower might be two cents every day. You can choose to offset that and decide where your money is spent to do so.'
Blockchain enters the equation as these choices are made, he explains. 'Through blockchain, individuals will have the ability to buy small snippets of carbon to offset their own emissions. That's never been possible before.'
Where that money is actually spent is another element of the app's appeal, McKeown adds. 'It can be anything from a UN project in Africa to a forest in Co Kerry. A farmer who has a thousand acres of forestry could get a direct income by selling the carbon savings directly to consumers, while a school that's becoming energy-efficient could get funded to retrofit solar energy panels.'
Another key part of the business model is corporate partnership. As the platform takes off, business will have the opportunity to get involved as part of their CSR commitments. McKeown says: 'The coffee shop that serves you your morning cappuccino can come on board to double your contribution to eliminating the carbon emissions from that cup.'
Solid foundation
Idealistic and ambitious it may be, but this is no tech startup with starry-eyed sensibilities. Its CEO and founder, Chris O'Shea, has a 30-year track record in financial services, while McKeown has over 28 years' experience in commercial, corporate finance and management roles. Based in the Digital Hub in Dublin, LivingOffset has 12 employees, and offices in Dublin, London and the Isle of Man, with New York set to follow. Like many startups, it was launched through a combination of founder investment and seed capital from family and friends. Its first major funding round got under way in early 2018 and brought the experience with blockchain technology directly to bear.
'We are among the first Irish companies about to raise funds through an initial coin offering [ICO],' McKeown explains. 'People buy tokens through the ICO, which gives them certain rights and benefits in the app. They are essentially doing so because they believe in our offering and want to advance-buy our product.'
While the traditional venture capital route was considered, McKeown says the ICO choice reflects not just the sense of innovation driving the company, but its desire to maintain autonomy. 'The beauty of an ICO is there is no equity giveaway. It's crowdfunding, and means investors can get involved whether they have €300 or €300,000.'
It's a novel and some would say untested route, and McKeown acknowledges the Central Bank isn't a fan, having raised a general concern in 2017 about ICOs, claiming they expose investors to a number of risks, including 'unregulated activity' and a 'high risk of losing all invested capital'. LivingOffset registered in the Isle of Man in order to proceed with its offering. 'We found the regulators there to be very comfortable with cryptocurrencies and this space in general,' McKeown says. 'They recognise it's the future. Our business isn't about cryptocurrencies, but the people who invest in them also tend to be familiar with ICOs.'
Portfolio of interests
A native of Drogheda, Co Louth, McKeown's business background is firmly grounded in the pre-digital world. He pursued the ACCA Qualification directly after leaving school, taking the traditional route of studying at night and working in practice by day. After five years in general practice he made the move to industry. His first big role was as a financial controller for a steel supplier, something he says gave him his 'first education in the real world'.
From there he went into the construction sector before joining Mazars, taking responsibility for the firm's business expansion scheme as well as business disposals. He made a name for himself in business disposals in particular, not least by securing buyers for companies that had proved hard to sell.
While it was a role he relished, the pressure of constant travel while raising a young family ultimately saw him branch out on his own, and he set up a consultancy firm McKeown & Associates. Over the years he has dabbled in property development, almost become the co-owner of a golf club, and was involved in a technology startup that was sold to Microsoft.
Behind many of these career choices was, he admits with a smile, 'a big, fat entrepreneur trying to get out of me. I've always believed in building a portfolio of business interests. If you work for someone else, then you only have a finite value.'
The importance of ACCA in supporting that portfolio approach would be hard to overstate, he adds. 'ACCA is really well known abroad, especially in the UK, and it's a big deal in financial circles in London in particular. Having it is considered a real feather in your cap.'
Having worked with people building up and then selling up their businesses for much of the past decade, he spent from 2009 to 2015 working with many others to help them save theirs. It was a tough, often gruelling experience that could have left an indelible mark, but while McKeown expresses frustration with some of the decisions and behaviour from banks and others at that time, he emerged from it with optimism and positive outlook intact.
The experience also brought to the fore a personal philosophy of treating others well. 'I've completely changed over the years, as my wife will tell you,' he says. 'I used to be quite nervous and something of a worrier at work, but I learned there's no point. If you're in a job where you're not happy, life's too short, so move on. I believe you should greet everyone with a smile and that being nice to people is infectious. I'm at the point where I could downsize and relax, but I don't have patience for golf and I look at Robert Redford who is in his 80s and still going strong.'
LivingOffset can, he believes, be not just a game changer on its own terms, but also herald a paradigm shift in fundraising. 'Blockchain can be used for everything from food traceability to charity,' he says. 'It allows people to see exactly where their money is going. In a few years, when organisations look to raise money for a good cause they can expect to be asked to show exactly where that money is going. LivingOffset is taking the lead in that.'
Donal Nugent, journalist
"Through blockchain, individuals will have the ability to buy small snippets of carbon to offset their own emissions"