Seth Adu-Baah FCCA, managing director of Coca-Cola Bottling Company of Ghana, has refused to shrink from challenges in revitalising the soft drinks bottler's business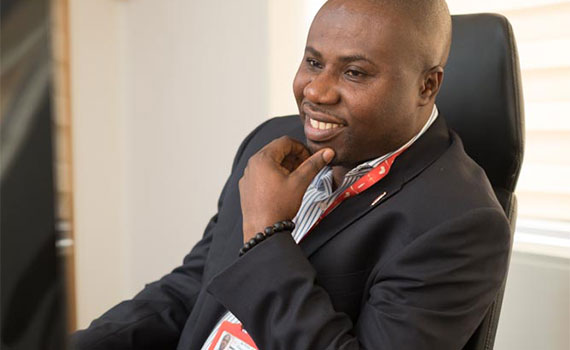 This article was first published in the November 2018 Africa edition of Accounting and Business magazine.
Few accountants need armed bodyguards to assure their safety on their daily commute, but it's an experience that has been a regular part of the working life of Seth Adu-Baah FCCA, managing director of Coca-Cola Bottling Company of Ghana.
At first glance, his 18-year journey up the corporate ladder in Africa shows a steady progression of certifications attained and personal and corporate goals achieved. However, that does little justice to the challenges he has faced along the way, and the level of personal risk he has encountered – on occasions he has quite literally 'dodged a bullet'.
His Coca-Cola career started out conventionally enough when he first joined the Coca-Cola Bottling Company of Ghana (one of 13 Coca-Cola bottling partners in North and West African countries operated by the Equatorial Coca-Cola Bottling Company) as a management accountant in Ghana's capital Accra. The role gave him wide-ranging experience in all aspects of financial management and control and, crucially, supply chain management, and involved liaising with banks, external auditors, tax authorities and consultants.
He quickly moved up to become head of finance for the group's operations in Sierra Leone where, in addition to financial control, he was given the job of managing the supply chain and redesigning and implementing a new IT system.
So far, so conventional, but this was not the typical corporate environment. Sierra Leone had just emerged from an 11-year civil war that had created many operational difficulties.
'We had a lot of challenges as far as the whole accounting system was concerned, and it was a big task to reorganise the finance function to make sure we had the right information to work with,' Adu-Baah recalls.
At the same time, the supply chain was 'a shambles'. Almost everything was brought in from outside the country, Adu-Baah explains, which amid the post-war disruption meant the business often see-sawed between a shortage of stock and over-supply, which made managing working capital difficult. The underlying challenge, he adds, was that people didn't properly understand the supply chain function or realise its impact on the business.
Ghana the model
Adu-Baah's early experience in Ghana – change management, in particular – had furnished him with the building blocks for re-engineering the Sierra Leone business. Although the Ghana operation was more advanced and modern in its approach, he explains that he had encountered the same difficulties in getting people on board with new systems and processes. He says: 'It was a huge challenge because you were presenting something that the staff weren't used to – they had their own way of doing things. My challenge was to get people to believe in our plan for the future.'
The resistance to innovation in Sierra Leone was highly stressful. 'You don't expect to be threatened with violence at your place of work,' Adu-Baah points out. He doesn't run away from challenges and is always willing to take a risk to create shared value, he says.
What helped him turn the tide from turbulence to control in Sierra Leone was to draw heavily on human resources in Ghana. 'I invited colleagues from Ghana to support us with the planning and I also sent a lot of our people from Sierra Leone over to Ghana to see how the system could work. When they saw how our technology and processes were functioning in Ghana, they were excited to implement them in the Sierra Leone plant, so that really helped to change the mindset.'
One of his proudest achievements to come out of that process, he adds, was that one of the accounting officers he met on the Sierra Leone change project is now managing director of the company's operations in the Gambia.
After four challenging years in Sierra Leone, Adu-Baah was promoted and transferred to the Gambia as country manager. 'I was given a clean slate to manage the plant as I saw fit,' he recalls. As such, he was responsible for the entire business – strategies, business plan and all the underpinning programmes and activities. 'I was managing HR, IT, supply chain, finance and the marketing function as well,' he says.
The Gambia business suffered from the same issues with supply chain, financial information and systems that Adu-Baah had faced in his earlier postings. 'I had to put all those systems and processes in place once again, but this time the environment was much less confrontational,' he says.
His main goal was to stop the bleeding of revenues, which, at the beginning of 2009 were down 45% on the previous year. 'We had to reconsider everything,' he says. 'And we also needed to differentiate ourselves to capture market share.'
He decided to set out a strategy for social marketing, which meant working with the government to support education, the community, sports, and the environment. Ultimately, his approach produced sales growth of 1% that year, and he and the company were awarded the Order of the Republic of the Gambia for community engagement initiatives.
In 2010, he was on the move again, this time to re-invent the Coca-Cola bottling business as country manager in Liberia. There, his job went from 'stressful' to 'life-threatening'.
Anomalies in the books
'The first challenge,' he says, 'which had the greatest impact on my life and that of my family, had to do with anomalies in the books. Digging deep into the financials of the company not long after my arrival in Liberia, I uncovered a US$2m fraud and brought in forensic auditors to do a comprehensive audit. This put me in a very dangerous position.' For the next two years Adu-Baah was accompanied at all times in Liberia by armed Ghanaian bodyguards.
A second challenge was route to market, as direct distribution was consuming a lot of working capital. He says: 'It meant moving to an indirect model and working with external distributors. This helped grow sales volumes in 2010–11 by roughly 25%. However, we were putting our distribution function in the hands of low-skilled third parties. To be able to do that we had to work with them to ensure that they felt part of our business, and make sure they were profitable as well.
'The greatest challenge was getting them to adopt our standards in the distribution chain. We had to ensure that they made the right investment, and were compliant with our processes and systems. The other challenge was getting information from each distributor to help in our decision-making process and strategy formulation.'
The final, and most devastating, challenge was the ebola epidemic in Liberia in 2014–15. 'It seriously affected the community and the economy as a whole,' says Adu-Baah. 'People lost their jobs, lost their little businesses, lost their lives. It was a huge challenge for us as a company to safeguard our employees and customers to ensure their wellbeing.' For the most part, he adds, the company was successful in preventing infection among staff and their families.
'While many businesses were leaving Liberia, we took the decision to stay to help the country fight ebola. Our goal was to make sure the community was aware of how to prevent the virus, to provide clean water, and work closely with the treatment centres.' His efforts won him a sustainability award from Coca-Cola Eurasia and Africa for outstanding management and operational endurance (it was the second time he'd won the award, having first taken it in 2011 for most improved plant in energy efficiency). He received the award with two other country managers, from Sierra Leone and Guinea, who also stayed in the middle of the ebola crisis.
In addition to local health initiatives, Adu-Baah and the company subsequently worked with the community to build a model science and technology school which currently has between 150 and 200 students.
In 2018, he returned to Ghana and took up his current role. Since then, his focus has been on internal operations, improving efficiency, keeping the control environment up to scratch, and ensuring the production facilities are in a state to deliver the output required. Again, he says, this means changing what he calls the MBA (mindset, behaviour, attitude) of people.
Looking back over the past two turbulent decades, Adu-Baah says that although some things have changed, many challenges remain. 'Years ago,' he says, 'we had issues with education; we still have issues with education. Years ago, we had issues with infrastructure; we still have issues with infrastructure. Years ago, we had issues with uncertainty; we still face uncertainties. The thing that we can talk about, though, is how technology has influenced us in the past 10 years – in that there has been an improvement.'
Ramona Dzinkowski, Canadian economist and president of RND Research Group
"Not long after my arrival in Liberia I uncovered a US$2m fraud and brought in forensic auditors to do a comprehensive audit"