For Yee Wing Peng FCCA, country managing partner at Deloitte Malaysia, retaining homegrown finance professionals is the key to expanding the country's profession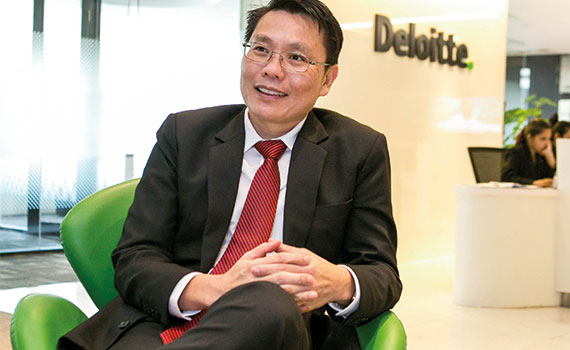 This article was first published in the November 2018 Malaysia edition of Accounting and Business magazine.
Accountancy might be associated with cold hard numbers, but the people are definitely the ones powering the profession. This explains why Yee Wing Peng FCCA, the new country managing partner at Deloitte Malaysia, keeps steering the conversation back to talent.
'The leader's role is to get everybody to gel together seamlessly and create synergies,' says Yee. 'I've seen many organisations where people may not work very closely together due to unhealthy internal competition,' he says, adding: 'my role here is to make everybody work together because everyone has their own strengths. If we can pull together, then we will have a formidable team.'
With 55 partners responsible for 2,000 staff in Malaysia alone, and over 370 partners in Deloitte Southeast Asia managing 8,800 employees across the region, achieving harmony is no small feat. For Yee, the key to success lies in taking a cross-functional approach. 'All the people in the firm form part of our business relationships,' he says. 'Rather than having team members reaching out to clients separately in all directions, everyone should leverage these relationships to allow cross-functional play to come about and promote growth.'
Future business growth at Deloitte Malaysia will, says Yee, be fuelled partly by value-added services such as advisory and consultancy. 'Compliance is our bread and butter, but clients are also looking for a trusted adviser to add value to their organisation,' he says.
Part of the game plan is to scale up and become more selective in terms of clients. 'We have a very strong brand name where we can, among other things, focus more on the top tier of clientele and businesses, to serve our global "crown-jewel" clients,' he says. 'Strategy is about making choices, so we are very focused on the chosen fields in which we want to make an impact.'
Scientific approach
Talent development is key to the success of Deloitte Malaysia's business model. 'We engage with institutions and work closely with other stakeholders – like ACCA – to promote the profession and attract the best talent to join us,' Yee says.
On top of interviews and other screening criteria, Deloitte Malaysia profiles candidates through online assessments with a focus on three quotients – verbal, numerical and abstract – to determine the best career fit. 'It is very hard to find people who are well-rounded and possess all the skillsets, so we will find a way to facilitate and manifest their strengths at the initial stages of their career while improving their soft spots,' Yee says. 'We are much more scientific in talent selection and placement nowadays. This is because we probe deeply to understand what this person wants and his or her aspirations, and we provide career counselling, we have seen vast improvement in talent retention.'
Deloitte Malaysia also works closely with several universities, taking on interns after their first year of study and providing work experience and mentoring throughout their degrees. 'They will then be able to make an informed decision on what they would like to do and what area they stand a good chance in,' Yee explains.
Another way that Deloitte Malaysia promotes tax as a viable career choice is through its annual Deloitte Tax Challenge. In the 2017 cycle, more than 3,000 undergraduates from 50 higher education institutions took part in the three-month-long competition, which, under Yee's leadership, has now been expanded to include Singapore, Thailand, Indonesia and the Philippines.
While working hard to promote the opportunities offered by the accountancy profession, Yee is very aware of the challenges of Malaysia's continuing brain drain. To plug the leaks, he has made it a personal mission to 'continually create additional higher-value job opportunities for our young talent so that they don't need to leave their families to seek a career elsewhere,' he says. For example, over 70 risk advisory professionals who are based in Malaysia undertake regional engagements. Likewise, Deloitte Southeast Asia Consulting has a team of 300 professionals hired in Malaysia undertaking local and regional engagements. 'From a business perspective, we have an ample supply of talent, low operating costs, a business-friendly environment and language skillsets that cannot be replicated elsewhere,' Yee says. 'These are our strengths and our natural advantage that justifies Malaysia being used as a centre of excellence and centre of delivery.'
Raise the bar
At the same time, Yee believes that it is important to ensure an inward flow of talent, which will be a key driver in strengthening Malaysia's position as a regional centre for excellence. 'I hope that our government will continue to have an open policy for foreign talent to bring in skillsets and experiences that are not available here. By working together, we can raise the bar of our people.' An example of the benefits of an international perspective comes from Deloitte Malaysia's decision to import GST specialists from India, Singapore and Australia to bridge knowledge gaps when the country first implemented GST in 2015. Post-GST implementation, Malaysia was one of only two Deloitte offices in the Asia-Pacific network that were able to offer support for the recent implementation of VAT in six Middle Eastern markets.
Ultimately, though, Yee hopes to see most of Malaysia's top talent stay put and develop the country. 'Professionals like us have many opportunities to work overseas, but I am quite nationalistic and patriotic,' he says. 'I chose to stay and find a platform on which I can play an international role.' He is grateful to the Deloitte Southeast Asia community for providing this platform and giving him 'the opportunity to work with the best minds regionally and globally. It shows that we don't necessarily need to uproot ourselves to make an impact elsewhere.'
Yee also urges accountancy and finance professionals to use their skills to attract foreign investment. To this end, Deloitte Malaysia runs regular overseas roadshows to promote Malaysia as a business friendly, well-regulated environment that offers ample talent. 'Our goal is to attract higher value investments that can help create higher value job opportunities,' he says. 'We convince investors to bring in the higher value activities desired by the government that could benefit from certain tax privileges and advise them to comply with local regulations and pay the right tax for nation building,' he explains. 'We can continue to make this country a better place for ourselves, for foreign investors, and for future generations.'
Throughout Yee's career, his ACCA Qualification has been an invaluable building block. 'ACCA is a very comprehensive, very thorough examination that dives deep into the subject matter and covers a wide range of topics; audit, tax and even IT management were covered during my time 25 years ago,' Yee recalls, adding that the more recent inclusion of topics on corporate governance, professionalism and integrity 'really help to instil a value system: to always do the right thing. Hard technical skills can be acquired, but integrity is of the utmost importance.'
Yee chose ACCA because it offered an international qualification conducted in English. 'Twenty-five years ago, the world was already globalising and Malaysia was getting a lot of foreign investment,' he says. 'We had to be ready to serve the multinational corporations when it came to reporting, and I knew that an international qualification would help me tremendously.' ACCA also ensured that he was work-ready by including papers on a wide range of subjects, including taxation and business law. 'When I came out to work I found that I could apply a lot of what I learnt straight away,' he recalls. 'I even had no problem doing a deferred tax computation!'
Today, Deloitte Malaysia continues to engage closely with ACCA to nurture young talent. An ACCA Platinum Partner since 2005, Deloitte Malaysia has supported many students, and 20% of the firm's partners are ACCA-qualified, which is 'more than a fair share of representation', Yee notes.
Complementary synergies
Globally, Deloitte is the largest professional services network, with more than 286,000 people in more than 150 countries worldwide who brought in global revenue of US$43.2bn for FY2018. This year, Deloitte Malaysia celebrates its golden jubilee, marking 50 years since it was first founded as Kassim Chan & Co by local accountants Mohd Kassim bin Sulong and Chan Teik Huat.
Back in 2007, Deloitte Malaysia – then known as Deloitte KassimChan – first became part of Deloitte Southeast Asia to tap into the potential of the Assocation of Southeast Asian Nations (ASEAN). 'Deloitte Malaysia derives many complementary synergies from being a part of Deloitte Southeast Asia , which really strengthens our position in the region as well as in Malaysia,' Yee says.
In September, another huge milestone for Deloitte was reached with the creation of a Deloitte Asia Pacific alliance, bringing together Australia, China, Japan, New Zealand and South-East Asia. Together, the five regions are expected to generate a combined investment of US$321m over the next three years, increasing Deloitte's ability to serve global, national and private market clients by enhancing service capabilities and increasing talent resources. The alliance comprises almost 44,600 professionals, with the potential to create a US$10bn business by 2022.
The spirit of Deloitte Asia Pacific, though, is nothing new for Deloitte Malaysia, notes Yee, who also leads the Chinese and Korean services groups for Deloitte Southeast Asia and the Malaysia office respectively.
'The Deloitte Malaysia headquarters in Kuala Lumpur alone house more than 20 nationalities from across the US, Europe, Japan, Korea, India, China and ASEAN,' he says. 'Foreign talent working side by side with local talent creates a greater sense of inclusiveness, broadens the horizons and perspectives of our people and heightens their cultural sensitivity.'
Nazatul Izma Abdullah, journalist
"Strategy is about making choices, so we are very focused on the chosen fields in which we want to make an impact"