Enterprises in China's Guangdong province must ensure that they are ready to capitalise on the Belt and Road initiative, says a new ACCA report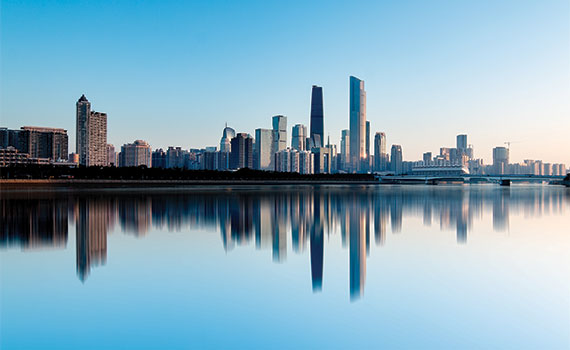 This article was first published in the January 2019 China edition of Accounting and Business magazine.
Since the ambitious Belt and Road initiative (BRI) was first mooted, China's Guangdong province has been at the forefront in seizing the opportunities presented.
In May 2015, Guangdong became the first province to develop a BRI-aligned blueprint; since then, its implementation plan has progressed to include milestone developments such as the Guangdong Silk Road Fund, which received CNY20bn investment from the provincial government. This was followed by the Action Report 2017 for Guangdong Enterprises Going Global under the Belt and Road Initiative, the first indication of Chinese enterprises' readiness for BRI.
Now, a new ACCA report, Guangdong Enterprises and the Belt and Road Initiative, sets out to explore the next stage of the province's journey.
As ACCA chief executive Helen Brand notes in the foreword, the business prospects created by a project covering 65 countries and an estimated US$4 trillion of construction investment are unprecedented. Business leaders must be ready and able to seize these opportunities, and know how to manage and mitigate the associated risks.
The report details the measures adopted by Guangdong to empower enterprises, and the positive dialogue that has ensued with countries including Singapore, Thailand, Vietnam and Korea (along with another 180 regions). Meanwhile, the development of the Guangdong-Hong Kong-Macau Bay Area, which includes nine cities in the Pearl River Delta, has emerged as a key supporting platform.
Distinct individual profile
The strengths and weaknesses of Guangdong's enterprises are examined. Those with the courage to 'go global' necessarily require certain strengths, the report notes. As revealed by interviews conducted during the research, while enterprises share a cohort of evident strengths, they maintain a distinct individual profile.
Strengths include superiority in technology, which can help Guangdong's enterprises to win major infrastructure projects in power, ports, communications and more, while state-owned enterprises bring to the table the fundraising capacity of government backing.
Brand value is another strength. The reputation Guangdong's enterprises have established in the home appliance and smart electronics market will be seen as a positive by consumers, extending their domestic market to an international arena.
In supplying products of international standard, Guangdong enterprises have honed operational expertise that many of their peers are yet to achieve. This should expedite their entry into BRI markets.
Despite this impressive roll call of strengths, ACCA's report has uncovered a number of weaknesses. For instance, certain core technologies deployed are actually owned by international competitors, inhibiting enterprises' competitive strength. Some, in branding themselves as original equipment manufacturers, also lack the experience to compete with multinationals. In addition, for companies used to doing business on their home turf, a shortage of international talent may prove problematic.
Yet Guangdong's enterprises are renowned for conducting their business whenever a market or opportunity shows up. The report identified opportunities 'in quite a sizable number'. Among these, companies engaged in labour- and capital- intensive sectors can transfer part of their capacity to BRI countries in order to enjoy a greater economy of scale.
By taking their business to BRI markets, Guangdong's enterprises can upgrade their operation and management to international practice. And since BRI calls for 'unimpeded trade', local companies can be incentivised to improve product quality, drive R&D strength and build more proprietary brands. To that end, enterprises 'must be aware of the necessity to partner with local enterprises to develop locally-fit products and improve customer stickiness'.
Risky business
In terms of risk, Guangdong's enterprises saw the largest roadblock as the enormous political risks associated with any foreign market – especially in the relatively poor, politically unstable countries along the Belt and Road.
Assets are also prone to confiscation or expropriation, requiring due diligence on the part of enterprises. Government support is eagerly called for.
There is concern, too, about inferior infrastructure support along the route, as well as technical and trade barriers. Some countries, for example, require a mandatory quota to be purchased or levy a discriminatory anti-dumping duty on Chinese products.
Political instability and economic volatility in certain countries are seen to pose financial risk, while compliance also needs to be understood. Some countries apply stringent standards or regulations; in others, religious beliefs or customs have led to special rules. Guangdong enterprises should also be mindful that tax regimes are not uniform.
In their recruitment of a local labour workforce, companies may struggle to find talent. Specifically, a shortage of finance professionals with expertise in international accounting standards and tax policies is noted.
As a leading province in economic development, Guangdong is answering the national call of BRI. Given its position as a first mover, ACCA recommends that the positive experiences of its enterprises in tapping into BRI markets should be vigorously promoted through a variety of channels to lead, encourage and mobilise others.
Further, the report suggests that the knowledge and connections that enterprises have gained in global markets should be used to build an authoritative platform of information exchange, while the 30 million people from the province who now live outside China can help find suitable partners and lay the groundwork in local markets.
Companies are advised to learn more about the political, economic, cultural, religious and social settings of countries where they hope to do business, so as to manage challenges of all sorts with ease.
For their part, finance professionals will require integration of competence-driven and vocational education, and the adoption of an international approach to local operations. The report stresses that it is imperative for higher education institutions to partner with global bodies such as ACCA to produce internationalised finance professionals with expertise and professional ethics, international vision and strategic thinking. Similarly, Guangdong's enterprises can turn to professional bodies to either train in-house internationalised finance professionals or recruit them from external sources.
At the same time, interviewees were optimistic about the development of the Guangdong-Hong Kong-Macau Greater Bay Area initiative. By thinking ahead, Guangdong's enterprises are preparing themselves for an exciting future.
Peta Tomlinson, journalist
"Guangdong enterprises have honed operational expertise that many of their peers are yet to achieve"