Professional accountants must become the champions of the UN's Sustainability Development Goals for Africa – and the experts who embed them in business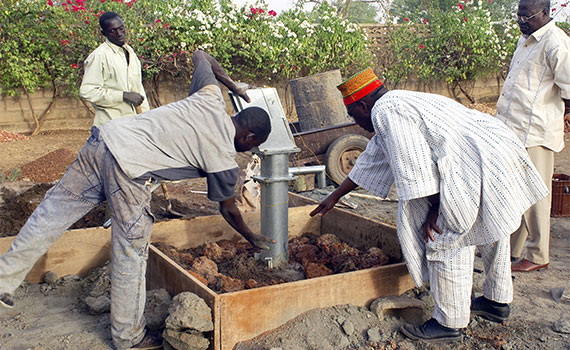 This article was first published in the January 2019 Africa edition of Accounting and Business magazine.
Across the distinct and diverse cultures and political structures of sub-Saharan Africa, gains have been made in reducing poverty, growing income, improving education and building democracies. Despite these advances, however, many people remain locked out of growth as continuing economic, social and environmental problems coalesce, undermining attempts to create prosperity.
A report by ACCA, The Sustainable Development Goals: Redefining context, risk and opportunity across Africa, focuses on how professional accountants can leverage their skills to help businesses align value creation strategies with the SDGs to address these critical issues. ACCA held a series of roundtables in Kampala, Nairobi and Lagos to inform the report's findings. One participant said: 'Finance must be there from the start. The numbers tell the story which relates to the workplan. As accountants we understand the business and we can bring critical thinking skills to help tell the story.'
The SDGs provide a framework for understanding risk and the external environment in light of the new nature of economies and the future potential for growth. The profession should take a leadership role in connecting the private sector, government and finance with the SDG agenda.
The ACCA report explains why business has an essential role to play in achieving the SDGs. It quotes research estimating that delivering the SDGs could unlock US$1.1 trillion of market opportunities across Africa in four areas of economic activity and generate up to 85 million jobs by 2030.
Today's globalised economy is capable of delivering structural transformations that radically improve how people live and work. The market opportunities could arise from engaging with the challenges faced by growing urban populations in new centres of economic dynamism, or from finding different ways of reaching out to poorly served groups through innovative business models and the harnessing of lower-cost digital technologies.
However, the report warns that business may be falling short in key areas. There is, for example, little trust that businesses act responsibly and ethically. Across the continent, the police and business executives are viewed as especially corrupt. Nor are African businesses taking steps to stop damaging the environment; they are seemingly unable to fully understand or disclose the risks from issues such as climate change.
Small is beautiful
The SDGs offer businesses a recognised framework for improving their understanding of today's complex and interconnected array of risks and opportunities, and provide a way of thinking about the shape of the markets and business models of the future. And while the SDGs are enormously wide-ranging, individual businesses can start small. 'Let us not fear the SDGs,' said a participant at the Nairobi roundtable. 'We just need to choose a few that are applicable; we cannot do all 17. Go through your organisation and prioritise.'
Implementing the SDGs poses a massive financing challenge. The UN Conference on Trade and Development (UNCTAD) puts the annual requirement (from domestic and external investments) at between US$5 trillion and US$7 trillion. On top of that, developing countries face an annual infrastructure investment gap of US$2.5 trillion in areas such as clean energy generation, water and sanitation, and agriculture.
With environmental, social and governance (ESG) issues becoming mainstream considerations, there has been an accompanying shift towards the more effective pricing of risk and capital allocation for big infrastructure projects. For instance, the report highlights the UN's Sustainable Stock Exchanges initiative – a peer-to-peer platform for promoting responsible sustainable development investments.
Collaboration is crucial to meeting the SDGs. At a company level, professional accountants should engage non-financial colleagues and get involved in a wider understanding of the external environment. They should also look to participate in broader networks and use their reporting skills to expand understanding of and communication about non-financial risks.
Standards, frameworks and tools offer businesses in Africa a way of understanding key risks and communicating their impacts on, and contribution to, the SDGs. 'We need to align our results with outcomes and impact,' said one of the Kampala roundtable participants. 'Change our reporting from activity-based to impact-based.'
The report points out: 'The contours of the external environment – which make up the operating system through which the SDGs could be met – are currently poorly understood and addressed by business.' Rectifying this situation requires a reappraisal of the metrics used to define business success, and that, in turn, will create an opportunity to redefine innovation, investment and risk in Africa in the 21st century in the light of the SDGs.
Peter Williams, journalist
The 17 Sustainable Development Goals (SDGs)
| | |
| --- | --- |
| 1 | No poverty |
| 2 | No hunger |
| 3 | Good health |
| 4 | Quality education |
| 5 | Gender equality |
| 6 | Clean water and sanitation |
| 7 | Clean energy |
| 8 | Good jobs and economic growth |
| 9 | Innovation and infrastructure |
| 10 | Reduced inequalities |
| 11 | Sustainable cities and communities |
| 12 | Responsible consumption |
| 13 | Protect the planet |
| 14 | Life below water |
| 15 | Life on land |
| 16 | Peace and justice |
| 17 | Partnerships for the goals |
"The SDGs offer businesses a recognised framework for improving their understanding of today's complex array of risks and opportunities"