ACCA Singapore's second Ethics Film Festival, held in conjunction with Global Ethics Day, considered the issues around cryptocurrency, the oil industry and tax avoidance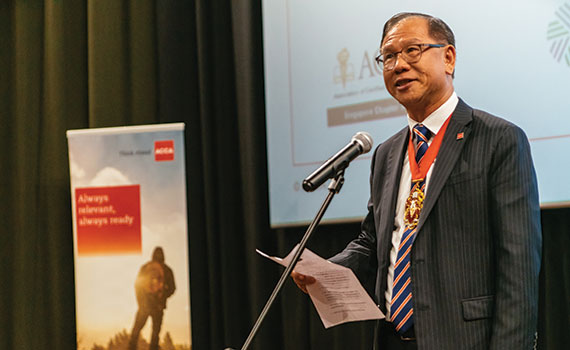 This article was first published in the January 2019 Singapore edition of Accounting and Business magazine.
ACCA Singapore's second annual Ethics Film Festival, held in October, in partnership with the Singapore Film Society, aimed to raise awareness of the increasing importance of ethics in the profession.
This year, the event was extended to include Hong Kong and consisted of a series of documentaries that were screened across a two-week period in October. These included Banking on Bitcoin, a film about the digital monetary revolution, Big Men, which focused on oil discovery in Africa, and The Price We Pay, an exploration of the impact of tax avoidance. The festival was supported by the Association of Certified Fraud Examiners, CFA Society Singapore, Chartered Accountants Australia and New Zealand, Golden Village, and the Institute of Internal Auditors Singapore.
Coinciding with Global Ethics Day on 17 October, the Ethics Film Festival is just one of several events, including a number of breakfast meetings, that ACCA organised across the globe to shine a spotlight on the continued and growing relevance of ethics.
Speaking in a pre-recorded video which was screened during the launch event, Helen Brand, ACCA's chief executive, said that it was important to think about ethical conduct in everything that we do.
'Of course you have to think about it 24/7, 365 days a year. But having that one day in the year, where there's a real focus and a retrospective look at what you've achieved and what you need to do better, is important for all of us,' she said.
The opening address was given by Leo Lee, the then ACCA president, who noted that, as ACCA members, business leaders and finance professionals, the audience needed to recognise that ethics would always be at the core of their profession.
'That is why we have the ethics and professional skills module in our ACCA Qualification to focus on developing vital and important ethical behaviours, and judgements to ensure finance professionals are equipped with the adequate skills to improve their employability and career success,' he said.
Ethical dilemmas
Each film was followed by a discussion, with panellists talking about the ethical dilemmas facing accountancy professionals today. At the launch event, guests had the opportunity to observe as well as participate in a discussion about bitcoin and other digital currencies. Moderated by Dr Michael McMillan, director of ethics education at CFA Institute, the panel discussed hot topics such as the security of bitcoin as a currency, its investment value and what the Singapore government is doing in terms of regulation.
Part of the discussion drew upon the film's example of Mt Gox, a cryptocurrency exchange that at one point handled more than 70% of all bitcoin transactions worldwide. McMillan asked the panel how, if bitcoin was based on the seemingly secure technology of blockchain, the loss of US$450m worth of currency could occur.
Panellist Zann Kwan, founder and executive chairperson for Bitcoin Exchange, took the opportunity to highlight the endemic issue of trust in centralised systems and said that in this case, it was not the fault of the technology but an internal control problem. 'If you had transacted on Mt Gox and transferred the cryptocurrency to your wallet that you control, it would have been alright,' she said. 'People who had lost their cryptocurrency on Mt Gox left it on a centralised system.'
Security concern
Caroline Lee, board member of the International Ethics Standards Board for Accountants and KPMG's head of quality and risk management, Asia Pacific, also noted the presence of an ethical issue.
'The Mt Gox platform originated from one for trading cards,' Lee said. 'So we've got to ask ourselves, how secure was the platform really? If you have a system that's not well controlled, it gives rise to opportunities for abuse and misuse.
'There has to be someone to stand up and say if the technology is being used in an ethical manner, and if the development has gone through a robust process.'
Yvonne Chan, CFO and director of corporate development at Maritime and Port Authority of Singapore, agreed, saying that in any means of exchange, ethical issues were bound to arise. 'Cryptocurrency is the way now, and accountants need to cope with a new way that we may not be familiar with. We have a new evolved role as machines take over.'
In closing, Kwan noted that a crucial step in dealing with many of these issues was to raise the level of general awareness and education about cryptocurrencies.
'The most important thing is to just start,' she said. 'Find out what a digital wallet is, what cryptocurrency is. Put $50 in it and see how to safekeep a decentralised wallet. It's important to get your feet wet to see what it's like.'
Rufus Tan, journalist