When it comes to social mobility, the public sector is way ahead of the private, paving the way for a fairer society, according to recent ACCA research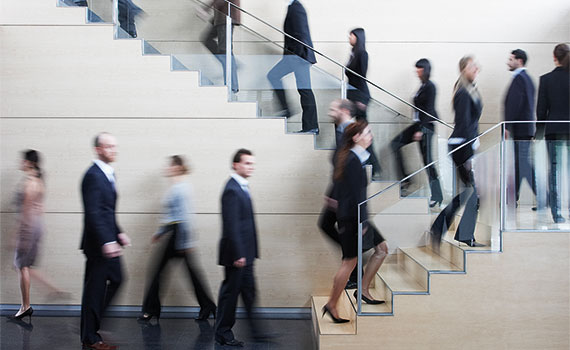 This article was first published in the January 2019 UK edition of Accounting and Business magazine.
Countries and regions with poor social mobility are also more prone to corruption, or at least the perception of corruption, according to analysis by ACCA.
These findings from the report Purpose and the profession: social mobility and the public sector were unveiled at ACCA UK's public sector and not-for-profit conference, which took place at Church House in London in November.
The conclusions are particularly relevant to the public sector because social mobility is central to how it operates. Positive social mobility is not only a sign that the system of government is fair, but having a recruitment system based on equality is also a way of achieving fair outcomes. Societies in which members of an influential family have the best chance of obtaining the top jobs in government have low social mobility and are more likely to be corrupt.
However, there is a much higher level of social mobility in the public than in the private sector. The report highlights that 80% of the public finance professionals questioned came from comparatively disadvantaged backgrounds. The results were obtained from a survey of more than 13,000 ACCA members and students in public and non-public sectors.
Of the 20 countries analysed, Denmark scores best both in terms of strong social mobility and low levels of corruption. At the other end of the scale, South Africa performs poorly on both. The UK was in the top half of the surveyed countries on corruption, but in the bottom half on social mobility.
ACCA obtained the conclusions through analysis of Transparency International's Perceptions of Corruption Index, comparing these with OECD data on intergenerational social mobility. The results, both from 2017, show that as perceived corruption rises, there is a corresponding drop in intergenerational social mobility.
The views on corruption were perceptions, not objective assessments. So if parents believed their children were treated unfairly and not given a chance, they might interpret this as meaning the system is corrupt. The study concluded that the score for the perception of corruption is a test of the level of trust towards government in a society. It explains: 'Countries with limited social mobility exhibit lower levels of trust.' It adds that structures ensuring fairness and equality are important: 'Elite families or groups will be better placed to pass on their privilege to the next generation when a society's norms do not impose clear rules for fair competition.'
The research explained that some individuals benefit from an 'entrenched advantage' from early childhood through to school years, where they are able to present themselves as more work-ready than their peers. In response, some public sector employers have taken affirmative action in selecting candidates from more diverse backgrounds for hiring or promotion. For example, by offering guaranteed interviews to applicants from disadvantaged groups, an otherwise exceptional candidate from a disadvantaged background, who might otherwise have been sifted out at the application review stage, could be offered the position.
Opening up conversations
'It is important to think about how to address the relationship between mobility and corruption and explore how it has developed,' says Alex Metcalfe, ACCA's head of public sector policy.
'ACCA believes in fair access to opportunities in all sectors that are supported by a competitive, rules-based society with good governance,' says Metcalfe. 'Meritocratic hiring and open applications that are transparent and challengeable are important prerequisites for developing an effective and trusted accounting profession. We believe it is crucial to use this evidence to facilitate the open conversations needed to tackle corruption and improve social mobility outcomes.'
Paul Gosling, journalist