Enda Devine FCCA, FD and executive director at IPB Insurance, explains how the business embedded traditional values in order to manage transformative change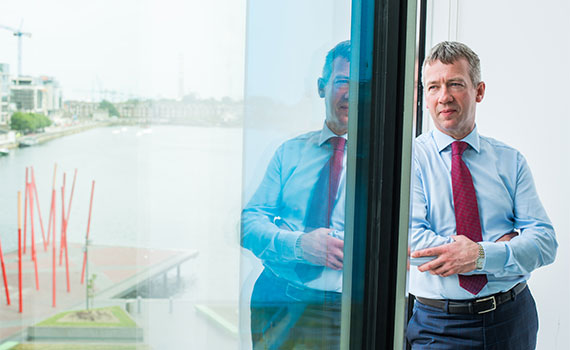 This article was first published in the January 2019 Ireland edition of Accounting and Business magazine.
For Enda Devine FCCA, FD and executive director at Irish-owned mutual IPB Insurance, a long career in financial services has been steered by dramatic changes in the industry, encompassing turbulent economic times, new regulatory and governance structures, technological breakthroughs and an overwhelming change in corporate mindset.
As a young student in the early 1990s, foresight would prove to be key to his long-term future. Devine's first thought was to enter the accountancy profession, but he also realised that IT was the future. 'I knew that an accountancy qualification opened doors and I chose ACCA for its practical application to industry,' he recalls.
After completing his professional accountancy qualification at Dublin Business School, he gained an IT Diploma in Information Systems at Trinity College Dublin. As he explains, 'I quickly realised that if you didn't understand IT, you would be left behind very, very quickly.'
His prediction accurately describes his experience in the banking sector in particular, where he worked until 2011. There, every role Devine took on involved systems projects, whether that be process improvement, accounting and reporting. His background has also provided him with an understanding of how the emergence of new technologies in the insurance sector will change the industry.
'In each position I've held, there's been something really groundbreaking,' he says. 'For example, the international introduction of IFRS Standards was a big change. The conversion process was very technical, there was an awful lot to learn and we had to be on top of the technology to make all that happen.'
Today, his industry is going through another shakeup due to technology. Artificial intelligence, big data and advanced analytics and digitisation are all changing the game in insurance, he says. 'We've looked at the implications of the emerging digital technologies, and are taking a wait-and-see approach until it matures to the scale and volume appropriate for IPB,' he says. 'For the fleets of cars we insure, for example, we have to look at it from an underwriting perspective. We're also looking at how robotic process automation can help on the regulatory reporting side of things where accuracy is critical. Our bottom line, though, is maintaining the quality of service to our clients and underwriting accuracy. As you can well imagine, the risks of getting it wrong are significant. '
As to how IT is driving his role now, the European Union's General Data Protection Regulation (GDPR) is having a significant impact on how IPB engages with its customers and in the way data is protected. 'That's very much a cross-functional project and it's touching everything that we do, from how we save our files and capture information to how we keep it safe. It's very much all-encompassing,' he says.
Formalised corporate culture
In addition to ensuring that IPB makes the right technology investments, as FD Devine is responsible for accounting and reporting, and executive oversight for IT, risk management, compliance and actuarial business units, as well as the Solvency II directive and GDPR. However, he is perhaps most vocal about his role in formalising IPB's corporate culture through a new performance management framework.
Established in 1926, the company, which is owned and managed on behalf of its members, specialises in bespoke liability, property and motor risk solutions to the core public service, education and health sectors.
IPB is the only indigenous mutual general insurance company in Ireland and one of the largest liability insurers in the Irish market. It employs 123 people and in 2017 had a surplus before tax of €42.3m. That long history, however, has made change harder.
'It's a very old model that was created around the time of the foundation of the Irish State,' Devine says. As a result, many of the company's standard practices went undocumented and, until 2013, a number of activities were outsourced to an external partner.
'When I joined the business, one of the key objectives in our strategic plan was to take over the outsourcing business and bring everything into one organisational structure,' he explains. IPB had to establish a new governance model that would facilitate change.
The first step was to bring independent directors with different skill sets onto the board. The insurer then changed the way internal knowledge was being collected and disseminated across the company, and implemented new systems and employment standards, policies and procedures from both an oversight and an operational perspective. The company also moved to a central office on a single floor, making communication a lot easier. 'That's been a big feature in the cultural change in the company,' Devine says.
But while the company was keen to modernise, it did not lose sight of its history, and, during his time as interim CEO, Devine led the implementation of a programme to formalise its traditional values. 'As in most companies, we felt that some of our behaviours and values weren't being implemented as effectively as they could be. So we decided to re-examine the whole area,' he explains.
Grassroots process
IPB first went through a grassroots process of identifying its core values and behaviours, with the help of experts in organisational culture, at the same time gaining feedback from the employees, board and members. The company then compared that to the experts' best advice and found that there wasn't much difference.
'It created a huge buy in,' Devine says. 'That's not to say there weren't places where we could sharpen our pencils, but we now have an embedded framework that ensures that if we fall short anywhere, we can identify it and solve it.'
The strategy has paid off: in 2018, the Great Place to Work Institute placed IPB in its top 20 workplaces in Ireland (medium category). And this, Devine believes, will help to strengthen the company's position as it moves into the future.
'If you look at the many things that have gone wrong in the Irish banking and insurance sectors, the majority of them were the result of a corporate culture that was not very transparent,' Devine points out. 'If you don't get your culture right, it can be a disaster.'
Ramona Dzinkowski, journalist
"Now we have an embedded framework that ensures that if we fall short anywhere, we can identify it and solve it"