With the Comprehensive and Progressive Trans-Pacific Partnership now up and running, participating countries can look forward to capitalising on the benefits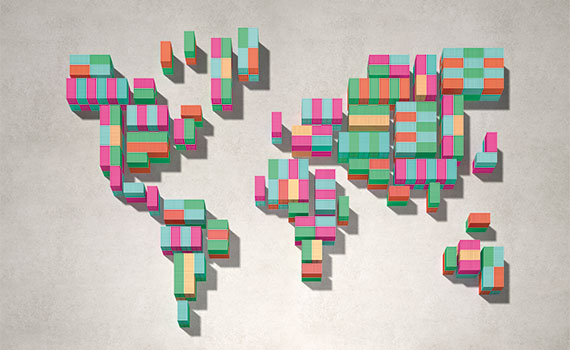 This article was first published in the February 2019 China edition of Accounting and Business magazine.
Frictions over global trade have dominated headlines in recent months. At the G20 meeting in Buenos Aires late last year, world leaders vowed to overhaul the World Trade Organization, admitting that while the multilateral trading system had contributed to growth, development and innovation, it was also 'falling short of its objectives' and had 'room for improvement'.
Yet amid rising protectionist tensions, a new trade deal by 11 countries, accounting for nearly 13.5% of global GDP, came into force on 30 December, marking a rare victory for trade liberalisation.
The Comprehensive and Progressive Trans-Pacific Partnership (CPTPP) eliminates 98% of tariffs between its member countries, with seven of them (Australia, Canada, Japan, Mexico, New Zealand, Singapore and Vietnam) having already ratified the final agreed deal (leaving Brunei, Chile, Malaysia and Peru still to do so). The agreement could eventually extend to other countries such as Thailand, South Korea, the Philippines and the UK.
Adrian Ball, EY Asia-Pacific indirect tax leader, says the CPTPP is a 'free trade agreement with a large potential impact'. He notes that the deal is estimated to provide Canadian exporters with tariff savings worth US$322m per year and New Zealand exporters with tariff savings worth US$151m per year, for example, while it is expected to boost Singapore's GDP by 0.2% by 2035.
Cost-effective and efficient
The CPTPP also allows for regional cumulation (where, for purposes of producing goods, materials from one CPTPP country are treated as the same as another CPTPP country), and Ball points out that this is one of the main benefits of a regional agreement versus a bilateral one. 'This allows the CPTPP to recognise input from all CPTPP countries as originating content,' he says. 'In this way, companies with crossborder supply chains can become more cost-effective and efficient.'
Gareth Leather, senior Asia economist at Capital Economics, says that the deal shows that 'despite the shift towards protectionism in the US, Asia is not turning its back on free trade', adding that 'by focusing on the elimination of non-tariff barriers, it could provide a template for future trade deals'.
The CPTPP started out as the Trans-Pacific Partnership (TPP), a deal signed in 2016 that included the US but which never came into effect, with Donald Trump withdrawing from it in one of his first moves as US president, decrying the pact as a 'job killer'. And while there were initial concerns that the remaining countries would be reluctant to agree to the same level of market access without the carrot of access to the US market, tariff reductions will proceed under the new agreement as originally scheduled.
The vast majority of the reductions in non-tariff barriers and investment restrictions will go ahead as planned. This is important, Leather says, because the main benefits 'are likely to come through the elimination of non-tariff barriers, including rules on government procurement, investment restrictions and hidden subsidies. Indeed, of the 1,000-plus items that were in the original TPP deal, only 22 have been taken out.'
These 22 provisions primarily related to protections on intellectual property, which mainly benefited US companies, as well as clauses concerning the liberalisation of Malaysia's state-owned enterprises and Brunei's coal industry.
Ho Meng Kit, CEO at Singapore Business Federation, notes that in addition to updating traditional approaches to issues covered by previous free trade agreements (FTAs), the CPTPP also tackles new and emerging issues. These include the development of the digital economy and the participation of small and medium-sized enterprises in international trade.
According to Ball, Singapore's companies could benefit from increased market access into Canada and Mexico, with whom the city-state had no previous FTAs, and he suggests that they can now expect to enjoy tariff elimination on exports of pharmaceutical products and organic chemicals into Mexico, which are currently subjected to up to 6.5% and 15% duty rates respectively.
Ho points out that companies in Singapore will also gain extended market access in countries where FTAs already exist. 'Companies in the IT, construction and consultancy sectors will be able to bid for government tenders in countries that were previously closed to foreign bidders, such as Malaysia, Mexico and Vietnam,' he says.
Access into Vietnam
Meanwhile, Australian companies will enjoy additional market access into Vietnam, including tariff elimination on butane, propane, liquefied natural gas, refined petroleum products, iron and steel products, and automotive parts, and will also gain new market access into Japan for its sugar exports along with new quota access for rice and rice flour exports, Ball says.
Kevin Klowden, executive director of regional economic research at the Milken Institute, believes Vietnam is one of the countries that will benefit the most from the CPTPP, even without access to the US market. 'Because it has been increasingly positioning itself as the low-cost manufacturing alternative, Vietnam has been very eager about getting investment,' he says. The agreement, Klowden adds, creates some certainties for investors, exporters and importers on how to deal with Vietnam, as well as opening up a number of markets, such as Japan and Australia, for the country's lower cost manufacturing.
Tougher legal framework
But the CPTPP comes with some challenges, too. Analysts note that it binds members into a tougher legal framework for trade, lower tariffs and open markets. 'There is no such thing as a free lunch and for certain countries like Vietnam and Malaysia there will be a need for adjustment,' says Deloitte China chief economist Xu Sitao. 'They will need to open up their service sector, and in the case of Vietnam they need to introduce new labour standards. But I would argue that the end-game benefits will outweigh the near-term pain.'
'The trade deal is beneficial to everybody, but certain countries like Vietnam will benefit a lot more because ultimately this new version of the CPTPP will help liberalise the economy, forcing the country to open up its market, particularly in the service areas,' Xu says, adding that he believes that other countries in Asia, such as Thailand and Indonesia, are likely to want to join the agreement in the near future.
When it was originally envisioned, with the US involved, it was a modernisation and expansion of the North American Free Trade Agreement, with the idea of connecting countries the US either had trade agreements with (and wanted to expand on and modernise) or where they hadn't previously concluded significant agreements, such as Japan. Klowden suggests that even without the US, the CPTPP helps create a network of trade relationships that will allow members to better cope with trade pressures in the region.
Ball notes that businesses should be aware that not all countries have yet ratified the CPTPP, and says companies interested in using the agreement for exporting to these nations will need to monitor and plan carefully due to the staggering of different tariff-elimination schedules and other commitments.
'Bilateral agreements within the CPTPP also offer business opportunities but require identification and detailed analysis,' Ball adds. 'For example, Canadian-made motor vehicles sold in Australia and Malaysia enjoy more liberal rules of origin.'
Sonia Kolesnikov-Jessop, journalist
"Despite the shift towards protectionism in the US, Asia is not turning its back on free trade"