ACCA's office in Brussels has been shaping discussion in the European Union on the impact of digital, the global value chain and other key issues affecting the profession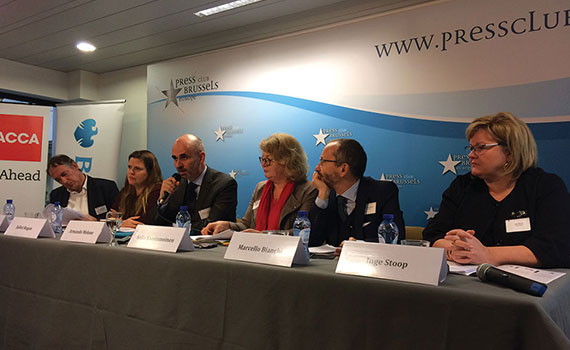 This article was first published in the February/March 2019 International edition of Accounting and Business magazine.
Thanks to its strategic location at the heart of the EU's institutions, ACCA's Brussels office is able to influence legislation and gain access to the right people at the right time. It raises ACCA's profile in Europe as a global go-to body, a trusted partner and a credible debating platform by organising high-level conferences and partnering with authoritative organisations to reach EU decision-makers, key stakeholders and employers.
As well as running numerous events in Brussels, ACCA held a first-ever joint members' event in Paris with French accountancy professional bodies CSOEC and CNCC, which focused on the impact of digital, and was a co-organiser of the 22nd European Corporate Governance Conference in Sofia, Bulgaria.
ACCA events in Brussels are popular with EU stakeholders for being ahead of the curve and facilitating public debate on crucial issues. For example, partnering with lobbying organisation European Movement International (EMI), ACCA was one of the first to publicly debate the impact of Brexit on financial services, and jointly organised a conference with EMI (along with thinktank EU-Asia Centre and SME body UEAPME, now SMEunited) on the reshaping of the global value chain by China's Belt and Road initiative.
The latter event inspired another ACCA conference (in collaboration with Cyprus professional body ICPAC) in Cyprus, on connecting the continents through Belt and Road. ACCA is now working on a second Belt and Road conference in Brussels.
Sustainability
Other success stories include a conference – jointly organised with Barclays Bank and the European Bank for Reconstruction and Development – on empowering businesses to engage with sustainable finance and the United Nations' Sustainable Development Goals. A joint ACCA-PwC social mobility event, hosted by Czech MEP Martina Dlabajová, saw EU decision-makers, civil society, qualification providers and employers discuss the role of training and education in improving social mobility.
ACCA and responsible investment charity ShareAction also led the way on human rights metrics at a joint conference on reaching scale through the sustainable finance agenda.
A partnership with SMEunited and EU employers' body BusinessEurope delivered a standing room-only conference on recent developments in EU company law and making the best of digital solutions and crossborder mobility, with EU commissioner Vera Jourová.
The high profile of the digital agenda in Brussels drove a lively pipeline of ACCA events. There was a conference (organised with SMEunited, EMI and the OECD) on the collaborative economy and the challenge of new business models, and a joint event with EY on risks and opportunities of fintech, blockchain and initial currency offerings. The latter triggered a heated debate between experts, regulators and decision-makers that saw crypto assets being tipped to play a key role in future finance despite the threats of fraud, market manipulation and money laundering.